Green Eggs, No Ham: 5 Vegetarian Breakfast Ideas For St. Patrick's Day & Beyond
mbg Contributor
By Phoebe Lapine
mbg Contributor
Phoebe Lapine is a food and health writer, gluten-free chef, wellness personality, culinary instructor, and speaker, born and raised in New York City, where she continues to live and eat. She holds a B.A. from Brown University.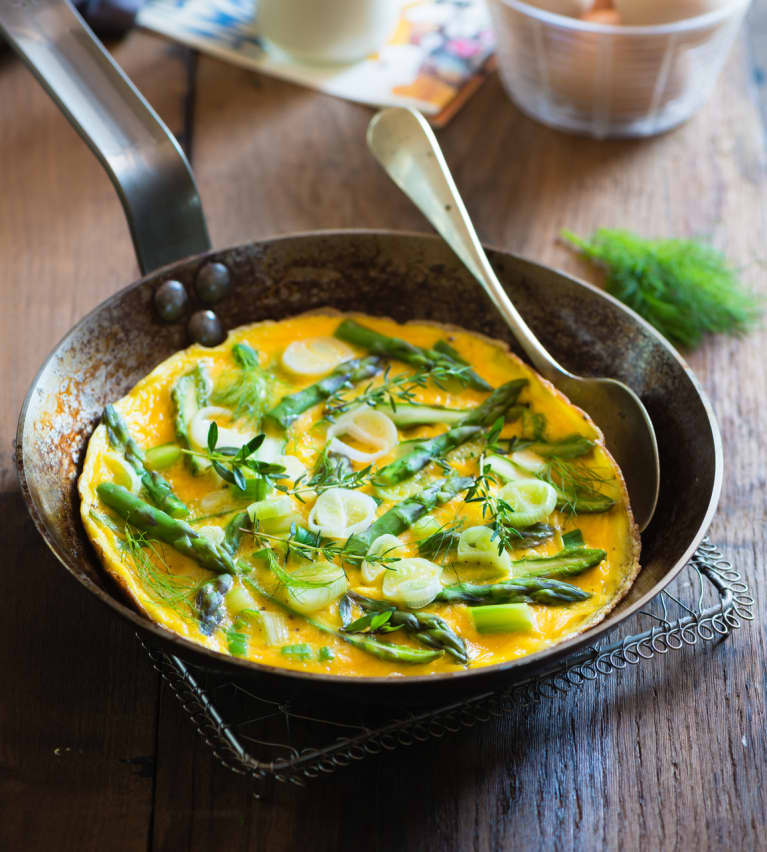 Though I'm a big believer in adding lots of green to your meals year-around, there's no better excuse than a holiday-related theme. Unfortunately, the other half of the St. Patrick's Day culinary mantra involves things that are a wee bit less healthy than their leafy counterparts.
Things like corned beef, Guinness, potatoes, and, yes—ham.
To make sure you get your veggies in before balancing out those healthy choices with another "healthy" dose of stout, I've put together some of my favorite greens-centric breakfast ideas, no food coloring necessary.
1. Add some spring greens to your frittata.
Simply add a cup's worth of sautéed onions and kale or chard to a basic frittata recipe and you've got a beautiful one-pan meal. You can serve alongside some simple roasted potatoes to cover the essential Irish food group: spuds. Which brings me to...
2. Stir spinach into your spuds.
Colcannon is a classic mashed potato dish stuffed with leeks, cabbage, and usually ham or bacon. A lighter greens-filled version is to simply mash your potatoes with chicken stock and a little olive oil and fold in some wilted spinach. It's great as a bed for a coconut-oil fried egg.
3. Add a dollop of pesto.
Pesto and eggs is one of the best combinations. You can drizzle it on top of a poached egg with spinach underneath for a riff on a Florentine Benedict, stir it into a simple scramble, or serve on the side of a caprese omelet.
4. Turn roasted broccoli into mini quinoa quiches.
Combine quinoa, beaten eggs, and roasted broccoli, and scoop into mini-muffin tins. The result is a grain-packed mini quiche that is perfect to take with you on the go. You can also add some roasted sweet potato like in this recipe.
5. Make green deviled eggs.
I love this brilliant spin on deviled eggs that mixes mashed avocado into the egg yolk filling. Garnish with some fresh chives or other herbs and you have a beautiful bite-size green egg to serve alongside a simple salad.