How To Unleash Your Inner Athlete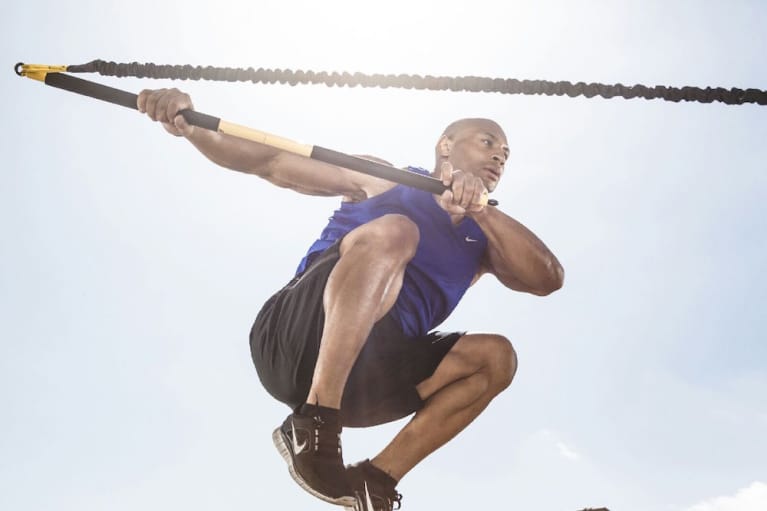 Tone House NYC is one of the most challenging workouts out there. The class forces you to push yourself past your mental and physical limits. We tapped founder, Alonzo Wilson, for tips on upping your fitness game.
1. Switch up your workouts.
One way to challenge yourself is to keep switching up your workouts — let your body try new things. And no matter which exercise you're doing, expect more out of yourself and keep raising the bar to get better results. If it doesn't challenge you, it doesn't change you.
2. Train forward, backward, laterally, upward, and downward.
At Tone House we train in every plane of motion — frontal, transverse, and sagittal. By training this way, we're preparing you for life, on and off the field. Our signature warm-up can easily be done at home or outside. Set up a series of cones (approximately two feet apart) and then perform this series of movements:
Run forward over the cones (stepping one foot between each cone)
Move laterally over the cones (stepping one foot between each cone)
Perform an "up/down" (chest to the ground then back up) between each cone
Jump over the cones (landing two feet between each cone)
3. Amp up your intensity.
Push yourself with intensity and mental focus. Instead of doing a set number of reps, try doing as many reps as you can in one minute—I bet you'll surprise yourself with how many more you can do!
People love Tone House because they feel like they are part of a team. They take pride in the fact that they are working so hard and that every day brings a new challenge. We see breakthroughs, both mentally and physically, each and every day on the turf.
We begin class by meeting in a huddle and end class with a team breakdown. We do the warm-up as a team, we sprint as a team, and we cheer one another on to finish and support each other. Tone House isn't a circuit workout; we do it together as a team.
5. Get out of your comfort zone.
We're all about getting people out of their comfort zones. Unlike other workouts, at Tone House, you can't hide in the back of the class or pretend to put resistance on the bike. It's when you get out of your comfort zone that you start seeing real results. How? I recommend that you do your least favorite exercise first. For example, some people love to lift but hate to run—the first thing they should do at the gym is run and only lift until after they run.
Related reads: