3 Totally Delicious, Completely Unexpected Breakfasts
Lemon + Poppy Seed Omelet
Here's a refreshing way to start any day! The tart lemon lifts and adds a brightness, the poppy seeds provide a tasty little crunch, and what could be better than maple syrup and berries? The omelet (pictured above) is grain-free and full of essential good fats to feed your brain for a busy day ahead. It can easily be dairy-free if you use coconut yogurt, which is so good for you and utterly delicious.
Serves 1
Ingredients
2 free-range eggs
Pinch of good salt
1 generous teaspoon maple syrup, plus extra for drizzling
Zest of ¼ lemon, plus extra to serve
1 teaspoon poppy seeds
1 heaping teaspoon coconut oil
1 generous dollop of your favorite yogurt
1 small handful of fresh blueberries
Preparation
1. Place a small frying pan over medium-high heat. Break the eggs into a small bowl and whisk thoroughly until they are very light and fluffy: the fluffier the eggs, the fluffier your omelet.
2. Mix in the salt, syrup, lemon zest, and half the poppy seeds. Add the coconut oil to the hot pan, letting it cover the bottom, then use a flat wooden spatula to spread it around. When the oil is hot, pour in your egg mixture.
3. Let cook for a minute or two before carefully pulling in the sides with the spatula while tilting the pan, letting the egg run back out to fill the gap. Continue in this fashion until there is no runny mix left.
4. Now carefully flip the omelet over—the second side will only need 30 seconds or so. Gently slide the omelet out of the pan onto a waiting plate, spoon over your favorite yogurt, and top with blueberries and a final drizzle of maple syrup. Sprinkle with the remaining poppy seeds and some lemon zest.
Enjoy while hot.
Poached Eggs With Cauliflower "Toasts"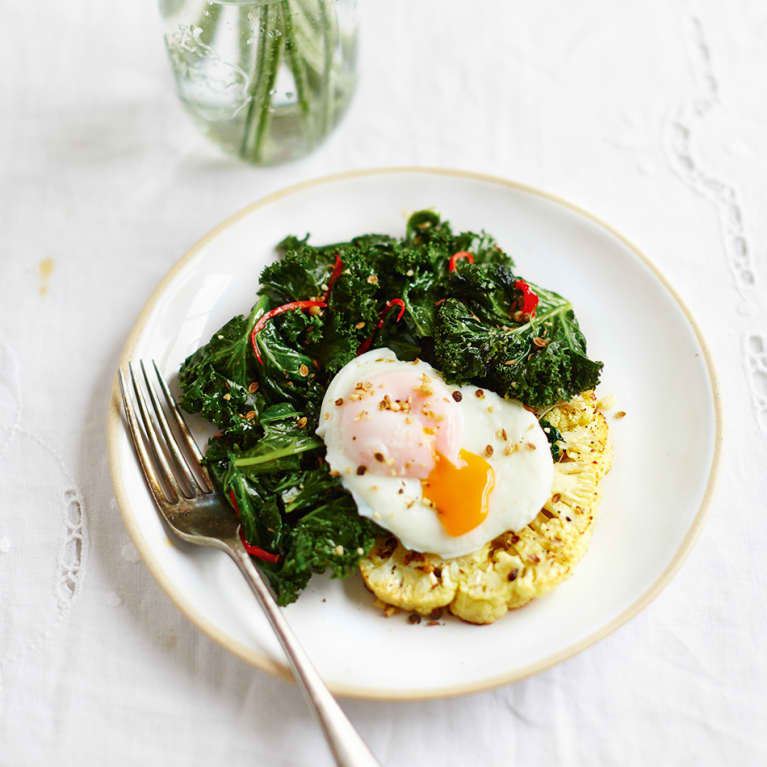 This delicious ensemble is a serious treat—one of my all-time favorites. Cauliflower toasts give the poached eggs something to sit on and add texture without the need for bread.
Serves 2
Ingredients
1 whole cauliflower, outer leaves removed
3 tablespoons cold-pressed olive oil
5 tablespoons dukkah or lightly crushed cumin seeds, plus extra to serve
2 tablespoons cold-pressed olive oil
1 tablespoon butter
2 garlic cloves, thinly sliced
½ medium red chile (optional), finely sliced
6–8 kale or cavolo nero leaves, on the large side, center stalks stripped out
4 free-range eggs
Pinch of salt
Cold-pressed extra virgin olive oil
Juice of ½ lemon
A few twists of black pepper
Preparation
1. Preheat the oven to 400°F and line a baking sheet with parchment paper. Cut the cauliflower across into four slices of "toast" about ½ to ¾ inch thick. Drizzle with 3 tablespoons of the oil, sprinkle with dukkah, place the toasts on your pan, and pop into the oven for about 30 minutes until they start to turn lovely and golden.
2. After 20 minutes, melt the remaining 2 tablespoons oil and butter in a medium casserole or Dutch oven with a lid over medium heat. Add the garlic and chile (if using), stir for 30 seconds, add the kale, then a few tablespoons of water, and a pinch of salt. Cover tightly with the lid and braise for 10 minutes, stirring occasionally.
3. You may need to turn the heat down or add a little extra water if it is cooking too furiously. Place a wide, deep saucepan over high heat and fill it with boiling water. Bring it to a light simmer and add a pinch of salt. Carefully crack one egg into a cup then gently pour it into the simmering water. Repeat with the remaining eggs and cook to your liking. Depending on their size, a soft-poached egg takes about 2 minutes and a soft to firm one needs about 4 minutes.
4. When everything is ready, place the cauliflower toasts onto warm plates, top with the eggs, and place the kale alongside. Sprinkle with a little extra dukkah and drizzle with cold-pressed extra-virgin olive oil, then squeeze some lemon over the kale and season with a few twists of pepper.
Buckwheat Oatmeal With Cinnamon + Golden Raisins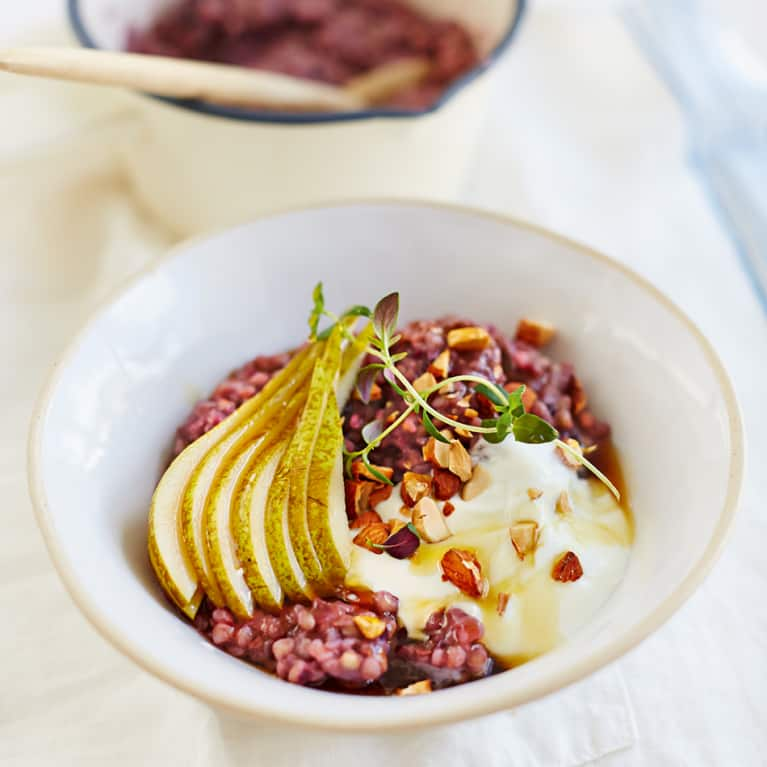 This is just the thing to keep you nourished and balanced. It's a bowl of such delicious flavors that you'll be in breakfast heaven—I sometimes even have this for dessert.
Blackberries and pears are the perfect fruit combination for fall and winter since they're full of antioxidants, gentle on the digestive system, and yet full of fiber, vitamins C and E, and other essential nutrients.
Cinnamon is a warming spice, great for curbing sugar cravings, and the thyme adds a delicious sweet note. Despite its name, buckwheat is technically not a grain but a seed. It is gluten-free with a lovely nutty flavor, and it has a natural affinity with pears.
Serves 2
Ingredients
1¼ cup buckwheat groats
¼ teaspoon cinnamon
Small handful of golden raisins
Small handful of blackberries
1 cup spring water
2 cups unsweetened almond milk, or your favorite raw milk
Pinch of good salt
2 big dollops of yogurt of your choice
1 ripe pear, peeled, cored, and sliced lengthwise into quarters
Maple syrup to taste
Small handful of roasted and roughly chopped almonds
A few sprigs of thyme (optional but delicious)
Preparation
1. Put the buckwheat, cinnamon, raisins, and blackberries in a saucepan with the water, bring to a boil, and then reduce the heat to a very gentle simmer. As the buckwheat starts to absorb the water, stir in half the almond milk.
2. Cover with a lid and allow the groats to absorb more of the liquid. You will need to stir the pan regularly with a wooden spoon and, when the buckwheat has absorbed almost all the milk, add the rest of the milk and a pinch of salt; stir thoroughly, replace the lid, and allow them to absorb the rest of the liquid.
3. The whole process should take 20 to 30 minutes—you may need to add a little more liquid if the buckwheat starts to dry out before they have finished cooking, so keep an eye on the pan. When it is ready, divide the oatmeal between two bowls, top with yogurt and the pear quarters, then drizzle with maple syrup and sprinkle with the chopped almonds and some thyme, if you wish.
Nourish by Amber Rose, Sadie Frost, and Holly Davidson, published by Kyle Books. Photography by David Loftus.