10 Places You Could Be Meditating (But Probably Aren't)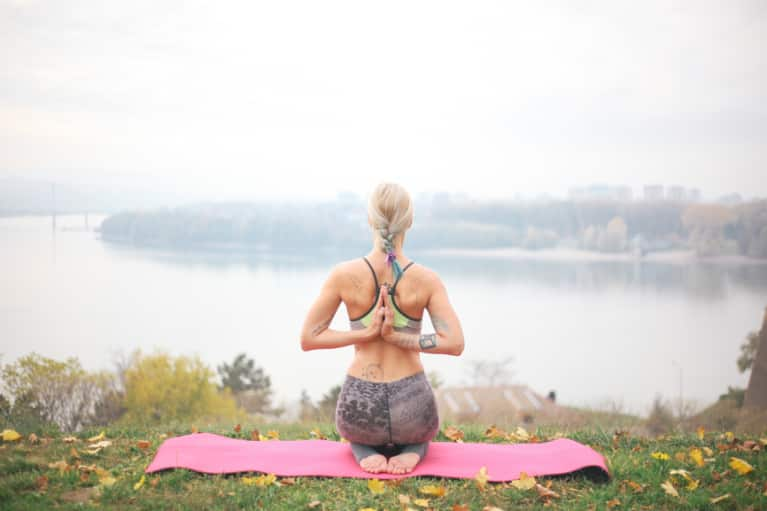 You've heard it before: meditation is worth it. Incredible physiological shifts take place when we meditate, causing an actual change in our brains and the involuntary processes of our bodies. At the very least, meditation teaches us how to manage stress. By reducing stress, it also enhances our overall physical health and emotional well-being. On a deeper level, it can add to our quality of life by teaching us to be fully aware and live in the moment.
But often, the challenge of starting a practice is not learning how to focus, but finding the time or place to meditate daily. Here are 10 places you may have never considered that can lead to serious zen.
No, not while you're driving, but when you're sitting alone in a parking lot waiting for someone or have arrived early somewhere, turn off the engine—and your mind.
2. Meditate at a religious institution.
Even if you're not religious, use the availability and tranquillity of churches, temples, and the like to unwind and de-stress while traveling or on the go.
3. Meditate at a library.
Every city and town has a library. They're quiet, and you can usually find a cozy corner. Besides, what better place is there to evoke your inner wisdom?
4. Meditate in a hotel lobby.
Hotels are everywhere, and there is always a comfortable place to sit down in their lobbies. Sneak into one to refuel if you are having a busy day.
Find an empty bench or patch of grass and get your om on!
6. Meditate on a roof or terrace or in a garden.
You may be in a building that has access to one of the three and not even know it—ask around for the nearest green space.
7. Meditate in a taxi or on an airplane.
It is safer to meditate in taxis and airplanes than trains or buses because you never need to worry about missing your stop! Unwind before you arrive.
At sunrise and sunset, beaches are usually empty to you and the soothing sound of waves. The waves are calming—and humbling.
9. Meditate in a waiting room.
You are waiting anyway, so why not? It beats staring into space, aimlessly checking your phone, and waiting for your name to be called.
10. Meditate in a museum.
Meditation has been known to inspire our imaginations, so meditating in them seems like a recipe for creativity on fire.