Carrie-Anne Moss On Yoga, Passion, And #Wellth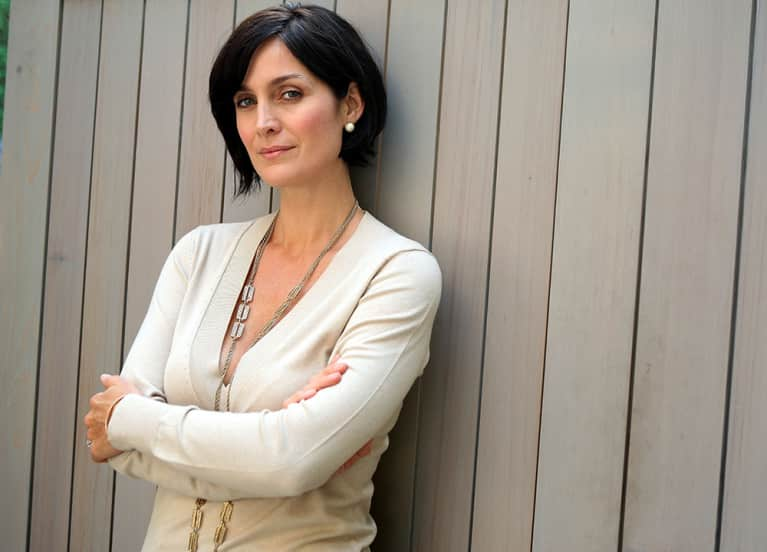 Our editors have independently chosen the products listed on this page. If you purchase something mentioned in this article, we may
earn a small commission
.
I've spent the past year thinking a lot about "wellth" — the idea that success is found in a lifestyle devoted to mental, physical, and emotional health. (I even wrote a book about it.) In this new series, we're celebrating visionaries who embody what it means to be wellthy.
You may recognize Carrie-Anne Moss from The Matrix, Memento, and her new role in Jessica Jones, but the Canadian-born actress has some seriously impressive off-screen accolades as well. She's a yogi, mother, and founder of the Fierce Grace Collective — a wellness community that helps women live with intention.
mbg: What's your favorite healthy place to eat?
What's your favorite way/place to escape to get some nature?
I try to notice nature while doing the tasks of my life — the ocean to my left as I drive my kids to school, the sky above my head as I watch my son play soccer. And at night, I always look to the moon. I honestly ache for nature, so I do my best to connect to it within my life.
What's your favorite way to break a sweat?
Walking and doing a strong yoga set.
What's your favorite holistic treatment?
I use all of Living Libations products, so on a daily basis I feel I'm partaking in holistic care through washing my face and moisturizing my body. The products are so high-vibe, and they support me deeply.
How do you de-stress/practice self-care?
I practice meditation and kundalini yoga, and I choose to stop and connect to myself though breathing or boiling water for tea and taking a pause. I move fast and I am a high-energy woman, so I need to catch myself, place my hand to my heart, tune into my breath, and remember to be here now.
If you could go back in time and give advice to your twentysomething self, what would it be?
First, I'd say, Wow, you're brave and amazing. Then I'd say, You're doing great — try not to worry so much and dance more.
What does wellth mean to you?
Wellth for me is waking up excited for the day and going to sleep at night tired from having lived a present and creative life. It's being present to all the parts of my life and feeling connected to all the pieces of my life.
Do you have any advice for someone who's looking to build a life that they love and follow their passion?
First, know to look within and not outside of yourself. Connecting to yourself and your life in simple ways helps create clarity and connection to what you really want and need. Meditate every day.
If your passion in your life is sincere and true, trust you will have everything you need to fulfill it and do the work daily to make it happen. Have faith and bring joy to the mundane tasks of being a modern human being. Simplify ... Be grateful and look for simple ways to feel good. For me it's things like having tea. I have endowed tea with decadence so I'm not waiting until our family vacation to take a break — I do it within my life. This is your life, and waiting until it changes to love it is missing the opportunity right in front of you to hold your life in both hands and own it!
No one will give it to you.
You have to claim it!