Lady Gaga's Family Didn't Know About Her Rape Until Her Oscars Performance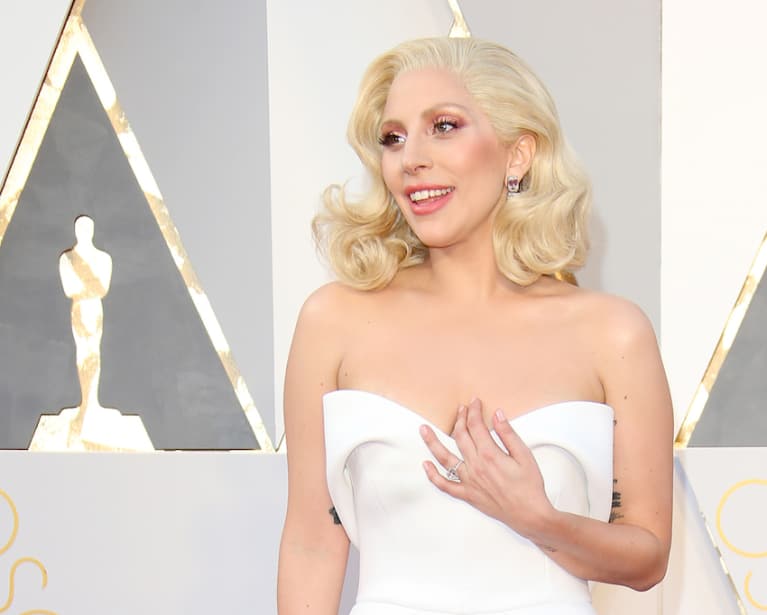 Lady Gaga may not have won the Oscar for Best Song, but she won the entire night with her performance of "Til It Happens to You"—the theme for The Hunting Ground, a documentary that examines the issue of rape on college campuses.
She brought survivors of campus rape onstage, with phrases like "SURVIVOR" and "NOT YOUR FAULT" written on their arms. As the song ended, they all held hands and raised them proudly.
But in an Instagram post, Gaga revealed that as a survivor herself, she stayed silent to many of her loved ones.
The singer said in the post that the day after her Oscars performance, she got a phone call from her grandmother and aunt, neither of whom knew her story because she was "too ashamed. Too afraid."
She posted the following photo of the women in her family:
"It took me a long time to even admit it to myself because I'm Catholic and I knew it was evil but I thought it was my fault," she wrote. "I thought it was my fault for ten years."
But her grandmother Ronnie had a better response to it than she could have ever imagined:
"My darling granddaughter," she said. "I've never been more proud of you than I am today."
Apart from receiving an outpouring of support, Gaga's performance inspired many others to speak up.
Actress Jaime King and Bachelor contestant Jade Roper were so moved by Lady Gaga's performance that they shared their long-kept secrets of sexual abuse from their past.
King shared a long post on Instagram about her years of abuse starting at age 12, and Roper penned a blog post about being raped days before her 17th birthday.
"This is something I felt was put on my heart to write and to share and after all these years allow myself to be free of something I felt had to hide," Roper wrote. "Lady GaGa's performance was powerful and really moved me … Hopefully sharing my story can help others as much as it is helping me heal."
Speaking up is hard, but the more people who do it, the more others will do the same. And, of course, support is critical.