6 Reasons To Get On The Rowing Machine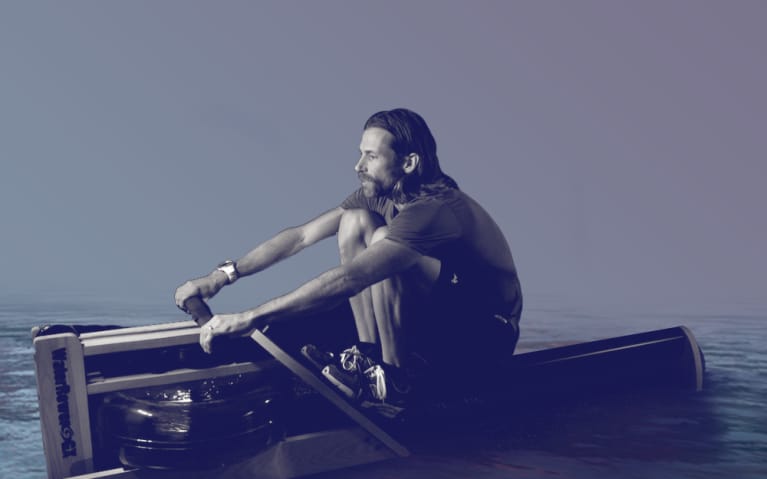 Anyone who works out regularly has a routine — and any deviation from that routine requires a compelling argument as to why, what will it do for me, and will it really change my workout game?
The answer is yes, on so many levels. The rowing machine is the tool Olympians from many disciplines use to produce maximum cardio exertion and build strength. It's been in the gym for so long that many people overlook it. Let me persuade you to give it a shot. Here's why:
1. There are no gimmicks with rowing.
Simply put, indoor rowing is here. Indo-Row, Orange Theory, ShockWave, CrossFit, City Row — these are all fitness programs featuring indoor rowing. They are in thousands of gyms and studios, bringing indoor rowing to the forefront of fitness.
There's no gimmick with rowing — it's been around for centuries. It's not new and its benefits are numerous and scientifically proven. But it wasn't until recently that it blossomed within fitness programs as the ultimate low-impact, total-body toner.
2. You'll work more than nine major muscle groups and 80 percent of your muscle mass with every stroke.
When I started Indo-Row (a 50-minute indoor rowing fitness program), I knew that I had an amazing marketing tool with this data point. Where else can you find an exercise that could deliver low-impact cardio and strength conditioning to the quads, hamstrings, glutes, lats, core, shoulders, triceps, back, and biceps all at the same time? Wondering about bulk? Look at a competitive rower's body. Lean (toned!) and mean.
3. Rowing will counteract sitting at your desk all day.
The rowing movement is the opposite of sitting at a computer, texting, or driving all day long and can counteract the damage of our modern technology and the habits it encourages. Each stroke mimics a leg press, hip hinge, and scapular retraction (opening the shoulders) in one integrated movement. It takes the body through a dynamic range of motion that can increase lower back, hamstring, and shoulder mobility.
4. It gives your joints a break.
Rowing is great for injury prevention, rehab, weight loss, and cross-training because it's a low-impact alternative to other activities. For all of us, the sliding seat displaces our weight, reducing stress on the joints. For runners, taking your interval work onto the rower can save the knees, ankles, and back from pounding while increasing upper-body strength and lung power.
5. It's easy to get started.
Compared to learning to play tennis at 41 years old (as I did) or learning new cardio dance moves, indoor rowing is very easy to pick up. Order, power, and timing is all you need to know to start reaping the benefits of rowing. The key take-away is to initiate the stroke with the legs, not the arms, and find rest as you come forward for another stroke.
6. Practice mindfulness by losing yourself in the rhythm.
Sometimes it's nice to just escape and get lost in our workouts. Many of you have seen the fan-based rowers in the gym, but in the past few years the WaterRowerGx (my machine of choice and the one I helped to design) has made its way into thousands of fitness centers like Equinox and 24 Hour Fitness. What's exciting about this? Water acts as the resistance to give you an authentic, smooth feel and the motivating sound of being out on the lake pulling with your crew.
Simply put, the harder you push and pull, the more resistance you feel. You can get lost in the rhythm as you cruise at a nice, steady pace or totally obliterate yourself as you race for the finish line.
Now that you know of the many wonderful benefits of indoor rowing, there is no excuse to keep you from giving rowing a shot. It will change your body, increase your lung function, and give your mind a much needed distraction from the onslaught of day-to-day life.
Related reads: