This Powerful Video Series Examines Black Women's Relationship With Hair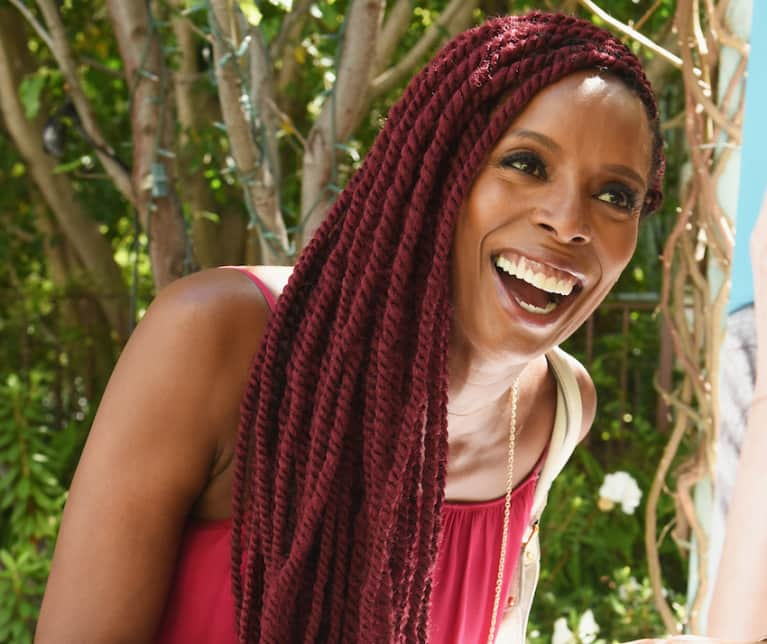 Diversity in the fashion industry is making slow but steady progress. But when it comes to ideals off the catwalk, the beauty standard of straight, silky hair and fair skin is still hanging on tight.
So it's no wonder many black women have a complicated relationship with their hair. Growing up, they can be teased for having kinks and curls instead of "white" hair, but if they get it pressed, they can be traumatized by the breakage and heat damage endured by their hair. For many, it takes years—if ever—to become completely comfortable with their hair.
Of course, not everyone's experience is the same. Some women get weaves, others get relaxers, and some embrace their natural locks from the get-go. The point is: as a society, we aren't as familiar with black hair as we are with white hair. And the best way to learn about it is to listen to individuals' stories—of struggle, of acceptance, of pride.
For writer and cultural critic Michaela Angela Davis, that's the goal of her new video series: to bring the world hair stories from stars and influencers like actresses Kim Coles, Regina King, and Tasha Smith, Black Lives Matter cofounder Patrisse Cullors, writer and producer Mara Brock Akil, and more.
The series, called Hair Tales, is part of Davis' latest project, MAD FREE, which is dedicated to expanding the narrow female narratives—particularly those of women of color.
In the premiere video for the series below, actress Tasha Smith talks about how she "should have been in therapy" for growing up with her hair, constantly asking herself, "What am I going to do with my hair?"
Eventually, she learned to braid her hair with extensions and turned it into a neighborhood business. Instead of viewing her hair with disdain, she learned to feel empowered by it.
"One thing about black girl hair that I don't think we always appreciate is that it is strong," Smith says. "I used to think that coarse hair was a negative thing like, 'It's nappy. My hair's nappy.' But no, I've grown to really love my hair and the strength within what I used to think was nappy hair when really, it's just strong hair that can endure anything."
Davis told Refinery29 that she hopes this project—which she refers to as the "Vagina Monologues for Black hair"—will spread a positive message and bring understanding and information about black hair.
"I've been obsessed with hair my whole life, partly because people were obsessed with my hair my whole life—the 'otherness' of it. It was kinky, yet it was blond; it caused both admiration and confusion," she said. "Doing Hair Tales was mostly about love. I love Black hair, and I love our stories."
The video series will run weekly throughout March in honor of Women's History Month.
Check out the latest from Mara Brock Akil, a TV writer and producer, who describes black hair as, above anything, "resilient":