How I Meditate: Wellness Coach Cassandra Bodzak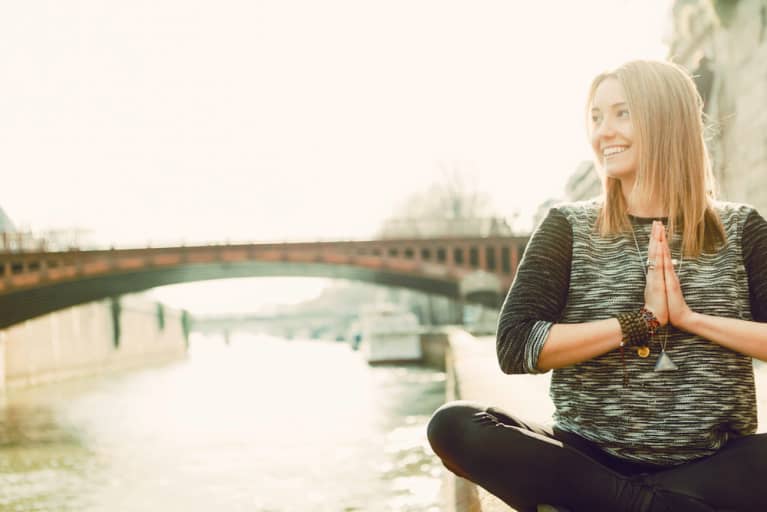 Holistic lifestyle expert and author Cassandra Bodzak helps people all over the world design a lifestyle that lights them up from the inside out using food, meditation, and self-care. Here's a glimpse into her daily practice.
I have a charming little window nook in my kitchen that has become my morning meditation space. I used to have a little area in my bedroom. but I found that being surrounded by the windows and in a different part of the house makes it much less tempting to go back to sleep!
I meditate at 5 a.m. most days or during "amrit vela," which is before the sun rises when the world is quiet. However, I am gentle with myself, so when I'm feeling under the weather or in need of more sleep, I adjust the time later and honor my body.
What type of meditation do you practice?
I practice kundalini yoga. My morning meditation consists of a couple of different meditations, a mantra practice, and a visualization. It's about an hour long right now and sometimes goes longer or can be condensed when needed. It's such a beautiful way to start my day and connect with the limitlessness of myself in the morning. I love having that time for me before I let in the craziness of the day!
I meditate to remember who I am, to remind myself of the endless possibilities for my life, and to connect me back to my truth, the love that is inside of me. My morning meditation practice may look like discipline, but it's truly an act of deep self-love. It grounds and centers me for whatever the day hands me. It has held me through some of the hardest days of my life and it is has filled me with gratitude in every cell of my being during the best. My meditation practice changed my life; I give it total credit for the amazing life I have today, and it continues to give me the space and clarity to hear my intuition and make the best choices on my path.
I love to light candles, wrap myself in a soft blanket, sit on a fluffy pillow, and surround myself with beautiful things. I create a sacred space around me for my meditation, which will often include fresh flowers, crystals, or different postcards or pictures that inspire me. And I always keep my journal nearby for any post-meditation insights.
What is your advice for people who can't sit still?
It's OK! I could barely sit still when I got started! Just do it. Commit to three or five minutes—it doesn't have to be this long, elaborate thing like I do these days, and even a few minutes a day will bring you some peace and sanity. Allow it to be messy and imperfect, but show up for it. I promise you, even if you are fidgeting, even if you are going through your to-do list for the day, if you just show up for it day after day, you will start to receive the benefits. Till this day, I still have mornings when I'm incredibly antsy and my mind is racing; they are a lot fewer and further between these days, but they still happen. It's all perfectly human, so just give yourself that time, sit there, put on your music or set your timer, give it your best go for a few minutes, and then you're done. Commit to showing up for a few minutes for 40 days, and I promise you will be hooked on how good it feels.
And what if they still can't get started?
I have found for my clients that it really helps them to be accountable to me, to have me specifically give them a morning ritual and for them to touch base with me when they complete it via a quick email. Don't be afraid to get a meditation buddy when you are first beginning. Pick one or two things to do daily for a reasonable amount of time with your schedule and commit to doing it for 40 days with each other. Text, email, or keep a tally of every day you complete your morning meditation. This will help you feel accomplished even on mornings you feel like you just went over your grocery list with your eyes closed, and it'll keep you going on the days you are making up excuses not to fit it in.
As a gift for MBG readers, Cassandra is offering her Meditation 101 course for free. In this workshop, she offers four meditations to try, as well as tips for creating your own morning ritual. Click here to have it sent to your email.