How I Meditate: Wellness Expert Nikki Sharp Shares Her Practice
Written by
Nikki Sharp
Nikki Sharp is an author, wellness expert, former model, and E-RYT.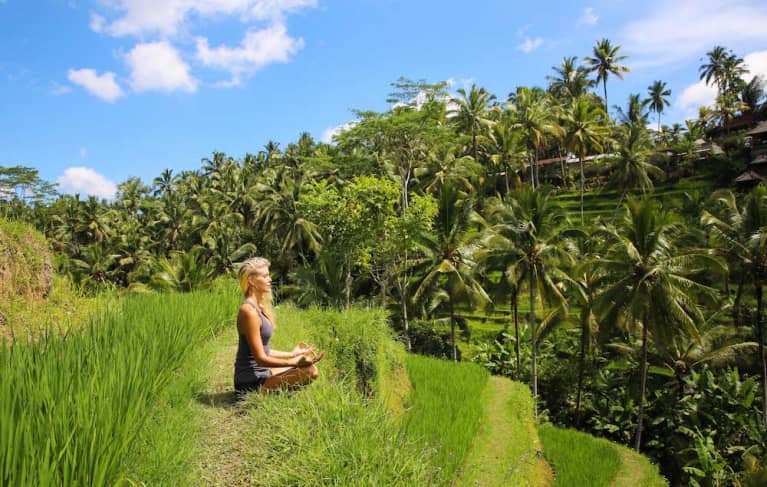 Our editors have independently chosen the products listed on this page. If you purchase something mentioned in this article, we may
earn a small commission
.
Wellness blogger and health coach Nikki Sharp is on a mission to spread the message of healthy living for the mind, body, and soul. A big part of her healthy lifestyle is her meditation practice. Read below for a glimpse into her daily sessions.
Where do you meditate?
I typically grab a glass of warm lemon water, get back in bed with pillows propped up behind my back, and go over my dream binder and visualize. After about 10 minutes of visualizing, I meditate for another 10 to 20 minutes. Some mornings, I'll set a timer so I'm not thinking about running over time; other days I just let it flow. My practice can range from five to 30 minutes during the week. I mainly just try to get it in every day, no matter how long.
When?
My practice happens first thing in the morning before I check my phone, which keeps my mind from going wild. It's that peaceful moment before the world starts and I'm able to be by myself, even for a few minutes. Timewise, I'll wake up around 7 a.m., do the visualization and meditation until 7:20, and then have breakfast.
What type of meditation do you practice?
I love being in silence, deep breathing, and going into my own space. I don't really follow a prescribed meditation, yet I find that doing this works really well for me. I started off with the candle meditation a few years ago, which is so simple. All you do is sit up straight, put a candle at eye level and focus on the candle. It's an amazing way to get out of your head. If I have a busy week, I'll do yoga nidra before bed to calm myself into a more restful sleep.
Do you use props?
Not really. I love being in my bed with pillows behind my back, yet I can sit on a floor just as easily, be in a plane, or even driving (not closing eyes, of course!). Meditation is nothing more than focusing on your breath, and that you can do anywhere, without any sort of prop.
Why do you meditate?
The more I started meditating, the more I began to feel a sense of calmness and peace, which made it easier to continue to do the practice. You just go about your day differently, and things that used to upset you don't anymore. I find that I am much more relaxed, and I was also able to cure my insomnia of seven years with the help of meditation.
Advice for first-timers?
Meditation is not hard, and there seems to be a stigma that you can't do it unless you've had lots of practice; it's actually so easy!
I think one of the best meditations you can do is put your feet on the floor, sit up straight, place your hands on your knees, and close your eyes. Take a deep breath and feel your belly fill up to its max, lightly hold, then slowly release through your nose. Repeat a few times. The only goal here is to focus on the breath, feeling your belly move, and releasing—almost like the waves in the ocean.
I advise clients to do this for two minutes when they get into the office before a crazy day starts. Another great way to get started is to think of a square. Sit up tall, close your eyes and breathe in for four counts. Hold for another four counts, then release through the nose for four, and hold again for four. This looks like 4-4-4-4. I like to visualize myself walking up the side of a box, across the top, down the side, and across the bottom.