Jordan "The Balanced Blonde" Younger On Following Your Passion And #Wellth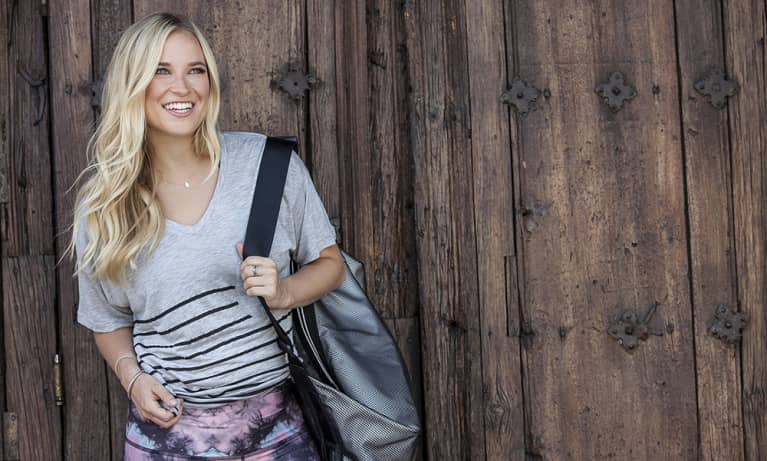 Our editors have independently chosen the products listed on this page. If you purchase something mentioned in this article, we may
earn a small commission
.
I've spent the past year thinking a lot about "wellth" — the idea that success is found in a lifestyle devoted to mental, physical, and emotional health. (I even wrote a book about it.) In this new series, we're celebrating visionaries who embody what it means to be wellthy.
Jordan Younger shared her struggle with orthorexia with the world through her book, Breaking Vegan and her national tv appearance on The Today Show. She's now a huge proponent of finding a balanced approach to wellness.
mbg: Favorite way to break a sweat?
Power vinyasa yoga! I also love running, HIIT and so much more... But nothing will ever beat a sweaty, killer, good vibe yoga class in my heart. There's nothing I love more than getting lost in the flow, getting out of my head and stretching my body. It's like a full body massage for the mind, spirit and physical bod. You could say I'm addicted.
So you love broccoli, tell me more?
I have it with at least two meals a day. Simply roasted with a little bit of lemon pepper salt... Yes.
Favorite healthy place to eat?
Oh man, I have so many favorites. In NYC I love Hu Kitchen and Gingersnap's Organic. In LA I love Juice Crafters, Cafe Gratitude, and Live Beaming.
Favorite holistic treatment?
Lymphatic drainage massage. I am currently training for the LA Marathon, so getting my back, legs and arms worked on on a lymph-level is fully necessary. It also helps me sleep better at night!
What's your favorite way/place to escape to get some nature?
I'm a big hiking fan, and love escaping to the hills in Malibu to just wander and get lost in my music. I also love to surf and swim in the ocean. I definitely think I was a fish in another life. Or maybe a mermaid. ;)
What does balance mean to you?
Everything in moderation. Being kind to myself. Forgiving myself and others when things don't go perfectly well—letting go of that quality of extreme perfectionism. Also listening to my body and knowing what works for me instead of trying to emulate what works for someone else.
What does wellth mean to you?
First of all, I am obsessed with that word. What wellth means to me is a very well-rounded focus on wellness. It's not all about the food and the fitness, it's also about pursuing your dreams and passions, surrounding yourself with people who lift you up, making time for yourself, spending time in nature, connecting with you who are at your very core.
Any advice for someone who's looking to build a life that they love and follow their passion?
Surround yourself with people who INSPIRE YOU, believe in you, make you want to be better, have strengths where you have weaknesses, and whom you trust wholeheartedly. It takes a village to build something worthwhile and wonderful... even if that "village" consists of a very small handful of people. You have to see outside of yourself and look at the brand/business as a longterm thing.
Be willing to accept that you're not always right, and also accept evolvement and growth as a good thing rather than as the big, scary unknown. If you are pursuing something you're very passionate about, the rest will fall into place—it all begins with the passion. If the passion is not there, walk away and do something else. (I'm serious.)