Teresa Palmer On Being An Activist Actress, Living A Zen Life, And #Wellth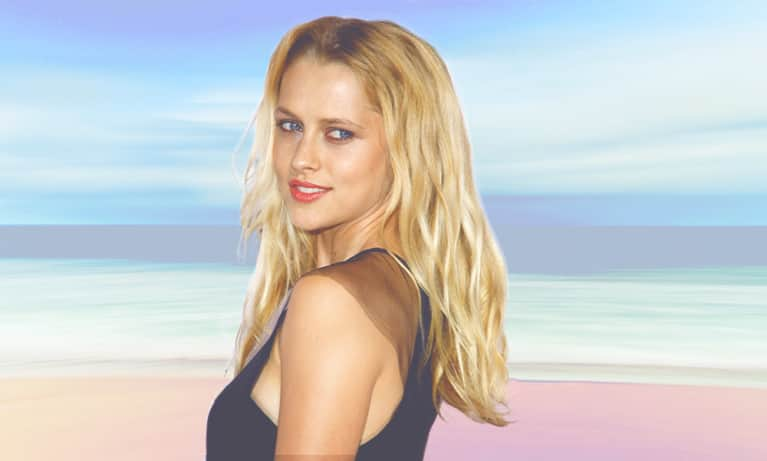 I've spent the past year thinking a lot about "wellth"—the idea that success is found in a lifestyle devoted to mental, physical, and emotional health. (I even wrote a book about it.) In this new series, we're celebrating visionaries who embody what it means to be wellthy.
Teresa Palmer is an Australian actress who stars in the film Triple 9. She's also a wellness activist and entrepreneur as the founder of YourZenLife.com
mbg: Favorite way to break a sweat?
TP: I love exercising and getting in a good cardio session where you can really break a sweat. I love intense interval workouts—I find they really suit me and my body, and I always notice results to my fitness when I engage in these types of routines. Sometimes with my schedule it prohibits me from having a frequent exercise routine. However, I try and find a gym nearby to wherever I am to remain active in any way I can and incorporate some physical activity into my weeks. Mummy and Me yoga is also something I enjoy experiencing with my son.
Broccoli! Steamed is my favorite but to be honest, any and all versions of cooking it are fine by me! It is my favorite and I try and incorporate it into as many meals as possible, even as a side. I find it really versatile when cooking with it. It is so good for you, it has the most concentrated source of vitamin C in a vegetable and is full of antioxidants. Steaming it also allows the nutrients to be retained. A great source of greens in your diet!
So … "not just any mangoes." Can you elaborate?
I have a very specific front-runner: Australian mangoes! They are the taste of summer to me and I have been known to devour multiple mangoes in one sitting! Not only am I a huge fan of their taste, they are simply so good for you. Mangoes are little powerhouses, super-rich in a whole host of vitamins and antioxidants including vitamin C, vitamin A, potassium, and B6. They are also an alkalizing food; balancing your pH levels is a key component for optimum health.
Favorite holistic treatment?
I really value holistic treatments: I love meeting Western medicine with Eastern culture. I always choose holistic methods, especially when it comes to colds and ailments. I love the power of nature and that these things can be healed with natural remedies. One of my favorite holistic treatments is acupuncture; it is such a powerful Eastern practice that can help you overcome a multitude of issues, and I also find it deeply relaxing.
What's your favorite way/place to escape to get some nature?
I love escaping to nature whenever I can. Being surrounded by nature allows me to feel grounded and connected to the earth. We love escaping as a family to the beach and packing snacks, playing in the water, building sandcastles. We are also truly blessed that our backyard is a beautiful, relaxing, nature sanctuary filled with plants and greenery, where I often have quiet time and bask in the glory of nature.
I also love traveling "home" to Australia and experiencing nature there. I recently purchased my dad's property in the Adelaide hills. It's a private wildlife sanctuary with endangered Australian species living there. It's got peaceful surroundings and I love escaping there.
How has parenting changed you?
To be honest, I have always known I wanted to be a mother—I always envisioned having six children! I always thought I had a good inclination of what to expect, but it has changed me in ways I didn't even know were possible. It has changed my outlook on life and made my life so much richer. I explained my experience to a friend the other day like the colors of the world changed when I had a child; it's as if everything is much more vibrant, luminous, and rich.
I believe it has made me a better person and taught me about true, unconditional love and putting my son's needs first, above all else. It has made me understand a deeper level of love that I never knew before. I love the connection I have with my son and can't wait to have more babies and for that love to continue to grow. I have also learned more about myself as a person, my strengths and capabilities.
You created yourzenlife.com because you're passionate about wellness. Any advice for someone who's looking to build a life they love and to follow their passion?
I say follow your dreams and your passion, life is too short and precious to be doing something that doesn't sit right or feel good. There is a saying that I love that says, "Find something you love and you'll never have to work a day in your life." To me, this sums it up. At the end of the day it's not about how much money you can earn—if you're unhappy or stuck in a job that you're not passionate about, the finances don't fix those feelings. You need true fulfillment. Figure out what you love and how to monetize that so every day you can enjoy your work/play life.
I feel so blessed to have three passions: motherhood, filmmaking/acting, and contributing in the health and wellness industry. I knew what I was passionate about and I just followed along the path of making those dreams come to fruition. I say do something that sings the music of your heart, don't be afraid to step out of your comfort zone, and just chase whatever it is that you're passionate about. The rest will come.
What does wellth mean to you?
Such a great question! "Wellth" to me is loving; being loved; being happy; and filling your body, mind, and soul with goodness. It is so important and surpasses any wealth in terms of financial success. Being healthy, happy, and living a conscious life surrounded by my beautiful family are my top priorities. Being a mum is the greatest "wellth" I could ever ask for; it means more to me than anything else in the world.
It's also about focusing on what makes you happy, lights you up inside, and allows you to shine your brightest. It is far more important than any success of monetary value. If we can learn to cultivate self-love and -care, and source happiness from an internal place rather than an external place, then I think we are on a beautiful path, and that can start to effect radical change around us, too.