Bill Clinton Says Going Vegan Saved His Life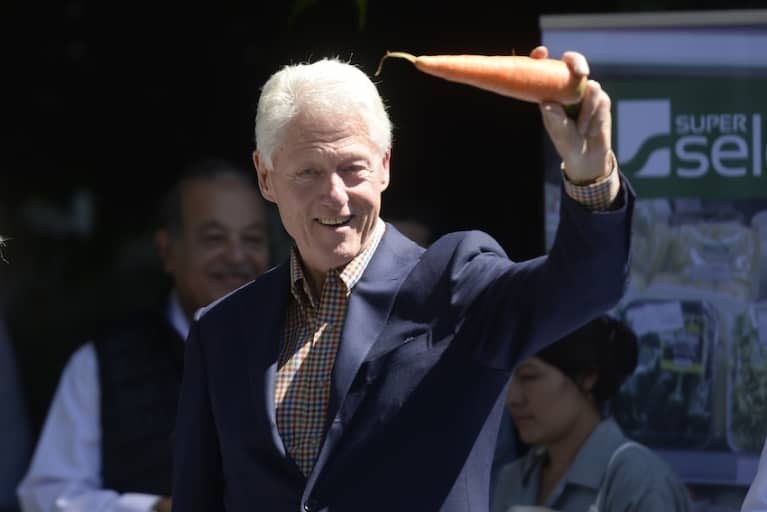 February 26, 2016 — 13:00 PM
As we know, veganism is very close to Bill Clinton's heart—he talks about his plant-based diet every chance he gets. But recently, at a vegan cafe, the former president took his relationship with his diet to the next level. He said it probably saved his life.
While campaigning for his wife Hillary, the former president popped into vegan cafe Simply Pure, where he spoke to owner and chef Stacey Dougan, reports Politico.
After deciding on green chili enchiladas and a nacho sampler—which contains cashew cheese sauce and textured vegetable protein that he described as "unbelievable"—he told Dougan that the vegan diet "changed his life."
"I might not be around if I hadn't become a vegan," he said. "It's great."
Back in 2004, Clinton underwent a quadruple coronary artery bypass surgery, and then in 2010, returned to the hospital for emergency surgery after waking up with chest pains.
After his first surgery, an old friend and heart disease specialist sent him a "blistering" email, according to AARP magazine, urging him him start eating better: more plants, less fat.
"I just decided that I was the high-risk person, and I didn't want to fool with this anymore. And I wanted to live to be a grandfather," he told AARP. "So I decided to pick the diet that I thought would maximize my chances of long-term survival."
And that's when he went vegan.
But his friend (and our friend) Dr. Mark Hyman—a staunch believer in the benefits of the plant-based diet—actually weaned him off the strictly vegan diet he was prescribed, according to a 2014 article in The New York Times.
"It's hard being a vegan to eat enough good, quality protein and not have too much starch," Hyman told the Times.
So, despite news media reports that he is vegan, no, he's not technically a die-hard vegan. His diet is vegan-ish. He occasionally eats fish and lean protein.
As he was leaving the restaurant in Vegas, Clinton clarified some details of his diet: "[My doctor] asked me to eat organic salmon once a week. I do, but I'd just as soon be without it. The vegan diet is what I like the best ... I have more energy, I never clog. For me the no dairy thing, because I had an allergy, has really helped a lot. And I feel good."
Slick Willie is a lot better than Sick Willie—and thanks to a plant-based diet, it seems he'll stay that way for a while.