How To Harness Your Imagination To Conquer Anxiety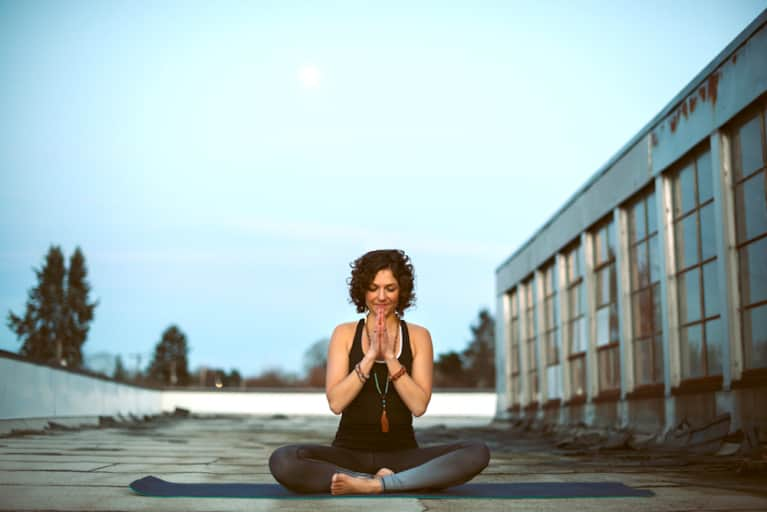 Anxiety can be the worst feeling you experience. It's helplessness, despair, fear, and defeat combined into a volatile package. I struggled with it for many years—most of the time responding to it by running away. It was always in the back of my mind and kept me from really being vulnerable and present. Truthfully, it kept me from living.
But one day, when escape wasn't an option, I had to confront my anxiety. So, I stood there and started to look more closely at my opponent. Where were the cracks in the façade that I could penetrate in order to triumph? What I saw when I examined anxiety up close was a series of what-if questions. It was a wall made of cracks.
I realized every anxiety attack I ever faced was caused when a swarm of "what-if" questions pushed forward my insecurities and unmet needs. Which meant it was an obstacle I could easily destroy. I just had to find the right answers.
All those questions (and lots more) would leak out of my brain and create that dreaded sense of unconquerable, crippling tension and fear. So, that day, when I had no other choice, I turned the tables. I felt the wave of hopelessness, and then I consciously engaged my imagination by asking helpful what-if questions.
"What if I'm not good enough?" was met with "What if I'm perfectly OK right now?"
"What if I don't have a purpose?" with "What if I make an enormous difference in many lives?"
"What if I can't be happy?" was checked with "What if I'm loved unconditionally and infinitely valuable?"
More what-if questions that helped me overcome anxiety include:
What if I relaxed and enjoyed myself? What if I allowed myself to be vulnerable and to look deeper into my feelings? What if I have unmet needs that are causing this feeling? What if I am strong and smart enough to handle these needs on my own?
When I emerged from the fog of anxiety, I knew I'd stumbled upon something useful. By engaging my imagination in a positive way, I guided my feelings back into my own control. I overcame anxiety. And I learned something I could share with others along the way.
Anxiety is imagination gone wild. It is our mind's way of calling attention to wants and needs we've been ignoring. The feeling is so overwhelming that our response is often to ignore it or try to mask it. But that inevitably makes it worse.
If we can find the courage to see anxiety as a cue to engage our better selves, we can respond positively and grow even stronger and more useful than we were by addressing it proactively and confidently.
So, next time you feel that wave of dread, breathe deeply and don't react immediately. Stand your ground and engage your imagination in a positive conversation using some of these helpful what-if questions. Use anxiety to look deeper into your needs and to strengthen yourself. You will prevail.
Related reads: