6 Simple Ways To Be A More Conscious Shopper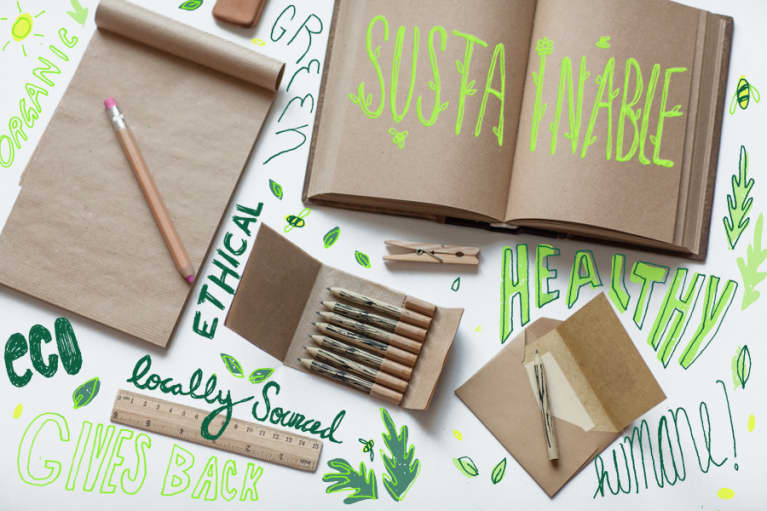 Before you can use healthy and eco-friendly products, you have to find them—and this is often a more difficult task than it needs to be.
Let's say you're someone who's passionate about eating foods that are nutritious and free of artificial ingredientsyou may have to spend quite a while looking for that perfect protein bar, snack mix, or cereal that meets your standards and tastes great. Finding household products that were created with the environment in mind is an equally time- and resource-intensive task.
But there are ways to make the process a bit more seamless. As someone with a background in conscious consumption, here are the six steps I use to find healthy, green products:
1. Pick the specific kind of product you want.
This may sound like common sense, but it's an important place to start. So, first, have an idea of the product you're looking for: skin care products, home décor, clothing and accessories, tech gadgets, everyday items, etc. Narrowing your shopping list down to the essentials (whatever these may be to you) means you'll always end up with something that you're going to use.
Once you find a product you think you may like, you can begin to dig a little deeper.
2. Identify what values you care about.
Let's say you're looking for new hand and body creams. The next step is to identify what values or qualities you care about in those products. It's important to have a general understanding of all the green qualifications out there, as this will guide your search. Do you want the cream to be organic; free of animal by-products; made with essential oils; free of parabens, surfactants and other harsh chemicals?
Here are the five fundamental qualities I look for when I want to find a certain product:
It's developed using sustainable practices that have a relatively low impact on the environment.
It's created in ways that uphold honorable ethical values and human animal welfare.
It's composed of safe and quality organic or natural ingredients.
It's made with local ingredients or materials.
It's sold by a company that donates to environmental or humanitarian causes.
If you're not sure what qualities you're passionate about, I always recommend starting with products made with certified organic ingredients. These are largely free of harsh and artificial ingredients, and they're cultivated using environmentally conscious methods. Here's a fun fact: Enhanced soil fertility and higher biodiversity are intimately connected to organic agriculture. So, you should definitely feel good about incorporating them into your daily life.
3. Begin your search online.
Once you decide the type of product you want and the green merits you want it to have, it's time to begin your search. The Internet is always a good place to start. Type this information into Google or another search engine and get searchin'. Once you find a product you think you may like, you can begin to dig a little deeper.
4. Carefully look at the ingredients list.
Ingredients lists are an integral part of the pursuit to find a product that is actually healthy and green. Carefully look at this list and pay attention to each individual ingredient. To go back to the example, let's say you've found a hand cream that's made with organic ingredients. Make sure you don't see any odd ingredients in the mix too. Sometimes skin care products are made with one organic ingredient mixed in with rather undesirable preservatives and harsh chemicals.
Bisulfites, parabens, and phthalates are just a few of the ingredients that you should try to avoid. This list will give you a better idea of all of the red-flag ingredients out there.
5. Do some external research on the company.
All right, so you've found an organic hand cream that meets all your standards. Now it's time to make sure that the company selling it is socially responsible. Perhaps it donates to causes that align with your beliefs, or maybe it's been recognized for its commitment to fair labor conditions.
Take a look at the company's website and see if it's certified by a reputable agency. Most likely, if a company is actually being environmentally and socially responsible, they'll clearly advertise it on their site. Here are a couple of skin care brands that have clear commitments to responsible causes.
Here's the easy part: Once everything checks out, buy the product and feel great about using it. Though I used skin care products as an example, this process can be used to find a greener version of practically anything in your home.
For more tips on how to find greener products, check out my website, Greener Square. We curate, research, and rate products based on their sustainable qualities, and design hand-selected bundles to make the search process even easier.