5 Tips For Running On The Treadmill The Right Way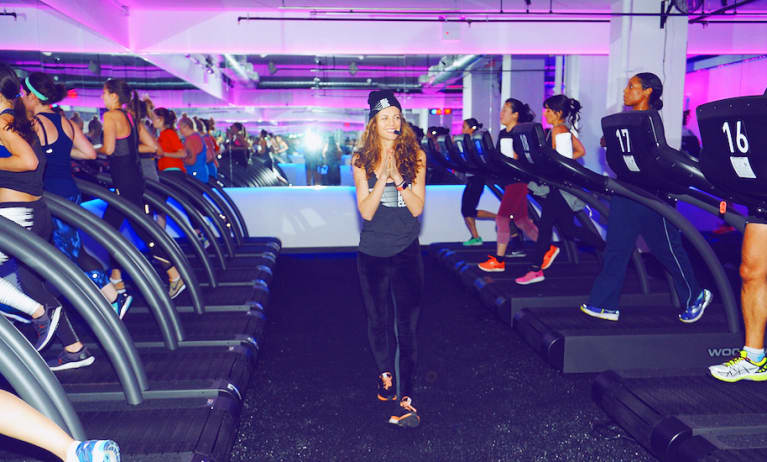 I've coached hundreds of runners over the years. I'm a RRCA-certified running coach and an ACE-certified group fitness instructor. I loved training runners so much, I launched my own fitness studio, Mile High Run Club, where we do exactly that—teach people how to run (on treadmills and outside). We train with a purpose and help people set and accomplish their goals.
Here are a few of my best tips for people just starting to run.
1. Run in the middle of the belt.
This eliminates the possibility of restricting your range of motion by running too close to the console. If your chest touches the console, you're too close!
2. Alternate between walking and jogging at first.
Until you build up your endurance to sustain longer efforts, perform a mix of walking and jogging when you're on the treadmill. Over time, you'll find that you don't need to walk at all!
3. Come up with a system to track data.
This way you can measure your progress. If you use a fitness tracker, like a FitBit, their website allows you to track your mileage over time, but if you want to specifically track your running mileage—you need a better plan. I use Runkeeper because I can manually enter data from my treadmill runs when I'm not using the GPS outside. Garmin makes great tracking devices for runners as well.
4. Don't run at high speeds.
Unless you feel like you're safe and in control, keep the speed at a comfortable pace for you. Sprinting on a treadmill faster than you feel comfortable can lead to losing control over your form, which can result in injury.
5. Make sure your sneakers are always double tied to avoid tripping!
Or use race laces instead of regular laces. Race laces have a lock, so there's no risk of the lace becoming untied during your run. Make sure your shoes fit properly and have enough support for your foot type and training purposes.
Related reads: