How The Co-Founder of Sakara Life Gets Her Glow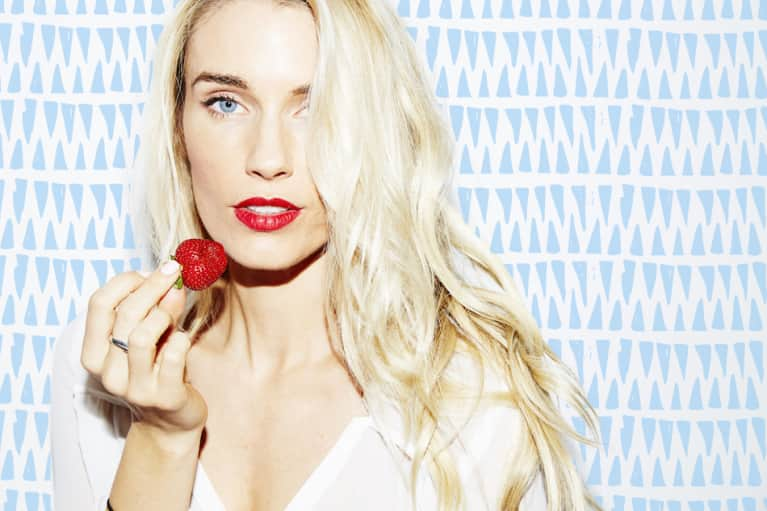 Our editors have independently chosen the products listed on this page. If you purchase something mentioned in this article, we may
earn a small commission
.
As one half of the clean eating team behind Sakara Life, co-founder Whitney Tingle knows a thing or two about eating the best foods for feeling and looking great. Today she shares her top tip for getting beautiful skin from the inside out.
You've probably heard that about 60 percent of the human body is composed of water. So it's no wonder hydration is so important — clearly, that beautiful body of yours needs plenty of water to do all the things it has to do to support you every day.
Hydration is key in supporting many of the body's most essential functions. It helps your body assimilate the nutrients in your food; aids in cell regeneration; boosts your skin's elasticity for a supple, youthful complexion; keeps your energy up; maintains healthy joints and muscles; and assists your kidneys in flushing out waste and toxins, to name just a few benefits.
It also helps you maintain your weight goals by staving off between-meal snacking (because we all know that sometimes when we think we're hungry we're really just thirsty) and is a key component of developing that connection to your body.
While we're all for keeping a full water bottle on you at all times, sipping isn't the only way to reach your daily H2O quota. In fact, guzzling too much water (especially cold water) could potentially disrupt your digestion. So what's a health-conscious babe to do?
It's simple: eat your water.
Eating your water in the form of hydrating, living foods is one of the fundamental principles of the Sakara Life program, and one of the keys to the signature Sakara Glow. (On average, you'll find 1 liter of water in our salads.)
But we're not alone in this — renowned dermatologist and wellness expert Dr. Howard Murad has been preaching the "eat your water" gospel for some time. The Institute of Medicine states that 20 percent of our daily water intake actually comes from food. But what does "eat your water" mean in practice?
Each molecule of water in, for instance, a mouthwatering slice of juicy watermelon is bound up within the structure of the fruit. The result is that a) the water stays in your body longer, and b) your body absorbs that water more slowly and steadily, resulting in sustained hydration on the cellular level.
Now, we're busy girls and we're all about functional food that works for us, not against us, and hydrating foods totally fit the bill.
Sure, a big glass of water will love up your system in many ways, but when that water comes in a pretty package (like a juicy, ripe tomato or tart pink grapefruit), your body gets to enjoy a host of other nutritional benefits, like potassium (an electrolyte that helps maintain your body's fluid levels and aid in circulation), vitamin C (great for boosting the immune system), and antioxidants, like lycopene, which send love to your skin and may reduce your cancer risk.
Can your water bottle do all that? Not quite.
So how do you eat your water? That's easy — and delicious, too. Fill your diet with juicy, water-rich fresh produce! Certain fruits and veggies have especially high water contents, including:
tomatoes
cucumber
romaine lettuce
pears
beets
watermelon
celery
berries
Even broccoli, which may not seem like the most hydrating vegetable in the fridge, is actually made up of more than 90 percent water.
We're definitely not telling you to stop drinking water, so please continue to keep that water bottle full. What we are saying is, for truly life-changing results, make sure that in addition to drinking your H2O, you're also eating it in the form of an abundant, colorful, fresh, and varied array of cell-nourishing fruits and vegetables that are going to love your body in so many ways.
Eat up … and get ready to glow!