A Celebrity Doula On How To Support An Amazing Childbirth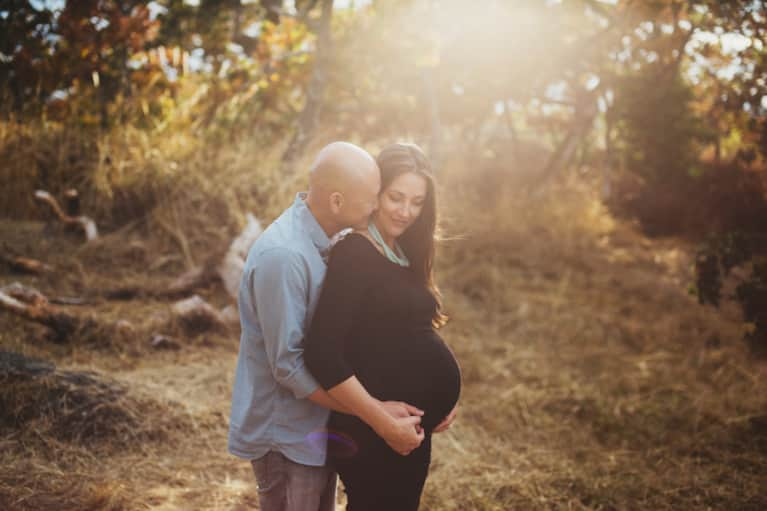 As a doula for almost 15 years, I've often heard from the partners of pregnant women that they're unsure what to do or say during the pregnancy and birth. Many have told me that they feel like an outsider and find it hard to relate because this magical experience isn't taking place inside of them.
Fortunately, I've started to notice a trend in my doula practice where more and more mindful dads are getting involved in the pregnancy and birth process. That's great news because, partners: your energy matters more than you know! In fact, when prepping my clients for birth I always ask, "What helps you feel safe in unknown situations, when you feel scared or in pain?" And almost 100 percent of the the time, my clients say, "My partner."
Here are six ways partners can support women during labor and birth and be an amazing "dude-la":
1. Prepare for childbirth with her.
Be there as much as you can during the pregnancy. I know it's tough with work and obligations to always carve out the time, but it means the world to your partner when you attend the doctor appointments, childbirth classes, and meetings with the doula.
At the same time, read and educate yourself on birth and parenting choices — don't just leave it up to her. You're a team, so think of this as one of your first parenting steps together.
2. Protect her space during labor.
If you both decide you want to have this birth experience on your own, and certain pushy family or friends want in, know that you're the gate-keeper of her space. Be a protector and do what you can to keep others at bay.
You'll help her relax and solely focus on the birth instead of worrying about everyone else. In advance of labor, study the birth plan, and aim to be her advocate.
3. Keep her nourished and hydrated during early labor.
It's been said that labor is like running a marathon. You wouldn't run a marathon on no sleep, food, or water and burn up all your energy in the first mile, would you?
It's important to pace yourself in birth. So during early labor, help distract her with a movie or have her take a nap. Throughout early labor, make sure she eats regularly — fresh fruit, oatmeal, smoothies, yogurt, and toast are some good choices — and keep her hydrated with water or coconut water.
4. Be present at all times.
Your emails, phone calls, texts, and work can all wait during labor and childbirth. Use this time to unplug and fully emerge yourself in this moment.
Often women feel alone during childbirth. So just you being there, present and tending to her needs as she rides the waves of each contraction, will help her relax — because she knows you have her back. This is a magical day that you will never have again, the day you finally get to meet this child of yours.
I've asked many women what touch felt best during birth, and most told me that it was when their partners held their hand, gently smoothed their hair, kissed them, and held them in their arms.
Whereas fast, jerking movements can tweak the nervous system and cause annoyance, slow, nurturing massage strokes can help calm. I recommend partners learn massage techniques in advance, especially for the lower back and feet.
Practice these massages on her during pregnancy, and you'll do no wrong in her eyes.
6. Use encouraging, loving words.
Your words make a huge difference. During labor, encourage her and speak words of endearment. For example, tell her how great she's doing, how strong she is, how much you love her, and how proud of her you are. Tell her you can't wait to meet your baby and let her know what an awesome mom she's going to be.
You'll not only inspire her, you'll give her strength and make her feel amazing, too.
Related reads: