The One Thing You Need To Fake A Good Night's Sleep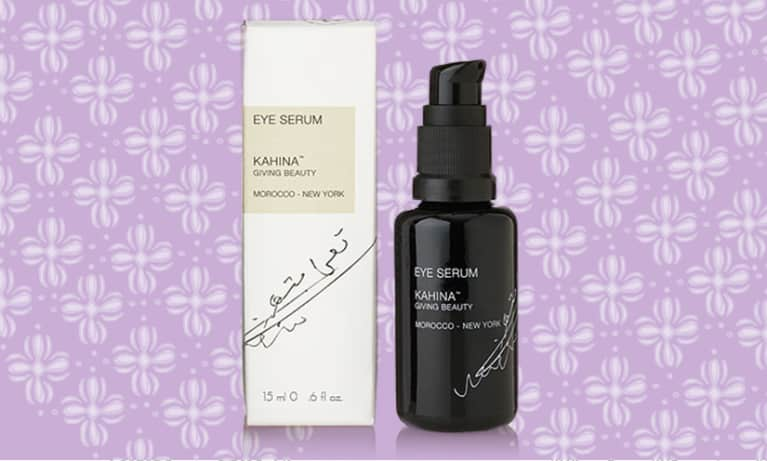 In this series, we'll spotlight one better-for-you-beauty-buy every week that not only does what it promises to do but that also upholds the green, natural approach to beauty and skin care we value so much. Trust us when we say you can trust our beauty editor, Allie White—in her time here, she's tried upward of 400 different creams, sprays, serums, tonics, etc. These are her favorites.
Kahina Giving Beauty's Eye Serum first came onto my radar thanks to a co-worker who, while spending a weekend with her parents, was told by her mom that she "didn't look like death" anymore after using the serum on her second night there.
Anything that can get a mom off your back regarding a perceived lack of sleep is worth a shot, and I'm glad to report this serum didn't disappoint.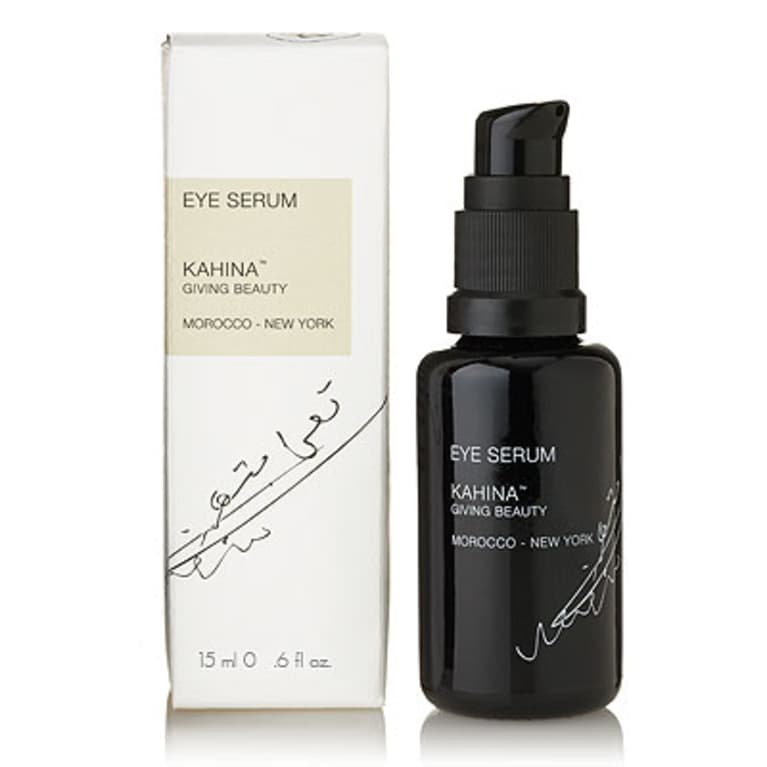 Formulated with only the purest and most ethically sourced ingredients (Kahina founder Katharine L'Heureux routinely travels to Morocco to oversee the sourcing and harvesting of the line's star ingredient, argan oil, and ensure the ethical treatment of the women who work to extract it), the Eye Serum benefits from an A-list lineup:
What's more, this is truly a serum, which means it's water-based and incredibly easy for the skin to absorb past the epidermis (as opposed to creams that tend to sit on top of the skin). It's also hyper-concentrated so you can use less product, making the bottle last anywhere from four-five months depending on how often you use it (it's powerful enough to use only at night, but light enough to easily wear under makeup during the day).
When you see this stuff in action, you'll know why that whole penetration thing is so crucial: after only one night, the ever-permanent dark circles under my eyes were noticeably lighter, and after steady usage for three months, they're basically gone. What's more is that no matter how poorly I sleep, I rarely wake up with puffiness or bags around my eyes. Formulated to help increase lymphatic drainage, these results shouldn't come as a surprise (though they were extremely welcome).
It's powerful without being overpowering, potent without feeling too heavy. Think of it as a gorgeous argan oil safety blanket for your under eyes, a blanket I can't imagine living without at this point.
Kahina Eye Serum, $78, kahina-givingbeauty.com
EWG Score: 1 — low hazard