How To Use Clay For A Full-Body Detox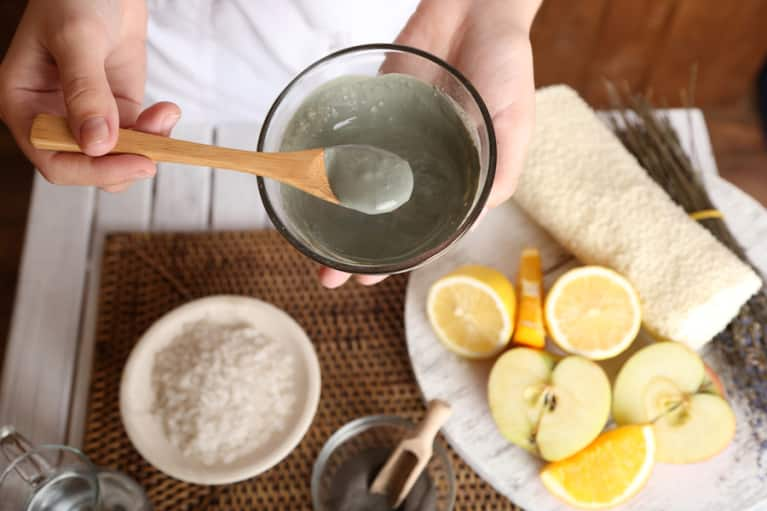 Water and clay are two of the most healing remedies provided by Mother Earth herself. Humans and animals alike have used this magical combination for centuries for its internal and external healing benefits. Sure, we played around in mud as it squished between our toes in our youth, but did you ever think you'd wind up using it as a detoxifying super ingredient as an adult?
So, what is clay anyway? Bentonite clays are formed from the weathering of volcanic ash. The two best-known bentonite clays are sodium-based, known for high absorption rate (swelling ability), and calcium-based, known for strong absorption rate (when negative ions are exchanged for positive ions).
This is so important for the detox process because most heavy metals and toxins—the stuff you want to get out of your body and skin—are attracted to clay's negative charge. This attraction allows the clay to absorb toxins and leave behind trace minerals for your body to absorb in its place. Clay also happens to be antibacterial, further aiding in its detox properties.
Headaches, acne, rashes, eczema, and fatigue are just a few signs that our bodies are overloaded from environmental stresses and toxins, all of which are great reasons to reach for clay.
Here are three simple ways to detox using clay:
A great way to detox the skin is to take a clay bath: the clay will pull toxins, dirt, and impurities out of your pores and promote healing. Adding essential oils will also give your skin and senses and aromatherapeutic healing boost.
Here's a simple recipe: Add 1 to 2 cups of clay to your bathwater, soak for about 15 minutes (don't overdo it!), then rinse off and enjoy the soft, clean feeling of your body and skin. If you don't have a tub, try a full-body mask (think of like a face mask for your whole body). Be sure to drink plenty of coconut water or water with lemon, sea salt, and honey to rebalance your system after the bath.
This toxin-removing mask will cleanse your pores, remove bacteria, and give you a soft, radiant complexion. Depending on your clay of choice, the liquid you mix it with should be a low pH hydrosol or apple cider vinegar to keep your skin at a healthy pH balance.
Here's how to do it: Mix 2 tablespoons of clay with your hydrosol or apple cider vinegar until a soft paste forms. If you are adding essential oils, mix well. Using your fingers or a brush; smooth the mixture over you face and neck. Let it sit for 5 to 10 minutes, but don't let it dry completely.
If it starts to dry out, spritz your face with your hydrosol or clean water to keep it moist (the clay needs liquid to do its detoxifying work!). Rinse completely with warm water and pat dry with a towel, then moisturize.
Using clay as a mouthwash is a great way of removing toxins and bacteria. Mix ½ teaspoon clay with ¼ cup of filtered water. Take small sips and swish in your mouth for one minute, repeating until the mixture is finished. Rinse your mouth with water and bask in its clean, fresh feeling.
Clay is birthed from Mother Earth and is a healing energy medicine that will go to the places it is needed most. It's a great addition to your home medicine cabinet.
Please consult your physician before using clay in any form. When using clay, do not mix in a metal bowl or with metal utensils; always use glass, ceramic, or wooden bowls and utensils.