14 Things You Need To Know Today (February 26)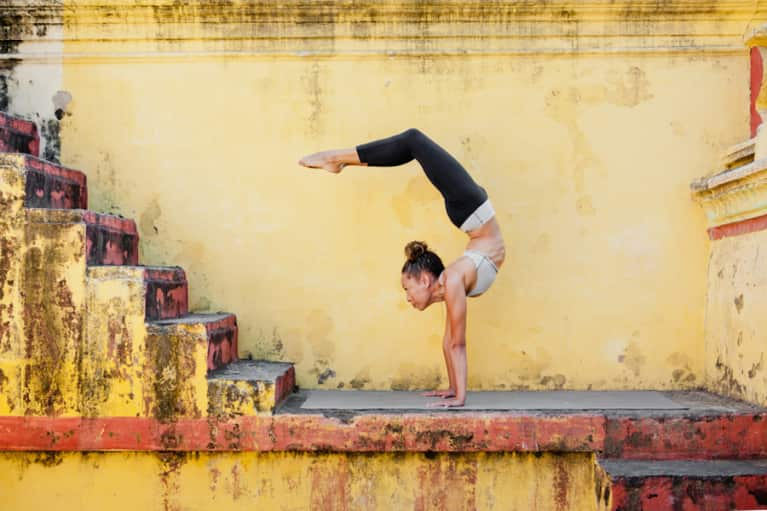 1. There's a world of competitive yoga.
And it's seriously impressive, and seriously competitive. (Racked)
2. Is Culinary Medicine the future of treatment?
The Goldring Center for Culinary Medicine at Tulane University is dedicated to teaching medical students the value of cooking with nutrition in mind, making them better able to share this knowledge with patients. With the number of people suffering from diet-related illnesses on the rise, it's refreshing to see an institution using food as medicine in a very real way. (NPR)
3. Whole Foods is getting into the food delivery game (sort of).
The better-for-you grocery chain just teamed up with food delivery service Instacart in two ways: they invested in the startup and signed a deal making Instacart the exclusive delivery partner for Whole Foods' perishables business. (recode)
4. Seriously, stop eating lunch at your desk.
More than 60 percent of professionals report that they regularly "desktop dine," and though the phenomenon can lead to smaller meals, it also means more snacking, a less social office, and pretty gross refrigerators. (NY Times)
5. These are the colleges to attend if you want to make the world a better place.
The University of North Carolina at Asheville tops the list of colleges with the most conscious, sustainable, and community-service-driven campus and students. (Princeton Review)
6. Kara Goucher, a 37-year-old professional runner, loves being a mom but doesn't want it to define her.
She's a two-time Olympian who finished fourth during the recent Olympic Marathon Trials, and didn't like how "mom" was added to descriptions of her: she's a competitor first and foremost. (NYMag)
7. Yoga may be a powerful healer for stroke survivors.
At the University of Maryland Baltimore Washington Medical Center, weekly yoga is helping with the recovery efforts of some stroke survivors. (CBS Baltimore)
8. Read this if you've ever dreamed of working at Facebook.
Every prospective employee they interview gets asked this question: "On your very best day at work — the day you come home and think you have the best job in the world — what did you do that day?" (TODAY)
9. A UK study suggests people are checking their phones every four minutes (that's 253 times a day).
British people check their phones 73 times during a typical working day. "Social media accounted for 24 percent of usage," and "using messaging services such as Instagram, Snapchat, and WhatsApp accounted for another 12 percent." (DailyMail)
10. You could soon be replacing your prescriptions with apps.
Bioelectronics are the new frontier in disease prevention and management. (Mental Floss)
11. The HIV testing stats in America are pretty upsetting.
A new study finds that despite recommendations that all adolescents receive regular HIV screening, less than a quarter of teens and a third of millennials have ever been tested. (Medical Daily)
12. The world's first "sustainable highway" is in the works outside Atlanta.
Designers are experimenting with growing natural grasses and flowers along the roadway, and installing billboards that pull pollution from the air and animal tunnels that help wildlife pass through safely. (Fast Company)
13. Now we know what the perfect email looks like.
Emails that are simple, short (125 words is the sweet spot), and positive without being too enthusiastic are the most likely to get a response, according to email processing tool Boomerang. (Fast Company)
14. The Hemsley sisters' new cookbook comes out in the UK today.
Those in the US will have to wait until April 12 for their second cookbook, Good + Simple, but here's a preview to get you excited in the meantime: