Why "No Pain, No Gain" Is Bullsh*t
Physical Therapist
By Laura Di Franco, MPT
Physical Therapist
Laura Di Franco, MPT, is a physical therapist with a practice in Bethesda, Maryland. With almost three decades of expertise in holistic physical therapy, six published books and a third-degree black belt in Tae Kwon Do, her energy and methods are contagious and unlike anything you're experienced.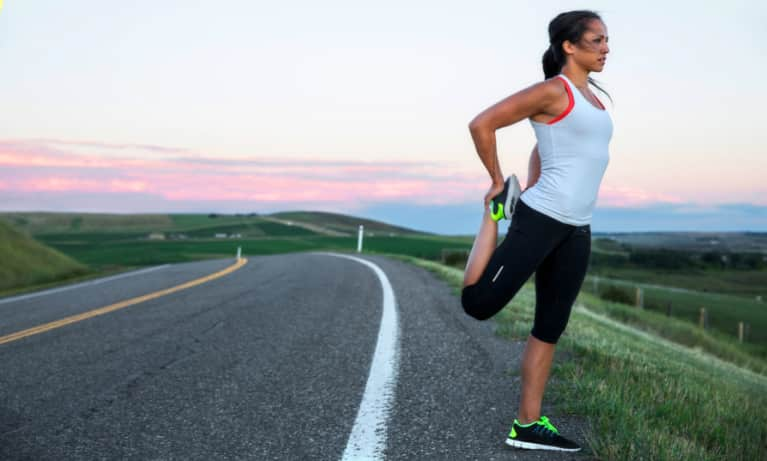 Many people believe that having a high tolerance for pain is a good thing. "No pain, no gain" drives them from a wee age, and they've lived their lives thinking that the armor they've built up is helping them.
In reality, a high pain tolerance means you can't feel the subtle and very important messages your body is giving you — and it may mean injury if you're not careful. Here's why:
If we don't start connecting with the ancient art of listening to our inner wisdom and body awareness, we're headed for physical disaster.
The more you feel and the more you listen and pay attention to those messages, the greater chance you have of making a choice that nourishes your body and moves it toward health and peak performance.
2. Yet we're conditioned to ignore pain.
It's fair to say that from an early age, we're conditioned to listen to someone else when it comes to our own body and to diminish or even ignore pain. We're taught that it's a good thing to move through it, get over it, and push past it. We are not taught to slow down, honor, and listen to what we feel and make a decision based on what our body is telling us.
3. Every time you ignore your pain, it gets worse.
The problem with a high pain tolerance, unless you rely on it for your job (Navy SEAL comes to mind), is that every time you decide to ignore the message your body is sending you, or worse, you're not connected enough to even feel it, it has to get louder to get your attention. What if we could learn to listen to those messages when they are whispers?
If you've been walking around boasting about your high pain tolerance, I encourage you to sit back, get still, and begin to learn how to feel what's underneath that armor of yours. There's always something deeper, some feeling or sensation that is foundational to the creation of that armor.
You want strength, you want flexibility, you want agility, mobility, and endurance; you want it all. But are you willing to really feel what it will take to get to those higher levels of performance? When you think about pain tolerance and how you've built up your identity around it, imagine that there might be something you haven't learned yet that could change everything.
Here are five ways to transform high pain tolerance into a powerful healing and performance tool:
Open your mind to the possibility that your lifelong tolerance to pain might be a shield, protecting you from feeling deeper sensations or emotions.
Recognize that your body is sending messages all day long. The key is whether or not you can feel and respond to those messages. Ask yourself if you've been able to do this.
Practice body awareness and see what happens. Take on the adventure of feeling and use a journal to record your thoughts, sensations, and reactions.
Explore the link between awareness and healing. It's what we do with our thoughts, beliefs, and behaviors, when we're aware of them, that gives us a choice for something better
Seek out more ways to understand your body. The body is the key to healing. Observing the thoughts and feeling the sensations is the way you get good at this. Taking action is the way you get results.