Reimagining Coffee: New Ways To Get Your Buzz On
The era of a simple black coffee in a paper cup is coming to a close, as more people than ever are seeking out new ways to reap the benefits of a cup of joe. They want to tap into caffeine's brain-boosting, disease-preventing, performance-enhancing properties, and they want to do it on their own terms.
Timothy Hill, a buyer at popular boutique roaster Counter Culture Coffee, said in a recent email to mindbodygreen: "More than anything, consumers are looking for more and more interesting coffees. Coffees from unique places, unique varieties that have unique stories." They're responding by sourcing their beans from some of the most remote, untouched corners of the world and telling the stories of the people who grew it.
Trendy specialty shops like La Colombe and Stumptown are using new technologies to make their café brews more unique. Their nitrogen-infused, foamy coffee concoctions promise a richer, smoother flavor that's extra decadent.
To keep up with the ever-evolving face of coffee, even the devices that carry the brew are transforming before our eyes. An eco-conscious consumer can use a Presse by Bobble, a zero-waste brewing and thermos hybrid, and the finicky drinker can control the temperature of his or her Ember mug to keep a brew piping hot, ice cold, or anywhere in between.
Clearly, a standard cup of coffee isn't exactly standard anymore. And start-ups are beginning to capitalize on this idea with products that reimagine coffee as something else entirely.
"We're in a time right now where a lot more people are open to almost anything," says Chris Pettazzoni, founder of STEEM caffeinated peanut butter. "If you can portray your product to be practical and worthwhile, now more than ever people are willing to give it a shot."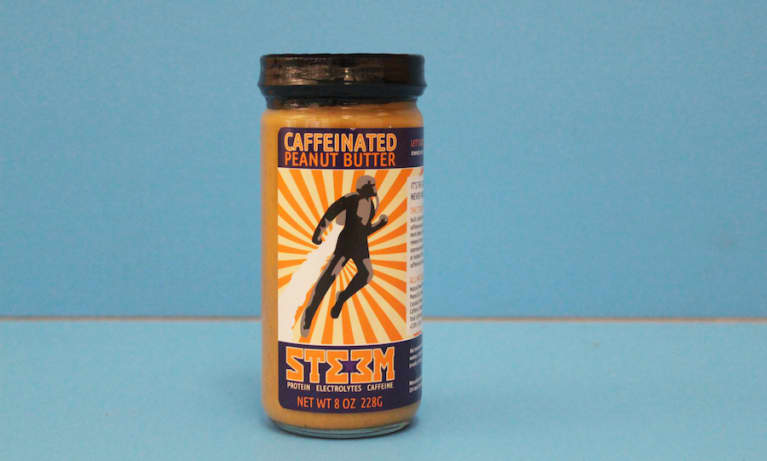 By combining peanut butter with natural caffeine, he's created a spread that's digested slowly, so it packs a steadier stream of energy. He markets his product as an alternative for people who don't enjoy the taste of coffee or are just looking to consume it in a new way.
Pettazzoni also hopes STEEM's intensely nutty flavor will draw consumers away from energy drinks and specialty coffee beverages loaded with sugary additives.
"It seems like there's a lot of excess associated with the coffee and energy drink industry. It's a lot of things we don't need," he said. "It's spending extra money, it's extra sugar, it's extra artificial ingredients, and that's something people are now trying to move away from if they can."
Go Cubes chewable coffee squares are another recent addition to the alternative coffee market. Like Pettazzoni, the brains behind the cubes are looking to give people a way to eat up the benefits of caffeine, but their target audience is a bit different.
In the age of Fitbit and other activity trackers, Michael Brandt, co-founder of Nootrobox, the company behind Go Cubes, thinks that today's consumers are more regimented about what they put into their bodies.
It's nearly impossible to gauge exactly how much caffeine is in a standard cup of coffee—it varies from 95 mg to around 200 mg. Made by condensing ultra-concentrated cold-brew coffee into a chewable, Go Cubes squares all have the exact same amount of caffeine, which is explicitly labeled on their packaging. (Two cubes is equivalent to 100 mg of the stuff.)
"At the end of the day, it's very easy to lose track of how much caffeine you're consuming. We're all about standardizing it," Brandt said. "There's a way that people can be more precise and modular about what they're putting into their bodies."
By taking the guesswork out of coffee, Brandt hopes to appeal to drinkers who turn to coffee to boost cognitive performance. Go Cubes also contain precise amounts of supplements like L-theanine and B vitamins, which can improve short-term focus.
Released earlier this year, the cubes have found a following in younger people using them to study, work on papers, or complete other tasks that require undivided attention. Social media has also helped the chewable coffee find its tribe—Go Cubes' Instagram feed is awash in snapshots of millennials enjoying their cubes with friends or chewing a few on the go.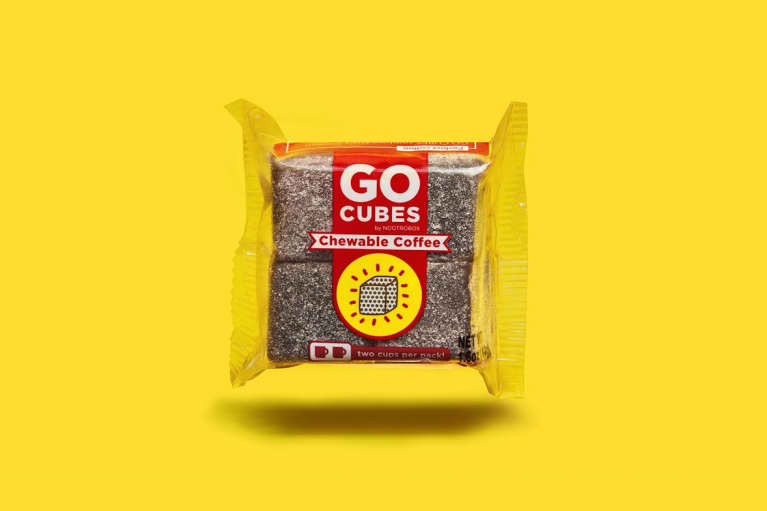 If edible options like STEEM and Go Cubes are the coffee of today, Joule bracelets could very well be the coffee of the future. The wearables—currently fundraising for a July release—forgo the digestion process altogether by sending a steady stream of caffeine into the bloodstream over the course of four hours.
Their transdermal technology works like any other nicotine or medication patch. With nearly 1,400 backers and $70,000 in funds raised on Indiegogo, it looks like a lot of people are willing to give this quasi-robotic method of caffeine absorption a try.
"It comes down to the fact that we have to get caffeine in to keep up with how fast-paced life is. And people these days get bored," Adam Paulin, a Joule co-founder, explained. "People are looking for new ways to liven up the experience of drinking caffeine."
It looks like this experience will continue to evolve to keep up with consumer taste and preference—though if our jewelry is going to give us our caffeine fix, the taste of coffee itself may soon be a thing of the past.
Keep reading: What Science REALLY Says About Chocolate, Coffee, Avocados & More