14 Adventurous Dates Guaranteed To Bring You Closer To Your Partner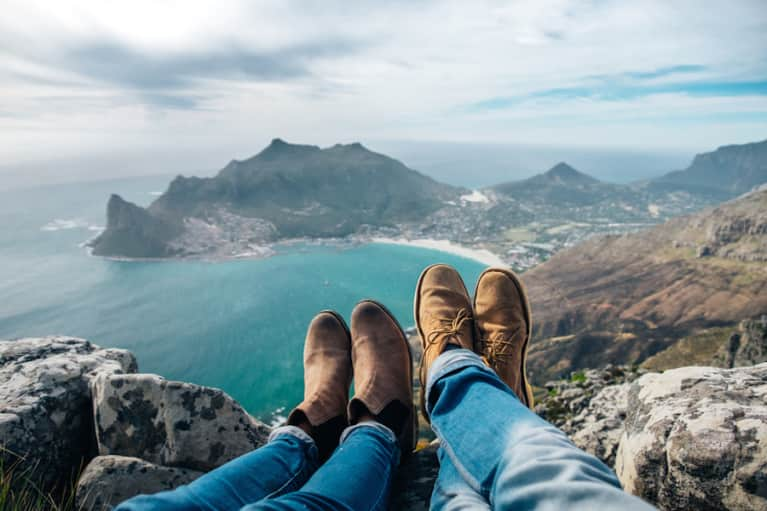 In October of 2009, my husband and I moved out of our Venice, California, apartment and into our converted Sprinter van.
Paring down our belongings to fit in a 250-square-foot space was a challenge, so when December rolled around, my husband was at a loss for what to get me for Christmas. We no longer had that back shelf in the garage to politely house unwanted gifts, so he really wanted to make sure I loved whatever he bought.
By the time the holiday rolled around, he still hadn't found that "perfect present." Instead, he handed me a homemade card that said, "This card contains a golden ticket that can be redeemed for one pair of boots!"
The card was adorable and the intention was sweet, so I was happy. Plus, I liked having a golden ticket I could redeem when a good shopping opportunity arose. But then Valentine's Day, our wedding anniversary, my birthday, and Christmas came around again, and I got more adorable cards filled with more golden tickets. This went on for four years, on every occasion. I had golden tickets coming out the wazoo, and let's just say the law of diminishing returns starts with the second one.
My own solution to the gift-exchange-in-a-van problem was to buy my husband graphic T-shirts. After all, they're inexpensive, lightweight, and practical. Consequently, he soon had one in every color for seemingly every day of the year, yet only his few favorites remained in the laundry rotation. The rest were buried in a drawer, as unused as my golden tickets.
My husband and I wanted to indulge each other with gifts and make each other feel special, but our choices were detrimentally constrained by space and utility.
Even the simplest shared adventure cultivates a lust for life and each other.
Eager to find a solution, three years ago we decided to reframe our perspective: instead of giving presents, we'd exchange gifts of presence.
We've found that experiential gifts create more happiness in both anticipation and memory than material presents ever could. For example, when my husband and I celebrated my 40th birthday, he gifted me with a trip to Mexico City — a place I've wanted to go for as long as I can remember.
For months, I was excited about our upcoming adventure — I read travel guides, did online research, spoke to friends who lived there —and when the week arrived, we shared an adventure I will always remember with joy.
Of course, Mexico City was a big gift for a milestone birthday — our gifts of experience are usually much less elaborate.
Here's a list of some of our favorite ways to create memorable moments with enduring happiness for any occasion. Try them out with your partner and watch the sparks fly.
Instead of giving presents, we'd exchange gifts of presence.
1. Take a weekend road trip.
Throw some clothes in a bag and drive up the coast. Keep it simple and spontaneous.
Share a campfire, roast marshmallows, and cozy up under the stars.
3. Check out a wine tasting.
Conversation flows when wine pours. If you don't have any vineyards nearby, buy three nice bottles and some fancy cheese to simulate a tasting in the backyard.
4. Sign up for a cooking class.
Food is sexy. If you don't believe me, watch 9½ Weeks.
5. Scope out a trapeze school.
6. Take a rock-climbing class.
Learn to work as a team as you encourage each other to reach the top.
7. Give acrobatic yoga a try.
Build strength, balance, communication, and trust with this decidedly sexy form of yoga.
8. Spend the night in a nice hotel.
Room service, hot tub, chocolate-dipped strawberries, and pillows for every body part ... need I say more?
Creative energy is libidinous energy.
9. Spend the night in a seedy motel.
You'll only have one thing on your mind with this one.
10. Go on a midnight hike.
Celebrate when the clock strikes 12! Everything looks better in the moonlight.
11. Volunteer for a worthy cause.
Doing good feels good, especially when you're doing it together.
12. Eat a picnic in the park (or your backyard).
Pack your partner's favorite snacks and head out to a grassy patch with a blanket and a bottle of wine.
13. Enjoy a walk through nature.
Whether you're walking along the beach or hiking an uphill trail together, the soothing sounds and fresh smells of nature will take you back to the basics of love.
Creative energy is libidinous energy. Keep it playful with a naked photo shoot, a glow-in-the-dark body paint session, or an original song about all of your favorite moments together.
Your phones should be turned off for all of these dates (except, of course, to take the occasional photo).
Remember, the idea is to gift presence — to simply engage in an experience with your partner. Even the simplest shared adventure cultivates a lust for life and each other.
Related reads: