Yes, You CAN Create Your Own Happiness. Here's How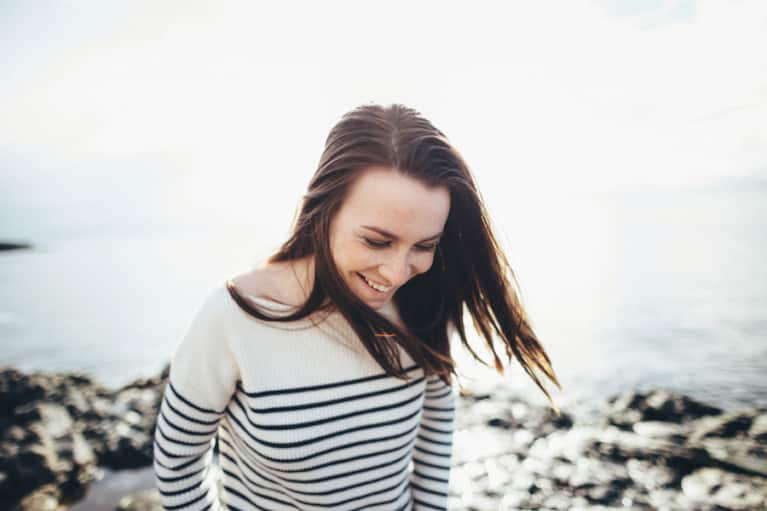 Like most things in life, happiness doesn't just appear out of thin air.
We believe we have to achieve this or that before we can allow ourselves to feel joy, and life's daily stresses make us see happiness as nothing more than an occasional glimmer on a stormy horizon.
But feeling good doesn't have to be hard, and you don't need to climb an emotional ladder to finally reach a place of joy. You CAN consciously create your own happiness—you just need to decide that's where you want your set point to be and keep pointing yourself in that direction.
Yes, achieving this sense of happiness takes some work, especially if you're starting with a lower vibration, but that work is what will bring you some of life's most joyous moments. When we find and tend to our joy, we guide ourselves toward a place of flexibility, clarity, and buoyancy. It's a place where all of our good ideas come from.
Here are five practical tips on how to actively create more joy in your life:
1. Create your own book of "exquisite moments."
This technique uncovers the "exquisite moments" that come to each of us on a daily basis. Stay on the lookout for at least one beautiful moment that spontaneously passes your way each day, and write it down in a journal. Maybe it's the look a little girl gives her grandfather when they share a cup of ice cream together or the way you feel when someone special walks back into the room after they've been gone a little while.
By making it a practice to write down at least one such moment each day, you will end up creating your own "book of evidence" that proves that beauty can be found every day. This "inner work" will help you create a new way of looking at the world—one that celebrates happiness and joy.
Laura Simms first gave me the idea to document these moments, and I've found it to be an effective way to remain present throughout the day and stay open to the moments that light you up and turn on your inner smile.
You can't feel joyful if you're anxious or stressed. One of the quickest ways to calm your nervous system and immediately feel more open to good things coming your way is to practice the yogic breathing practice of left nostril breathing. Sit in a relaxed position. Close your right nostril with your right thumb, stretching your other fingers straight up like antennas. Close your eyes and begin to breathe long and deep using only the left nostril for three to five minutes.
This activates the Ida Nerve Ending in the left nostril and can lower blood pressure and produce a quick reversal of anxiety symptoms.
Give back to the greater good without any strings attached.
3. Create the mental space for joy.
Sometimes our minds are so full of negative thoughts that we find it nearly impossible to focus on the good. Get rid of unnecessary mental chatter with a quick, simple meditation technique from Brendon Burchard. Close your eyes and sit in a comfortable, confident, upright position. Take several slow deep breaths in and out and begin repeating the mantra: release … release … release … release … release … over and over to yourself, either in your head or aloud. Say it at a pace that does not allow any other thoughts to get in the way. Start with a five-minute practice and work your way up to 20 minutes.
This exercise creates the mental space for joy by releasing pent-up negative thoughts that keep us stuck in a lower emotional state. It's also a great technique to use when you're faced with a challenging situation or decision.
4. Inject joy into your body, naturally
The foods we choose to put into our bodies influence the way we will carry through with our days. When we eat and drink "$#!+," that's exactly how we're going to feel.
Drinking juices and smoothies, on the other hand, is like injecting yourself with a natural antidepressant, though I suggest staying clear of juices and smoothies that are too fruit-heavy. Even though fruit contains natural sugar, it can still send sensitive bodies on an emotional roller coaster. Greens such as kale, spinach, Swiss chard, and fennel in particular make great bases due to their detoxifying and hormone-balancing effects.
5. Focus on what you can do for someone else
Happiness and altruism are intimately linked in a positive feedback loop—doing good is an essential ingredient to being joyful, and feeling joyful spurs kindness and generosity. In the next 24 hours, give back to the greater good without any strings attached. Perhaps do something for someone and don't tell anyone or, at least for the day, try to make everyone who comes to you walk away a little happier.
Remember, when we make joy our set point life steps up to meet us more than halfway—it begins delivering things that bring us more and more to be delighted about.
In short, when joy becomes our set point ... magic happens.
Related reads:
Learn more using my new course, 3 Weeks and 21 Tools to Making Joy Your Set Point. It provides results to people suffering from depression, PMS, or a general feeling of discontentment, and those who have a simple desire to feel more of life's magic.