How A Soul-Sucking Job Can Help You Find Your Purpose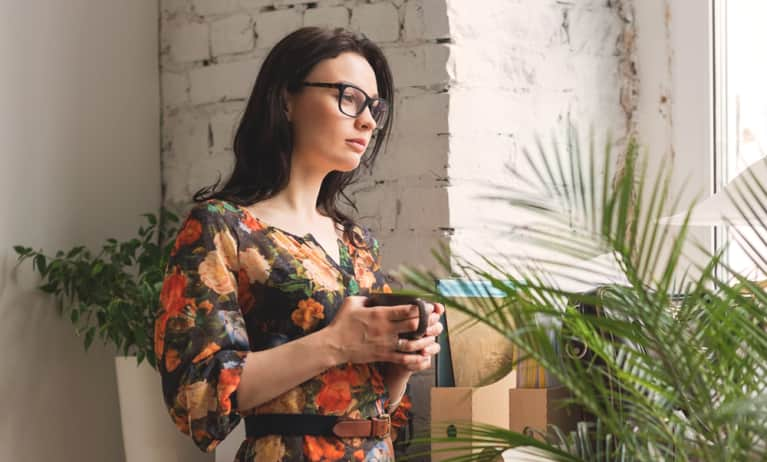 I'm sitting at my office desk trying desperately to hold back my tears. My body is numb and I feel excruciatingly heavy in my chair. There is something in the air today that I can't quite grasp, but I know today is unlike any previous workday. My boss comes over and asks me to come with him to Human Resources. As I follow him, my mind sprints to possibilities — I have been with this company for four years, and never once have I been called to a meeting with HR and my boss. I'm not due for a raise or a promotion. The only other rational reason for this would be that I'm getting fired.
I become acutely aware of my surroundings. The air is so thick, a knife couldn't cut it. I hear a pen drop across the office, the sound seems to boom out of proportion, and I realize it is a reflection of my heart falling into my stomach. I feel as if I might pass out, so I remind myself to breathe and keep moving forward. I am asked to sit down. As I slowly breathe out, my boss begins to tell me that he is pleased with my positive attitude and that I am always a pleasure to work with but that the roles of the agency have changed and the demands of my position are no longer being met.
As he talks, I find myself spacing out, watching his lips move, but in my mind hearing only static. I think to myself, "If you're going to give me the ax, just do it. Cut to the chase. The anticipation is killing me." Then I remind myself that this might be the most pivotal moment of my entire life. It's time to quiet the inner chaos and pay attention. I force myself to listen.
At that point, my boss turns it over to the woman who signed my hiring paperwork, and all I need to hear is her first sentence: "This is always so hard to do, but we need to let you go." The tears I have been holding back all day flow to the surface. As my colleagues look at me with sympathetic sadness, the water pours out.
They don't realize these tears aren't coming from fear or pain. They are tears of relief. This is the moment when all of my positive thinking is coming to fruition. It's the moment I started to believe in miracles.
The direction was simple: "Follow your heart."
Two years before, I was walking home from my fourth consecutive 15-hour day. That walk was the only thing I had done for myself in the previous two weeks. The movement soothed my body. My thoughts racing, I reminded myself that I choose to work at the fancy advertising agency in the big city, but the responsibility had become a burden.
As I scanned the Chicago streets, the faces became muddy. I picked up my pace in hopes of getting home quicker, but I couldn't hold the tears back anymore. I ran home, burst through my front door, and collapsed on the floor. I was shaking, my face soaked with tears of grief, exhaustion, and fear.
I'd finally realized I was not living the life I was supposed to be living. I felt like a foreigner in my own apartment. My hopes and dreams were supposed to be apparent in this life, this place I had built to be my home. I was living my dream life, but it didn't feel like my life! It was as if I was renting someone else's existence.
From the outside it seemed I had it all. I had a man who wanted to marry me, a steady stream of promotions, a beautiful apartment, copious travel, and a glamorous career. Why did what I thought I wanted feel so different in reality? I had hoped achieving these goals would make me happy and content. I should have felt alive and free. Instead I only felt trapped, alone, and terrified that this was as good as it would ever get!
Everything you're going through is part of a bigger plan. It's all connected.
I prayed out loud to God, to anyone who would listen: "Help me, please help me. I need you now." In that moment, the air around me changed, and a calm presence filled the space. I heard my own voice, but commanded by something bigger. The direction was simple: "Follow your heart."
When I woke up the next day, I aggressively took stock of my current status. Listening to my inner voice, I knew I needed to overhaul my life from the inside out. The gravity of the undertaking started to feel overwhelming, but I kept reminding myself that all of these changes were my choice.
Even if I couldn't see the end of the journey at that moment, I could see the first step. And I could choose positive thoughts. Those helped me take the tiny steps that eventually created my new life.
I am fulfilled, living my purpose, and loving what I do as a writer, coach, and course leader. My journey is what brought me here. Even when I was as far away from my purpose as possible, I was being groomed for it. I just didn't see it then.
If your soul is suffocating, I'm here to tell you it gets better. Have hope.
1. Everything is connected.
The skills you learn in your current role are part of your perfect future. You don't have to know how things are connected to focus on what you're learning in this moment, and on perfecting skills that make you stronger, smarter, and more well-rounded. What I went through prepared me to coach people through life's toughest moments — and some of them are people I used to work with.
2. You're never off-track.
You may feel as if you've taken a wrong turn but where you find yourself in this moment is exactly where you need to be. This situation was designed to help you learn more about your authentic self. Everything is happening for you, not to you.
3. Every moment is a miracle.
You may feel trapped in your current job. It may be hard to charge forward. But when you open your mind to possibility, you'll see the miracle in the madness. Each moment presents an opportunity for you to align with your truth. When you follow that guidance and trust the journey, you will be rewarded.
4. Gratitude brings freedom.
You may feel like your job is pointless or not fulfilling, but finding the grace in your daily routine is a skill you can cultivate. Start by appreciating what isn't working — the boss or coworkers who don't understand you or support you — and then try to love them. The money you make pays the bills. Be grateful for that. When you focus on being grateful for what you have, you will attract what you want.
5. Happiness is a choice.
If you feel stuck, it might be a result of your focus on what isn't working. Instead, focus on what you want.
Related reads: