A Thyme & Honey Mask To Heal Irritated Or Blemished Skin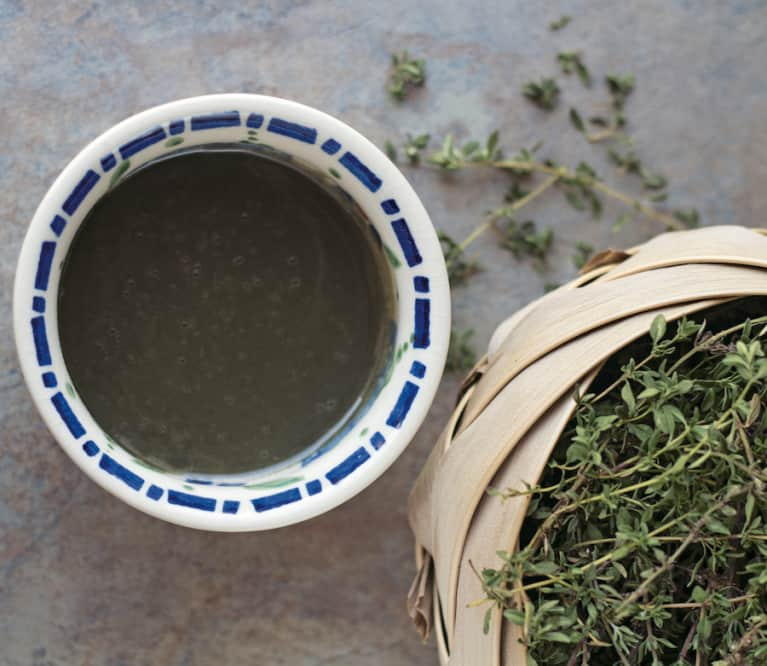 Our editors have independently chosen the products listed on this page. If you purchase something mentioned in this article, we may
earn a small commission
.
This mask is ideal for irritated or blemished skin.
Thyme is a classic antibacterial and anti-acne herb, and raw honey heals and soothes a variety of inflamed conditions. Tamanu is a well-researched and amazing oil that's been added to the recipe for its ability to repair damaged skin, scar tissue, and a variety of other skin ailments. French green clay rounds out the mix and helps draw out impurities from within the skin.
This mask will leave your skin feeling clean without stripping away moisture.
Makes one application
Ingredients:
1 teaspoon dried thyme leaves
½ teaspoon French green clay
½ to 1 teaspoon raw honey
¼ teaspoon tamanu oil
Preparation:
Using an electric coffee grinder or traditional mortar and pestle, grind the thyme leaves, then sift through a fine mesh strainer. This should yield around ½ teaspoon thyme powder.
Stir the thyme powder and clay together in a small bowl, then stir in the honey and tamanu oil. If your skin is extremely oily, you may want to skip the oil and add more honey instead, if needed, until a thick paste is formed.
Using your fingers, generously spread the mask over your face and neck and leave on for 5 to 10 minutes. The honey makes the mask somewhat sticky, so it's OK if it doesn't go on perfectly smooth and even.
To remove, wet a washcloth in very hot, but still comfortable, water. Lay the cloth over your face and neck for around 30 seconds, then wipe the mask off. You may need to repeat this process a few times until the mask is no longer visible on your skin. Rinse off any remaining residue with clean running water.
Variation: If French green clay isn't available, try kaolin or another type of cosmetic clay instead.
Keep reading: Get Glowing Skin With This DIY Turmeric Face Mask