An Energizing Bath Soak Made With Fresh Garden Herbs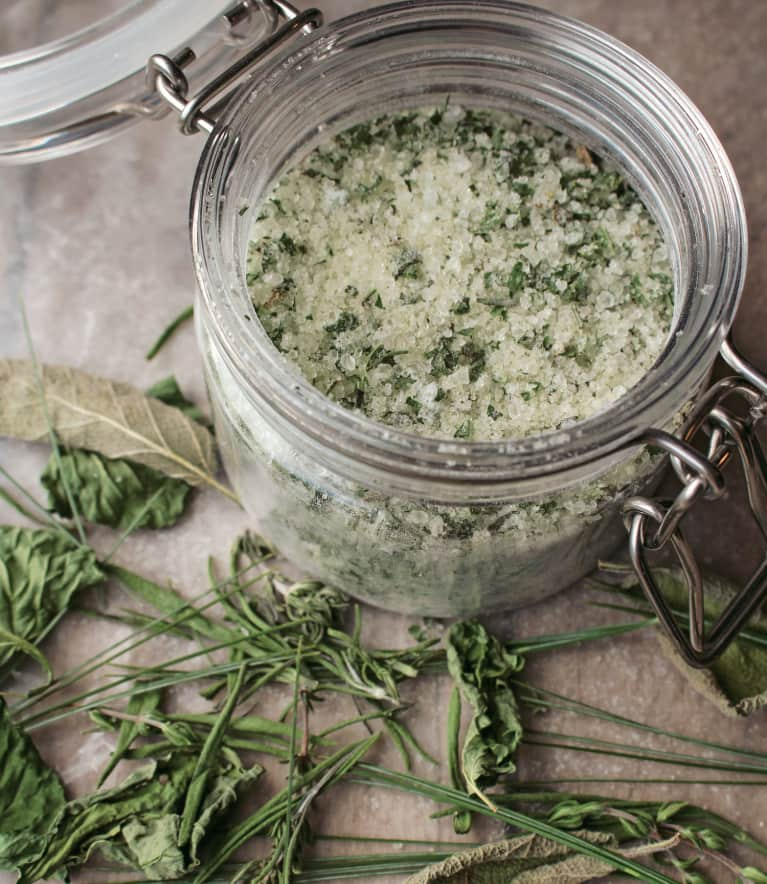 This refreshing bath soak incorporates a variety of green herbs and leaves from the garden.
Mix and match as you please, but choose several strong aromatics, such as mint, lavender leaves, rosemary, sage, thyme or pine needles for their energizing scents and beneficial circulation-boosting properties. If available, add a few leaves of violet or plantain to round out the mix and for their extra skin-soothing effect.
Baking soda softens the water while Epsom salt helps ease sore muscle aches and pains.
These bath salts are further scented with invigorating eucalyptus and peppermint essential oils to revitalize and uplift a tired spirit and body. As a bonus, these two essential oils are amazing at clearing sinuses, making this a great soak for when you have a stuffy nose or cold.
Makes ½ cup (130 g) or enough for one bath
Ingredients:
½ cup (about 12 g) chopped fresh green herbs and leaves, loosely packed
½ cup (112 g) Epsom salt
1 tbsp. (9 g) baking soda
few drops each of eucalyptus and peppermint essential oils
Reusable tea bag or 12 x 12-inch (30 x 30-cm) square of muslin cloth, plus string for tying
Preparation:
Using a small food processor, coarsely blend the fresh leaves and Epsom salts together. Spread the salt and herb mixture out on a sheet of wax paper and allow to air dry for 1 to 2 days. The salt works to quickly pull moisture from the leaves and needles, preserving the bright green color of fresh herbs.
In a small mixing bowl, combine the dried herb salts and baking soda. Stir in a few drops each of eucalyptus and peppermint essential oils.
Pour into a small jar or, to make after-bath cleanup easier, tie the bath salts up in a reusable tea bag or a 12 x 12 inch (30 x 30-cm) square of plain muslin cloth.
To use, pour the loose bath salts into warm bathwater, or drop the bag of salts in while the water is running, and enjoy a rejuvenating bath.
Because eucalyptus and peppermint essential oil are not recommended for use in young children, this bath is more suitable for older teens and nonpregnant adults.