Find True Happiness By Taking Your Yoga Practice Off The Mat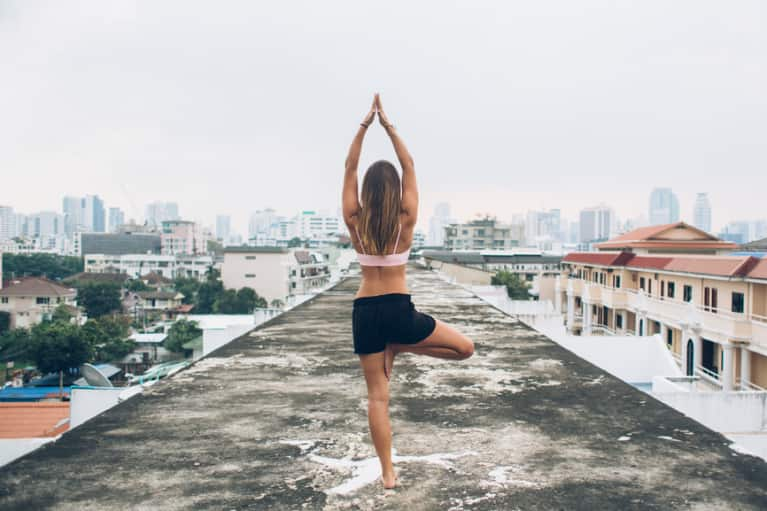 I'm a yoga instructor, and at the beginning of my classes, I invite my students to set an intention or dedication for practice, and I ask them to bring into their mind and heart a positive quality or virtue to cultivate on their mat that day. At the end of class I guide students to reflect upon their intention and to keep it in their mind and heart as they journey off of their mat.
My intention for doing this is to create a ripple effect of positive energy, in hopes that by doing so, the positive intention continues to uplift and inspire even as my students journey away from the yoga studio and into the rest of their day or week.
Taking your yoga practice off of the mat can be an incredibly powerful tool for making positive and healthy changes in life. Here's how to do it:
1. Continue to practice mindful breathing throughout the day.
When I was introduced to yoga I was experiencing anxiety and depression. I was fearful and worried all of the time, which created a tremendous amount of stress. The stress that I was experiencing based on the fear and anxiety was affecting my breathing and I often felt out of breath.
Consciously slowing down my breath throughout the day helped me learn to manage my anxiety.
Discovering mindful breathing in yoga and consciously slowing down my breath throughout the day helped me learn to manage my anxiety.
2. Recognize that you can handle challenges.
Everyone has struggled and faced challenges. Yet, if you have found the four corners of your yoga mat as a sanctuary and a safe place to breathe and sweat, then you have overcome something along the way.
One of my favorite yogic quotes is by Dr. Judith Lasater: "Yoga is not about touching your toes, it's about what you learn on the way down."
Every time I've faced a challenge in life, the experience has led me to a place of self-discovery and new direction. I've learned through these hard times that the end result is always better than what I started with. That breaking down can truly lead to breaking through. The most tremendous shifts have occurred for me during these times and when I step onto my mat with the intention of letting something specific be released and let go.
3. Make the conscious decision to be a positive contributor to the world.
What does it really mean to practice off of the mat? It's the conscious decision to be a light to the world, even when it's challenging. When you breathe slowly and deeply in half pigeon or another posture that is challenging or to some degree uncomfortable, it creates an opportunity for the practitioner to ease into the experience and stay present with what is occurring. Being able to focus attention on breath and consciously breathe slowly when faced with a disagreement or stress is continuing to practice off the mat.
4. Choose an intention, a quality, or virtue you wish to practice both on and off the mat.
Self-love is a great place to start. When my intention and commitment is directed toward self-love, instead of pushing myself in practice, I take more modifications and breaks. I breathe slower and steadier with breath as my intention, and I get focused and stabilized when my attention is directed to balancing.
Moving your body and regulating your breath helps to calm the mind.
Many of us have found yoga as an outlet for stress, a way to release tension as well as strengthen and stabilize physically. On a deeper level, moving your body and regulating your breath helps to calm the mind. And if you have control over your mind, then why not think of something positive? Once you realize you're in control of the thoughts in your mind, then focus your thoughts on something loving, kind, peaceful, uplifting, inspiring, or otherwise affecting in a meaningful way.
This practice of mindfulness is taking yoga off of your mat and can contribute positively in a way that will enrich your own life, and my greatest hope is that the practice also inspires us to move out into our world and consciously uplift and inspire the lives of those we encounter.
Related reads: