What Plant-Based Health Coach Ilene Godofsky Eats In A Day
I've happily followed a plant-based diet for almost a decade. Now that I'm six months pregnant, running a plant-based food blog, and working on my first cookbook...it's safe to say that my day revolves around food!
I get a lot of questions about being plant-based and pregnant, mostly with people wondering if I crave meat and cheese. While my appetite certainly has grown and I've had cravings for some funky food combinations (oranges with pickles!?), my body hasn't been asking for any foods I don't normally eat.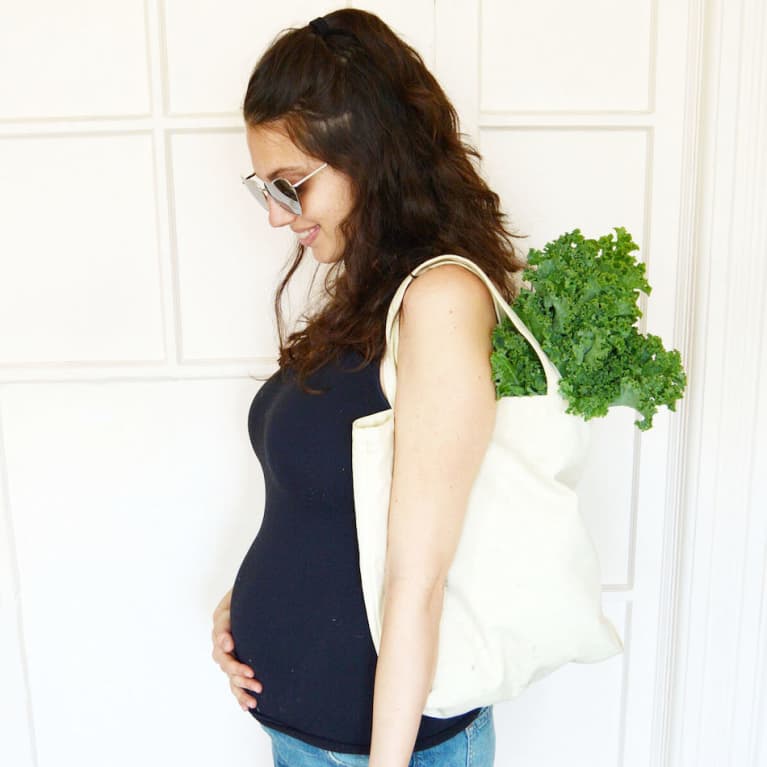 To stay healthy and energized, I always fill my plate with a rainbow of colors and make sure to eat lots of good fats, protein, and complex carbohydrates. I bake a lot of healthy desserts at home and enjoy sweets every day, but when a craving for something more indulgent hits (like cheesecake from my favorite vegan bakery), I definitely oblige!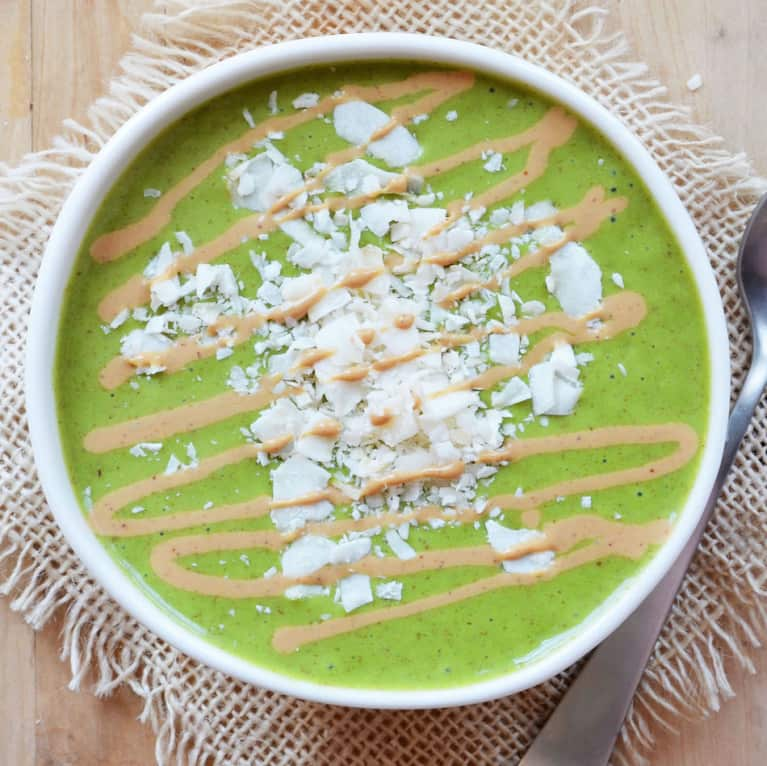 For breakfast I usually have oatmeal or a smoothie. Today I go with a smoothie made of frozen banana, flaxseed, spinach, and almond milk, topped with coconut and peanut butter.
After breakfast it's time to catch up on emails and blog work.
10:30 a.m.: Morning Snack
So far, my biggest pregnancy craving has been for foods that are extra salty, savory, and smoky. I came up with this carrot "lox" recipe and it really hits the spot! My snack today is a gluten-free bagel with vegan cream cheese, tomato, carrot "lox," and capers.
Next up, I'm spending the rest of the day in the kitchen, testing out and photographing recipes for my cookbook.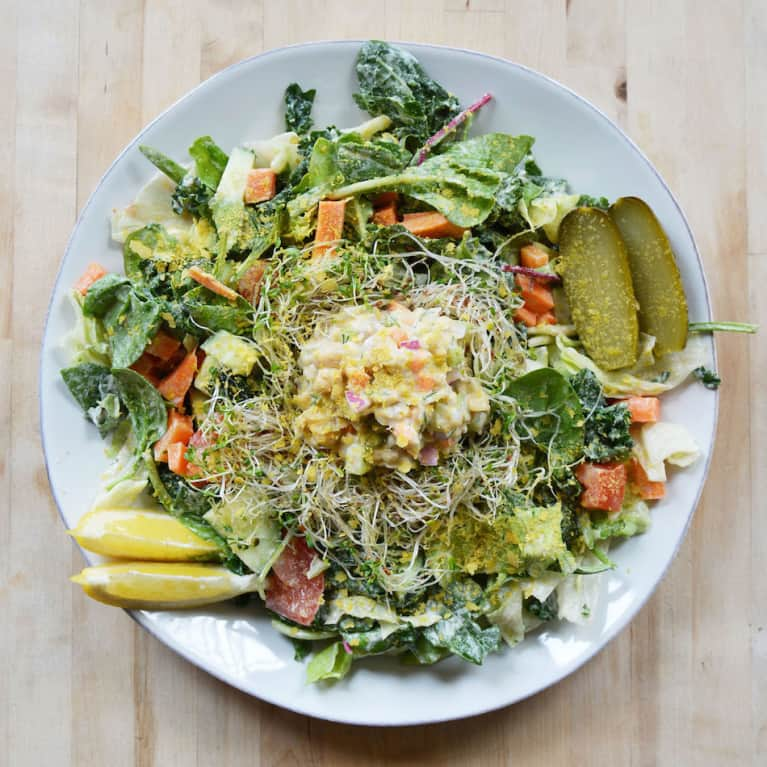 Lunch is usually a salad made with whatever fresh vegetables and leftovers are in my fridge. Today, it's mixed greens, tomato, carrot, cucumber, and sprouts tossed with cashew-caesar dressing, topped with tempeh "tuna" salad, and pickles on the side—because that pregnancy cliché is very true.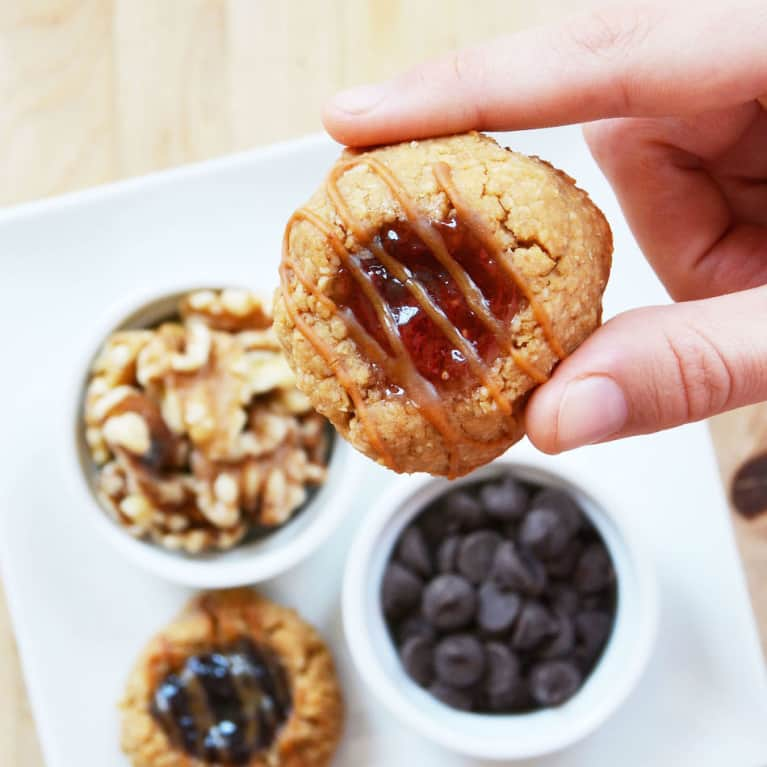 Around this time, my energy starts to drop, and I'm ready to put my feet up for a bit. I like to have dessert in the afternoon rather than after dinner because it gives me more time to digest before bed and avoid heartburn (a common problem during pregnancy).
I'm planning to go to Spin class (my favorite pregnancy exercise!) in a little bit, so today's snack needs to be full of protein, too. I go with walnuts, dark chocolate chips, and two protein cookies from today's photo shoot.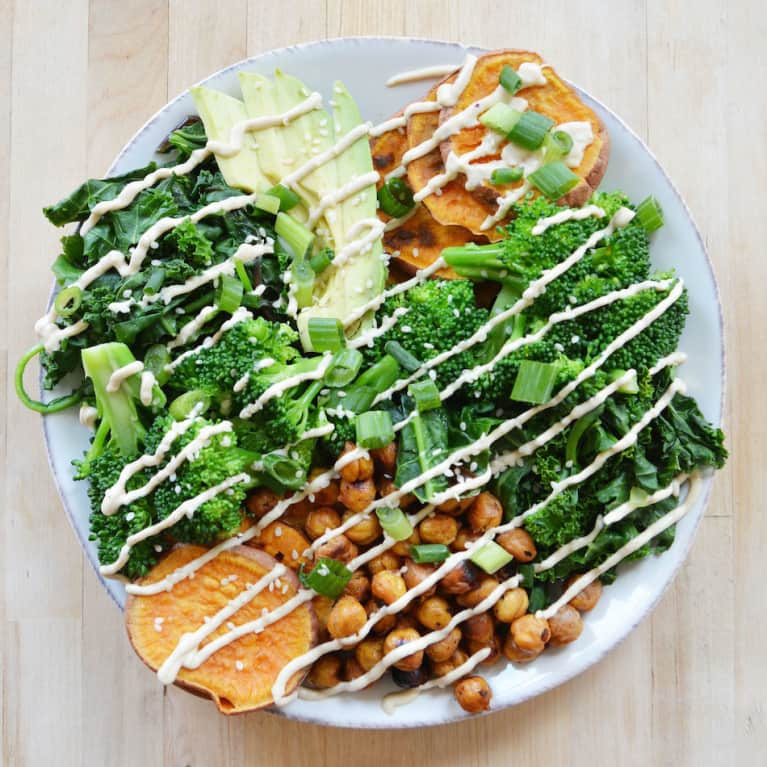 After working out I'm ready for a nourishing dinner. Tonight it's a macro plate of brown rice, steamed kale and broccoli, avocado, roasted sweet potato, and chickpeas (made ahead of time), topped with tamari, tahini, green onion, and sesame seeds.
After dinner I relax with my husband, and I'm in bed by 10!