Vegan Pizza That Even Meat Eaters Can Love
Written by
Leah Vanderveldt
Leah Vanderveldt is an author living in Brooklyn, New York. She received her Bachelor's in Communications and Media from Fordham University, and is certified in culinary nutrition from the Natural Gourmet Institute.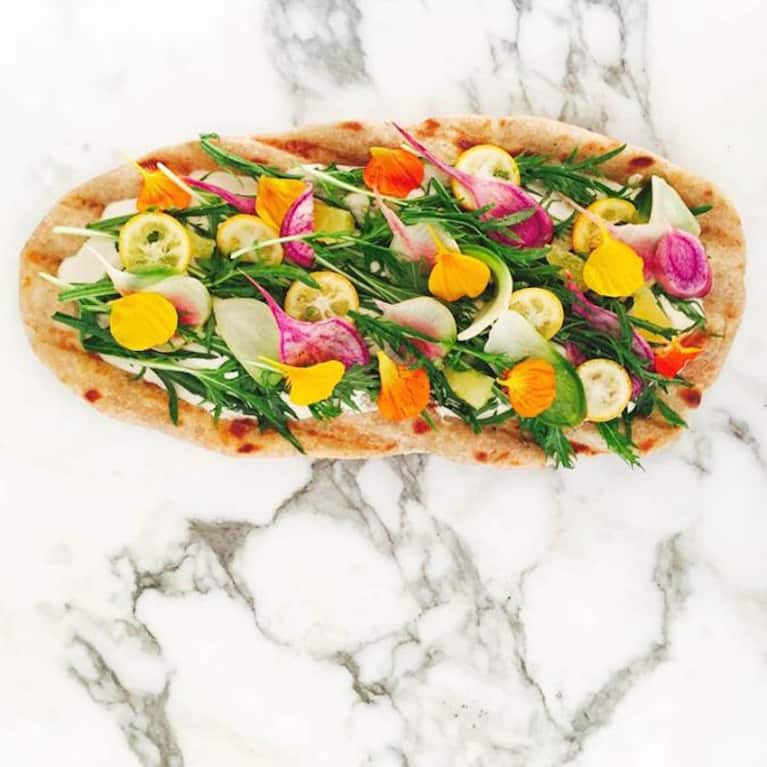 To borrow from the tagline of another plant-forward restaurant, "Anyone can cook a hamburger, but leave the vegetables to the professionals."
And Chef Matthew Kenney is a man who knows his vegetables. His fine-dining restaurants are renowned for their plant-based (and sometimes raw) cuisine.
In his latest venture, 00 + Co, Kenney keeps it casual with plant-based pizza and small plates.
The all-organic menu (created by Chef Scott Winegard) is both clever and comforting with pizzas like Truffled Celeriac, Maitake Mushroom, and Parsley Pesto Pizza, which mushroom lovers will go crazy for, and Farro-Fennel "Sausage" pizza, where the spiced farro takes on the texture and taste of crumbled sausage without any vague "meat substitutes."
The pizzas are made with double zero (00) flour, traditionally used in Italy for pizza and pasta making. It's more finely ground and lower in gluten than other all-purpose flours and results in a perfect crust when cooked in a wood-fired oven.
The "Not Pizza" section of the menu is all about seasonal vegetables and, along with the vegan cheese plate and organic wine list, rounds out the thoughtful selection of offerings.
This cozy and lively spot in New York's East Village is a great place to swing by for those looking for comfort food with a lighter, plant-based twist.
Clearly this isn't going to be your typical Friday night pepperoni-with-extra-cheese situation, but it doesn't have to exclude meat lovers either. The pizzas are substantial, satisfying, and fun to share — and so tasty that even carnivores with an open mind can appreciate them.