Watch This 106-Year-Old Woman Start A Dance Party With The Obamas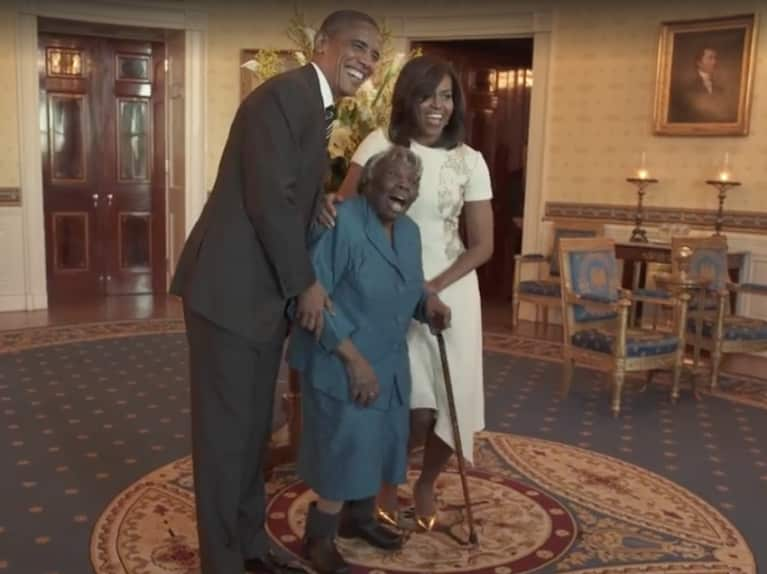 February 22, 2016 — 15:00 PM
A lot of us would say we'd jump for joy if given the opportunity to meet Barack and Michelle Obama — but 106-year-old Virginia McLaurin actually followed through on that.
During a recent Black History Month event at the White House, McLaurin, who was born before the NAACP was even founded, couldn't contain her excitement when meeting the president and first lady. She started an all-out dance party in the Oval Office.
And since it was her life-long dream to meet America's first black president, would any other reaction suffice?
As soon as she sees the president, her face lights up and she squeals with delight. Then, when he asks her if she'd like to meet the first lady, she sprints over to Michelle, and the president has to tell her to "Slow down now!"
But as soon as she and Michelle embrace, McLaurin's dance moves take over. She holds both of their hands, bounces up and down, and shakes her hips. Her hips don't lie — and they're yelling emphatically, "I've waited my entire life for this moment!"
According to CNN, McLaurin was born in 1909 in South Carolina and now lives in Washington, D.C. In 2014, she filed a petition to the White House, requesting to meet the Obamas, and then followed up with a video request the same year, saying, "I didn't think I'd never live to see a colored president. I'm so happy. I pray for you every day of my life."
If you've got the Monday blues, this'll be sure to cure 'em:
"I want to be like you when I grow up," the first lady says in the video — to which McLaurin replies, "You can." (Um, can we, too?!)