Jane Fonda On Getting Older, Staying Healthy & Embracing Her 80s (Hint: Yoga Is Involved)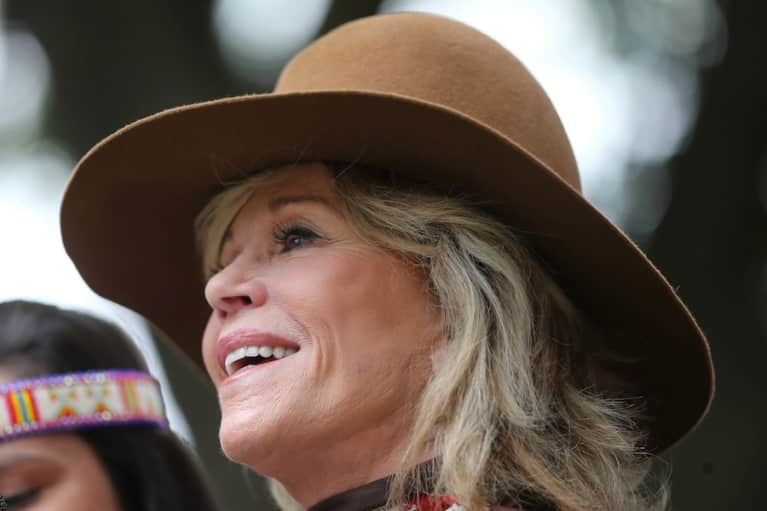 February 21, 2016 — 17:08 PM
In a recent interview with the Daily Mail, Jane Fonda got candid about her approach to beauty, aging and staying healthy.
Though she may have been the queen of aerobics and jazzercise — her 1982 workout video, Jane Fonda's Workout, was the highest-selling fitness tape ever — the 78-year-old actress, activist and writer says she's slowed things down a bit.
"I still work out, although these days I do it slowly. I don't run, I walk. I don't ski, I cross-country ski. I still do resistance training and yoga but I do it very slowly. I'm never going to stop ... the most important thing is to keep moving, to stay active. That's what I do and that's how I stay strong."
(When it comes to yoga, Fonda is a fan of mbg-fave Tara Stiles.)
She also credits her years of staying fit and active as having laid the foundation for her still-functioning body and strength, despite nearly being an octogenarian: "I have osteoarthritis and getting in and out of a car is a challenge. But I feel lucky that I did a lot of fitness work earlier in my life because it means I'm stronger now."
In terms of the external effects of aging, Fonda admits she's "given [herself] a little help," but is intent on always looking like herself. (The fact that she learned to meditate at 70 has probably helped the aging process, too. Seriously, she looks amazing for any age!)
And when it comes to self-awareness and truly being connected to herself, Fonda says, "you could not pay me to be young again. I don't care how much money I was offered. I didn't like being young at all ... After I turned 60, I began to understand who I was, and I became young again. Now I'm in sight of my 80th birthday and feeling pretty good about life!"
Kudos to you, Jane! Keep rocking your age and embracing the clarity that can come with getting older. After all, 80 is the new 20.