How To Make The Perfect Power Bowl + A Recipe To Get Started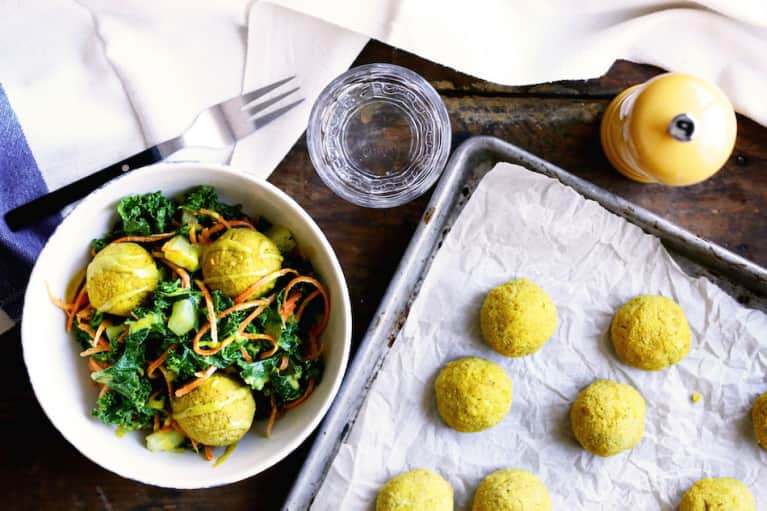 "Bowls" are having a moment for good reason—they're typically filled with good-for-you veggies, grains, and protein, brought together by a tasty sauce, and they're easy to customize according to your tastes.
Food blogger and author Allison Day knows all about building the perfect bowl and shares her knowledge in her cookbook Whole Bowls. Below she shares her tips to help you flawlessly execute your bowls at home.
Greens are some of the most used ingredients in bowls, making pre-washing a helpful exercise for quicker-to-the-table meals. I wash kale, herbs, Swiss chard, and other dark leafy or salad greens in water, then dry them in a salad spinner.
After drying, I roll the greens up in a paper towel to absorb excess water, preventing mushiness, for storage in a zip-top bag. Not only are the greens ready to use when you need them, this technique also keeps the greens fresher, longer (up to two weeks).
With the exception of the greens (mentioned above), most vegetables and fruits should be washed immediately before use (especially berries or they'll turn to mush in your refrigerator). The only produce I don't wash (ever) are mushrooms; instead, I use a paper towel to brush off any dirt.
While most vegetables and fruits require refrigeration, there are exceptions: winter squashes, potatoes, sweet potatoes, onions, garlic, tomatoes, stone fruits, and bananas should all be kept at room temperature.
Avocados and stone fruits can be left at room temperature until perfectly ripe before refrigerating for up to one week.
4. Bringing limp produce back to life
Whether you've left it too long in the refrigerator or it got old faster than you anticipated, you can generally save your less-than-perfect produce with a quick shock in ice water. Carrots, radishes, greens, cucumbers, and more—I've saved a lot of past-prime produce this way.
5. Read through the entire recipe before beginning
Most recipes have multiple steps, so reading through the recipe in its entirety before cooking is a good idea.
While one component is cooking, get working on another: For instance, if you're cooking a grain for 45 minutes, use that time to cook the vegetables and/or prepare the sauce or dressing for the rest of the bowl.
A restaurant trick I use every day. If the dish is to be served hot, make sure to warm the bowl to take the chill off. I'm pretty adamant about this in my kitchen, especially for pasta.
To warm, use a warming drawer (in some ovens), a low oven (for just a minute), run hot tap water over the dish (dry before use), or fill with a bit of water and heat in the microwave for 15 to 20 seconds (drain water and dry before use).
If you don't like a component used in a recipe or simply don't have it handy, don't go running off to the store—you can replace the component with something that better suits your taste and mood.
Curried Falafel + Kale Bowl
Serves 4
Falafel balls are wonderful, deep-fried delights that I could pop like candy. However, I don't own a deep fryer—but I do have an oven! These baked sensations—which acquired the moniker Goldenballs during development—are hit with rich curry, adding spiciness and a faux deep-fried hue.
Tahini dressing, a falafel requisite, is imbued with the same sunshiny curry powder, as well as maple syrup, lending a caramel-like sweetness that melds beautifully with a simple salad of kale, carrots, and cucumbers.
Ingredients for the Curried Falafel
1 tablespoon refined avocado oil or extra-virgin olive oil
1 onion, roughly chopped
2 cloves garlic
2 cups cooked chickpeas
1 tablespoon lemon juice
1 tablespoon curry powder
1⁄2 teaspoon sea salt
1⁄2 cup chickpea flour
Ingredients for the dressing
3 tablespoons tahini
2 tablespoons lemon juice
2 tablespoons water
1 tablespoon maple syrup
1 tablespoon nutritional yeast
2 teaspoons curry powder
1⁄2 teaspoon sea salt
ground black pepper, to taste
Ingredients for the Kale Salad
1⁄2 bunch (4 to 5 cups) kale, destemmed and torn into bite-size pieces
1 large carrot, julienned or grated
1 regular cucumber, peeled and diced
Preparation
1. Make the Curried Falafel: Preheat oven to 425°F. Line a large-rimmed baking sheet with parchment paper and grease with oil. In a food processor, pulse onion and garlic until a paste forms.
2. Add chickpeas, lemon juice, curry powder, and salt; pulse until fully combined. Pulse in chickpea flour until fully combined (will look like very thick hummus). Rest for 30 to 40 minutes at room temperature to allow flour to absorb excess moisture.
3. Line a large-rimmed baking sheet with parchment paper and grease with oil. Scoop 2 to 3 tablespoon-size rounds onto parchment; roll into balls. Bake for 25 minutes.
4. Make the dressing: In a small bowl, whisk together all ingredients.
5. Make the kale salad: In a large salad bowl, massage kale until bright green and tender. Add carrots, cucumber, and dressing; toss to combine.
6. To serve: To bowls, add a bed of salad; top with a few falafel balls. Serve.