Crazy-Delicious Mango + Lime Chia Puddings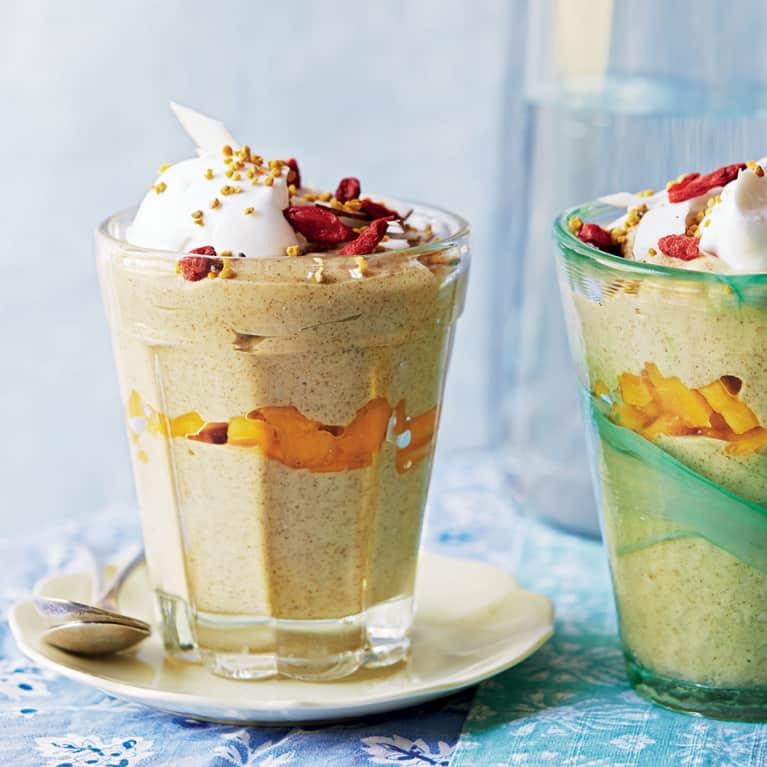 Packed with protein and omega-3 fatty acids, chia seeds are a great start to the day, although their texture is an acquired taste!
So here, I whiz them up in a blender with mango, mint, and coconut milk to make a delectably smooth and creamy pudding that's fresh and fragrant at the same time. It's a real winner!
You can use other fruits in place of the mango, such as papaya or kiwifruit, berries or ripe stone fruits when in season.
The recipe also uses baobab powder, which is made from the ground seeds of the baobab fruit. Its strong citrus notes of orange and grapefruit hint at its nutrient-dense profile — high in fiber and rich in vitamin C, calcium, potassium and thiamin. I love to add it to raw desserts (like this one) as well as to smoothies.
Mango, Coconut + Lime Chia Puddings
Serves 4 for dessert or 2 for breakfast
Ingredients
4 tablespoons chia seeds
2 tablespoons milled flaxseeds
¾ cup coconut milk, plus extra to drizzle
Scant ¼ cup juice from 1 to 2 limes
8¾ ounces mango flesh (about 1 mango), plus extra for serving*
10 medium to large mint leaves
Pinch of Himalayan pink salt
Generous pinch of ground cardamom
1 teaspoon baobab powder (optional)*
1¾ ounces ice cubes
Natural coconut yogurt
Bee pollen
Goji berries, soaked for 10 minutes in warm water to soften
Fresh mint leaves
Fresh or dried coconut
Preparation
1. Combine the chia seeds and milled flaxseeds with the coconut milk. Stir well and leave for at least 15 minutes to swell up, or make the night before, as I do, and leave to swell up in the fridge until the next day.
2. Put the soaked seeds in a blender with the rest of the ingredients, and baobab powder if using, leaving the ice cubes until last. Blend until completely smooth, then add the ice cubes for extra freshness. Blend once more until completely smooth. Pour out into the glasses and layer with cubes of fresh mango if desired.
3. Finish with your preferred toppings; drizzle with a little extra coconut milk, if you wish; and serve immediately.
4. This will keep well in the fridge for at least three days, so make a large batch at the beginning of the week. Enjoy it on its own for breakfast, or add extras like homemade granola, seeds, nuts, and fresh fruit.