8 Simple Ways To Have A No-Waste Day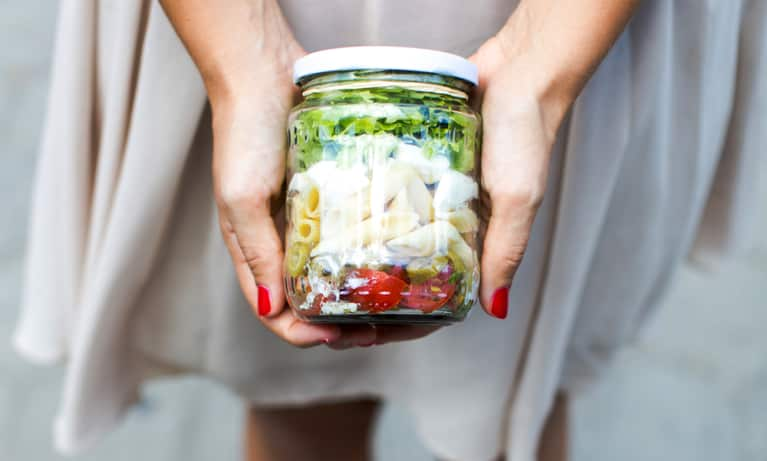 Last year, my family started chasing a zero-waste lifestyle because my husband and I wanted to lessen our impact on the environment and teach our children how to take care of the earth.
We started by avoiding plastic packaging then went on to discover minimalism and reduced our material possessions and overall consumption. After a transition full of trial and error, we are now close to achieving a zero-waste lifestyle with next to no trash. (We gave the movement a more fitting name: Near-O Waste!)
Our goal is to make as little trash as possible, and not worry about perfection. We were surprised to find that when we had less stuff, it left more time for travel — and each other.
With a bit of organization, the art of Near-O Waste can be easily mastered at home. But sticking to a green lifestyle can feel nearly impossible when you're out and about.
So often, stepping out of your home or office to run errands or eat in a restaurant means surrounding yourself with excessive packaging and single-use disposables. Keep these tips in mind for a successful, low-waste day, even when you're on the go:
We were surprised to find that when we had less stuff, it left more time for travel—and each other.
1. Pack a waste-free lunch.
A waste-free lunch starts at the grocery store. Next time you're food shopping, use cloth produce bags to store loose fruits and veggies and glass jars for bulk goods like rice, pasta, and beans. Ask your butcher to put meat straight into your plastic or glass container with no wrapper. Look for milk in returnable glass bottles and consider buying unwrapped bread at a bakery and putting it straight into your cloth bag. Avoid bottled beverages and juice boxes and prepackaged snacks and produce as much as possible.
Use these groceries to pack a waste-free meal in the morning on those days you know you won't be home for lunch. Put unpackaged food in reusable glass or metal containers instead of plastic bags, and remember to include a cloth napkin. You won't have to spend time or money buying lunch and you'll feel empowered when you don't have trash to toss after your meal.
2. Be prepared to say no.
It's easy to say no to straws, kid cups, receipts, and flyers if you're mentally prepared. If you eat at a restaurant, be ready to say, "No straw, please." or "No kid cup, please." Make your preference clear before the drinks arrive. If you're grocery shopping, say, "I don't need the receipt," and if someone offers you a flyer or a coupon say, "No, thank you." I was uncomfortable saying no at first, and I would often forget to do so. But after some practice, refusal became a habit.
3. Refuse (but photograph) business cards.
Even something as small as a business card uses natural resources, creates unnecessary waste, and clutters up your purse. If you're offered a business card (and you actually do want the information on it), take a picture with your phone instead. You can tell the person, "I'll take a picture and you can save it for someone else." It might feel awkward at first, but just be confident!
4. Make a "good-to-go" kit.
If you're eating out, don't get caught with leftovers that will end up in a disposable takeout container or the trash. Whisk them away in a jar or a snap-lid container instead.
When I'm eating out, I keep a "good-to-go" kit with me so that all my bases are covered. It includes a 10-inch cake pan for larger food items, a jar for spur-of-the-moment bulk snacks or soup, a snap-lid container for deli salads or sandwiches, a metal bottle and a glass straw for smoothies, and a set of utensils.
You can customize your kit to fit your specific needs. Consider storing it in a backpack or a milk crate that stays in your car so it's always there when you need it.
5. Bring your own reusable drink containers.
In one year, 50 billion disposable coffee cups go to our landfills and 17 million barrels of oil are used to produce the water bottles that Americans buy and toss out. I never leave home without my stainless-steel water bottle and coffee mug for on-the-go refills. Many coffee shops even offer a discount for bringing your own mug. With these essential containers, you will never have to buy bottled water or use disposable coffee cups again!
Any step you take toward zero waste, no matter how small, makes a difference.
6. Skip the paper towels.
It takes 17 trees and 20,000 gallons of water to produce 1 ton of paper towels, and Americans use 3,000 tons every day. Skip over these resource-intensive products and carry a cloth napkin with you instead. If it gets damp throughout the day, lay it out to dry on your dashboard while you're driving, or hang it on your steering wheel when you're parked.
Homemade vinegar wipes are also great to have on hand for those times when you want to wash up but don't have access to a sink. Soak fabric squares in a 50/50 water/vinegar solution. Squeeze until the wipes are moist but not drippy. Fold them into smaller squares and store them in snap-lid containers in your car or small, tightly sealed boxes in your purse. (Empty tins of mints or plastic playing card boxes are both great options.) These wipes are great for kids, too, mealtime or not!
7. Bring a bag for anything and everything.
Reusable grocery bags aren't just for groceries — you can use them for all types of shopping. They're handy for storing takeout food, clothes, and even something as unlikely as auto parts. Put a bag in the trunk of your car, or keep a small one in your purse. Once it ends up back in your house, put it by the door to remind yourself to grab it on your way out.
8. Know that you're making a difference.
Everything you do to reduce waste in public will be noticed. I have received so many positive comments about the way I shop for groceries, dine out, and live in general. My actions have inspired people I know, and people I don't, to change their habits for the better.
Any step you take toward zero waste, no matter how small, makes a difference. Mother Teresa said it best: "I alone cannot change the world, but I can cast a stone across the waters to create many ripples."
Related reads: