Nike Just Fired Manny Pacquiao For A Very Important Reason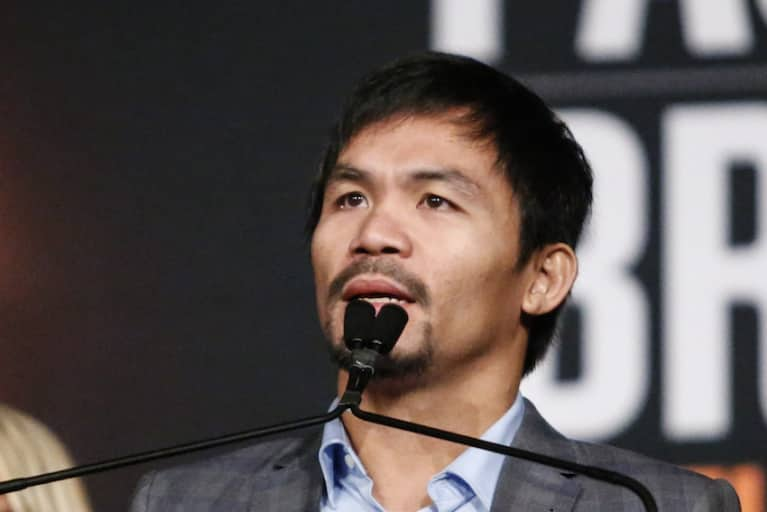 February 17, 2016 — 19:50 PM
It seems the world's obsession with professional male athletes couldn't stop Nike from taking a stand against eight-division world champion boxer Manny Pacquiao's homophobia.
After an initial report on TMZ, Darren Rovell of ESPN confirmed on Twitter, Nike has terminated Manny Pacquiao's contract after he said that same-sex couples are "worse than animals."
In their statement, Nike said, "We find Manny Pacquiao's comments abhorrent. Nike strongly opposes discrimination of any kind and has a long history of supporting and standing up for the rights of the LGBT community."
The boxer made the controversial comments earlier this week in an interview with Filipino television station TV5, reported the Guardian.
"It's common sense. Do you see animals mating with the same sex?" he said. "Animals are better because they can distinguish male from female. If men mate with men and women mate with women they are worse than animals."
The internet was rightfully outraged, so Pacquiao quickly apologized on Twitter:
"I'm sorry for hurting people by comparing homosexuals to animals," Pacquiao tweeted. "Please forgive me for those I hurt. God bless!"
But apparently that wasn't enough to repair his relationship with Nike.
Up until now, Pacquiao has been revered as a boxing legend. But this isn't the first time he's expressed deplorable views — just the first time it's incited this kind of fury on the internet.
In the past, he has has spoken out against gay marriage, saying that he has gay relatives but still opposes same-sex marriage because, "It's the law of God." And as a congressman in the Philippines, he is part of the loud opposition against government support for contraception and family planning advice in the country. He told USA Today in 2011 that he believes "It's sinful to use condoms and commit abortion," clearly showing a lack of sympathy toward women's right to their own bodies.
Recently, Nike has been killing contracts more frequently than any other time in their company's history. According to ESPN, over the last four years, they have cut ties with Lance Armstrong, Ray Rice, Adrian Peterson and Oscar Pistorius. They're finally holding athletes accountable for their actions — on and off the field, court, or ring — and that's a lot more than the rest of us can say.