Always Date The Wrong Person? 10 Ways To Turn Your Love Life Around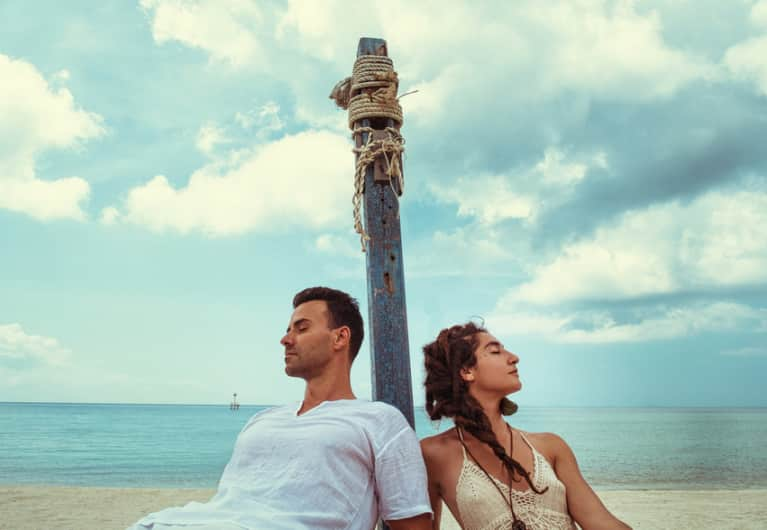 Fairy tales should come with a disclaimer: "Sorry, don't get your hopes up. This is not real life."
You grow up reading books and watching movies that fill your mind with the idea that Mr. (or Mrs.) Right is going to bump into you at the grocery store or cross your path while you're walking your dog at the park. And they leave you half expecting him or her to magically appear on the sidewalk every time you leave your house.
Unfortunately, it doesn't work that way, and that can be frustrating. The seemingly constant loop of news feed posts announcing your friends' engagements and baby showers certainly doesn't make it any easier. Sometimes your "desperation meter" can get so high that you find yourself willing to settle for anything with two legs.
My sister Sarah and I get it, and that's why we've dedicated our lives to helping women unleash the power within themselves.
If you've been on this voyage to find the right partner for what feels like forever but seem to always end up with the wrong one, here are 10 of our top tips that can help:
Fairy tales should come with a disclaimer.
It's really easy to get caught up in what your parents and friends tell you you should be looking for in a life partner. Those people are not you; they don't have your mind, your heart, or your soul. You have to spend time with yourself to learn the depths of your needs and desires before you can be truly satisfied in a relationship.
2. Work through your insecurities.
Everyone is bound to have insecurities, but they shouldn't get in the way of your relationships. The level of value you see in yourself is the level of value you will attract in someone else. Insecurities come from not feeling like you are perfect, but perfection is only what you make it to be. So get out of your own way and learn to fall in love with the woman in the mirror.
3. Image isn't everything.
You are looking for someone who will love you forever, not a partner who makes you look good to everyone else. Social media often makes people feel pressured to "keep up with the Joneses," but conforming to society's standards isn't all it's made out to be. When all of your energy is put into maintaining the outside, the inside is always going to suffer.
The level of value you see in yourself is the level of value you will attract in someone else.
4. Get rid of the checklist.
You've probably been building this list since you were a little girl, and by now it's a mile long. You can check off every box on the "perfect partner" list twice and it still wouldn't mean you're necessarily with the right person. An ideal partner is not perfect; they're just perfect for you.
5. Move on from the past.
It's often hard to trust again once you've been burned. Unfortunately, until you are able to make peace and forgive, your relationships will always suffer. Good, confident, and faithful partners can smell trust issues a mile away.
6. Understand where you are searching for validation.
Most people waste time searching for validation in all the wrong places. In reality, you can only find it within yourself. When you need to hear confirmation of your worth from someone else, you become dependent on them. Suddenly you are not beautiful, intelligent, or funny unless they say you are. We have news for you: you are beautiful, intelligent, and funny, whether your partner tells you so or not.
Everyone has the same 24 hours in a day. A healthy life is a balanced life, and you will only find balance once you learn to put yourself first. This means prioritizing your mind, body, and soul. Follow a regular exercise routine, remain conscious of what you eat, read self-help books, find a mentor who is living the kind of life you aspire to live, and get out and explore. When you make time for yourself, you will find your happiness. And happiness is sexy.
A healthy life is a balanced life, and you will only find balance once you learn to put yourself first.
Settling into a healthy relationship is not a race to the finish line but a steady investment in your future. We know how easy it is to feel behind when it seems like everyone around you has it all together. But everything is about timing, and there's no greater gift you can give yourself than the gift of more time. If you try to speed up your love life too quickly, you'll end up right back where you started.
9. Set boundaries for yourself and your partner.
You should have clear limits, expectations, and non-negotiables when entering a new relationship. Your voice is incredibly important, and it should never be left to collect dust on a shelf. Your strengths and weaknesses should complement your partner's, and you should bring out the best in each other.
Once you implement the steps above, you'll be on your way to finding the strong, brave, and courageous partner who has been waiting for you. You will become the woman your soul mate will not want to spend one day without. The best part is, you will understand your value and your worth, and you will refuse to settle for anything less.
Related reads: