Get Relationship Advice From The Longest-Married Couple In America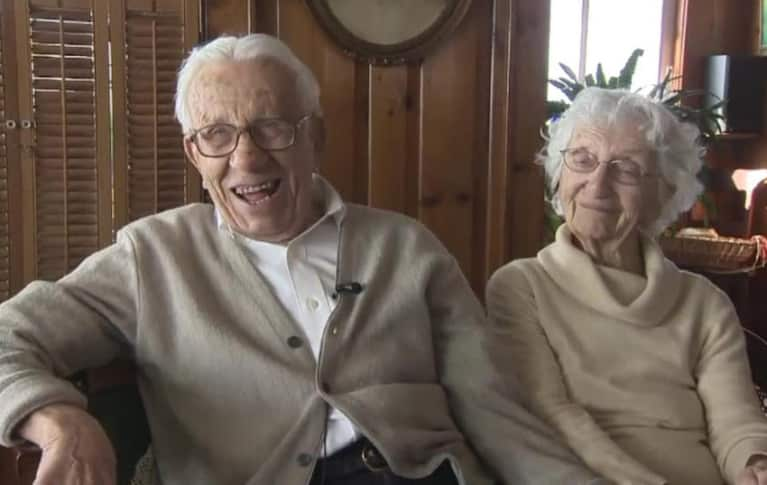 February 16, 2016 — 20:10 PM
John and Ann Betar, who have been married for 83 years, might not be too familiar with Tinder, but their advice still rings true for those of us in the modern dating scene.
He's 104, she's 100, and they still hold hands.
It all started in Bridgeport, Connecticut, in 1932. Recounting their heartwarming story to Davis Dunavin at WSHU, Ann said, "We were friends. He'd drive me to school. The other guys went to the dance halls, or they played poker. He would get up on Sunday and get his baseball suit on and get in his little sports car."
Her father had wanted her to marry someone much older — but she knew John was the one all along. And he knew it, too.
"She's the girl I had loved," he said. "Always. And I had wanted to marry her."
So, at the ages of 17 and 21, Ann and John ran away together, eloping in Harrison, New York. In the 1960s, they moved to a little beach house in Fairfield, Connecticut — where they remain to this day.
The holiday this past weekend may not have lived up to all of your fairytale expectations — as it tends to do — so who better to turn to than the America's longest-married couple for some much-needed relationship advice?
In a Twitter Q&A organized by Handy, they had some sweet little nuggets of sage love wisdom.
Of course, everyone wanted to know what their "secret" to a lasting, loving marriage was. In response to Twitter user @m_portuna81, Ann said, "It's a lifelong thing. How do you define love? Through actions, understanding, little things…," and John said, "I wish I knew! It's natural. An understanding."
Their answers show that there is no singular formula for a successful marriage. Everyone falls in love in different ways. John had a much more love-at-first-sight experience with Ann, while Ann cozied up to him slowly over time, as they explained to @HussainAHunaina.
But after 83 years of marriage, @c9clubbb wondered, "What are some things you do to keep things fresh, new, and entertaining?" Ann emphasized the importance of touch: "We hang onto one another! Just a few little hugs and we're fine."
And you can tell that whatever they're doing is working. Sure, they're still married, but they still have a sense of humor with one another. When @dreamdy asked, "What do you do after you have an argument? Do you make up on the same day?" Ann said, "I say, 'Oh go do what you want.' Nine out of ten times he doesn't!" John responded, "We never hold grudges. Most arguments are about food," and Ann added, "Yeah, like 'You bought the wrong kind of cucumber!'"
Remind me: why is it bad to sound like an old married couple? Judging by that little interaction alone, it seems like the best thing ever. They seem cool as, well, cucumbers.