How I Practice Mindfulness: Chrissy Carter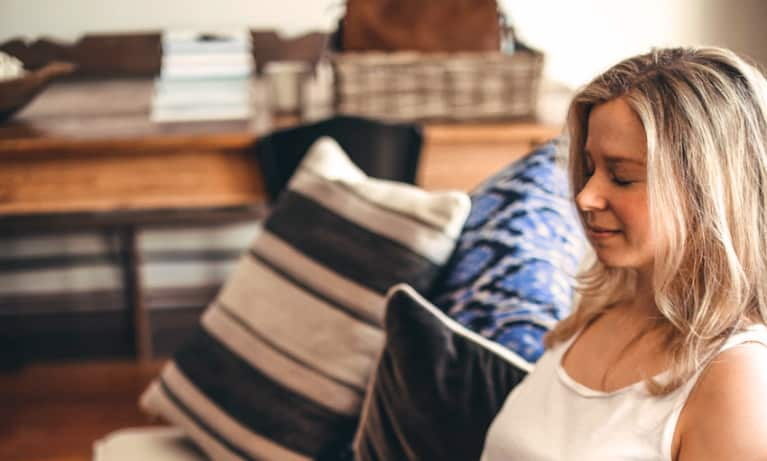 Chrissy Carter is a New York City–based yoga teacher at YogaWorks. Yet most recently, Chrissy has taken on a new title: meditation guru. She currently leads guided meditations for beginners. Take a glimpse into her daily practice below.
I meditate in our guest bedroom, where I have all of my yoga props and my altar. When I'm not sitting for my daily practice, I find myself meditating on the subway, as I walk down the sidewalk, or when I'm waiting in line. It doesn't really matter where I am — all I need is my attention and my breath. I love Gaiam's Meditation Studio app because having access to mobile meditations means I can turn to them whenever I need to go inward and be with myself.
In the mornings I like to putz around my home drinking coffee and doing nothing in particular, which I guess is its own form of meditation, but in terms of sitting down to practice, I prefer to meditate at night. I find that I'm the most receptive to getting quiet at night when my day is done. I like to turn the lights off and light a candle. My evening meditation practice helps me unwind from my day and wipe my mental slate clean.
What type of meditation do you practice?
I primarily practice breath-based awareness. My physical body is also a tried and true doorway in, so I often focus my attention on the subtleties of my posture, which drops me right smack into the center of my experience. If my mind is busy or agitated, I'll use my mala beads to help me follow my breath.
I sit on a bolster or my meditation cushion. I like to place a blanket under my feet so they can rest on something soft. If my body is feeling tired or tight, I sit on a chair.
I meditate because it helps me cultivate a relationship with myself. Meditation teaches me so much about the nature of my mind, which offers me invaluable insight into the source of my thoughts and actions. It continues to help me dismantle some of the limiting beliefs I hold about myself that prevent me from abiding in my truest, highest self.
Advice for first-time meditators?
Let go of your expectations. Meditation is not some blissful state where unicorns frolic through strawberry fields and all of your problems float away like bubbles. Meditation is simply the practice of concentration. You will attempt to focus your attention on one thing, but you'll end up watching your mind drag you away from what you're doing so that it can indulge in its regular antics. That is the nature of the mind, and no one is special — everyone's mind is bananas. The only actionable part of meditation is the redirection of your attention again and again and again to the object of meditation. Nothing more, nothing less.
Related reads: