6 Things I Know For Sure About Body Image & Health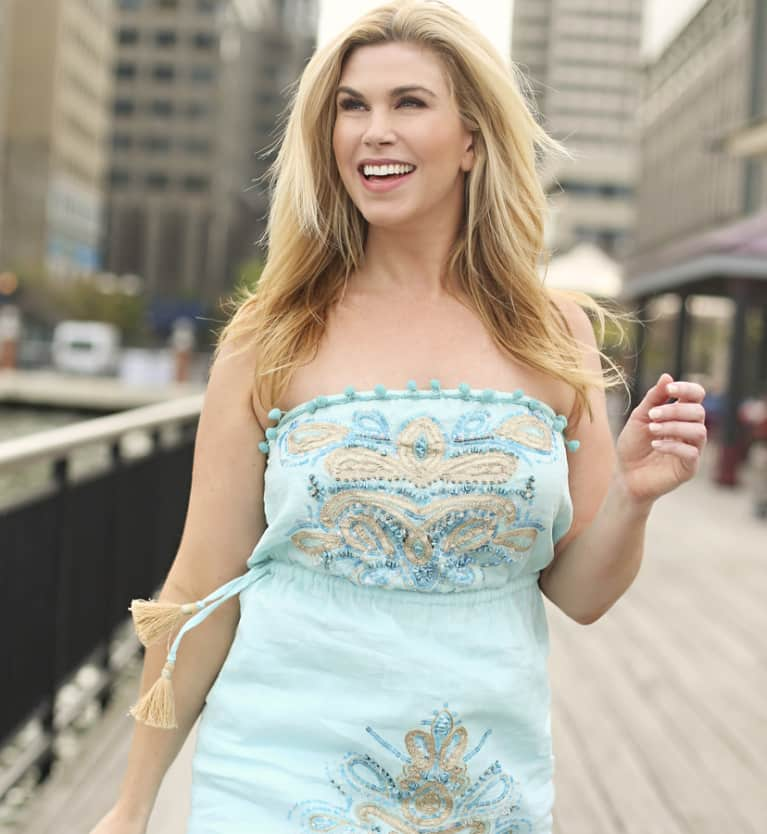 "History-making." "Ground-breaking." "Trailblazing. "Body-positive." "Shocking."
These are just a few of the words and phrases being used to describe this year's Sports Illustrated Swimsuit Edition, which features not one, but three cover girls: Ashley Graham, a curvy size-16 model; UFC fighter Ronda Rousey; and high-fashion model Hailey Clauson.
For the first time in its 52 years, the issue features three women with three very different body types.
The unprecedented move has generated a lot of buzz and stirred up body image conversations in a big way. Some say it'll inspire more women to love and accept their unique bodies while others say Graham's body type has no business being in — let alone on the cover — of the popular men's magazine.
Like with pretty much anything in this life, there are varying opinions on what's sexy, healthy, and acceptable when it comes to the body.
As a curvy model myself, who's worked alongside models like Graham, I've been on the receiving end of a lot of judgment and confusion about what exactly a "plus-size" model is and whether we're healthy.
While it's different for everyone — after all, there's no one-size-fits-all "solution" to what's healthy or sexy — here's what I know for sure:
1. Healthy looks and feels different on everyone.
Plus-size models range in size from 6 to 18. When I was a size 14, I booked a lot of modeling jobs, but I didn't feel good about myself because the size my body was naturally most comfortable at was an 8/10. For me, being a 14 wasn't healthy.
But I have size-14 friends who exercise, eat healthy, maintain a healthy BMI, and have bodies that are naturally meant to be that size.
To look at Ashley Graham and assume she's out of shape and eats pizza every day because she's a size 16 isn't a fair assessment. Only Ashley knows what's best for her, just as only you know what's healthy for you.
One size doesn't fit all when it comes to body types or health. You have to own and honor your own specific body type and make healthy decisions that are best for you.
2. There is no one "ideal" standard for beauty.
Through a lot of tears, weight fluctuations, and feelings of not being good enough, I've come to accept the fact that the only opinion that truly matters is my own.
At a size 10, I'm not everyone's ideal standard of beauty, and you know what? I'm okay with that. I choose to be my own standard of beauty, and that knowledge is more powerful than anyone else's approval.
3. You're so much more than what you look like.
Being physically beautiful isn't the most important thing. Seeing a woman in a bikini, regardless of her size, is never going to empower me.
Cultivating characteristics like kindness, compassion, a sense of humor, and intelligence is what I find drop-dead gorgeous and sexy. Women who encourage, support, and lift others up are empowering.
4. What people say is a reflection of them, not you.
Whether you think Ashley looks incredibly stunning and healthy or overweight and unappealing says more about how you feel about your own body than Ashley. She's a confident woman who embraces her shape and image. That's so sexy to me!
5. Learn to love, honor, and validate yourself.
It doesn't matter who SI or anyone else puts on the cover of their magazines — nobody can validate you or determine your worth except YOU.
It's great that some brands are choosing to promote body diversity, but ultimately it's up to each of us to love ourselves rather than wishing or waiting for someone else to do it for us. When you're confident in your own skin, just as you are, others are naturally drawn to you.
The next time you start to criticize your body because it doesn't look like the ones in magazines, stop and think about every amazing thing it does for you. Then say thank you.
Sure, I've been guilty of comparing myself to other models on set, especially when shooting swimsuits and lingerie. I used to criticize my thick thighs and wonder why I could never attain washboard abs. Then I realized what a waste of time that was.
I have so many positive messages to spread, people in need to serve, and more important things to create. And my body — my strong, beautiful body — is the vehicle through which all great things are possible. I choose to love and honor it. Every day.
Though I appreciate the inclusion of all body types in this year's SI Swimsuit Edition, it still sends the message that a woman's value is based on what she looks like in a swimsuit. The notion that a size-16 woman on the cover of a mainstream magazine in a bathing suit is supposed to make anyone who isn't a size 2 feel good about themselves is misleading.
It misses the point of what self-love and a healthy body image are all about. After all, we are far more valuable than what the tag in our clothing says.