Low back pain affects 80 percent of Americans at some point in their lives. Its causes are complex and not always easy to pinpoint. If low back pain has visited you, there are alternatives to relieve pain that don't have the unwanted side effects of pills. For decades, Jill Miller has been sharing self-care pain prevention (pre-hab) and self-care strategies while in the midst of the discomfort. One or more of these soft-tissue conditioning moves may help to change your relationship with your back.
1. Coregeous Ball On Abdomen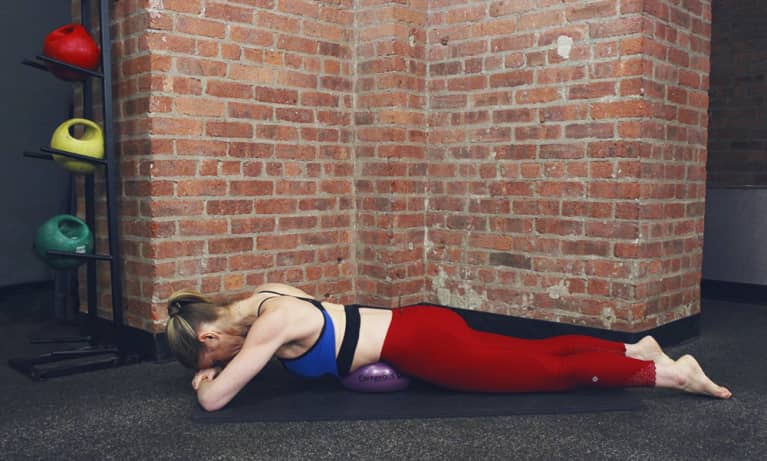 Lie belly down on top of an inflated Coregeous Ball. Take deep breaths into the ball while slowly rolling it from side to side across your midsection. Three minutes minimum, 10 minutes maximum.
Why?: This improves the texture, mobility and contractility of the deep torso support muscles. It also helps your body to deeply relax from the stress your body experiences when in pain. Many of your back muscles connect into your abdomen (transversus abdominis, obliques). This is a "sneaky" way of massaging them without putting pressure directly on the back. Finally, back pain will often cause your breath to become tight and shallow. This move facilitates the correct motions in your chief breath muscle, the respiratory diaphragm.
2. Alpha Ball In Quadratus Lumborum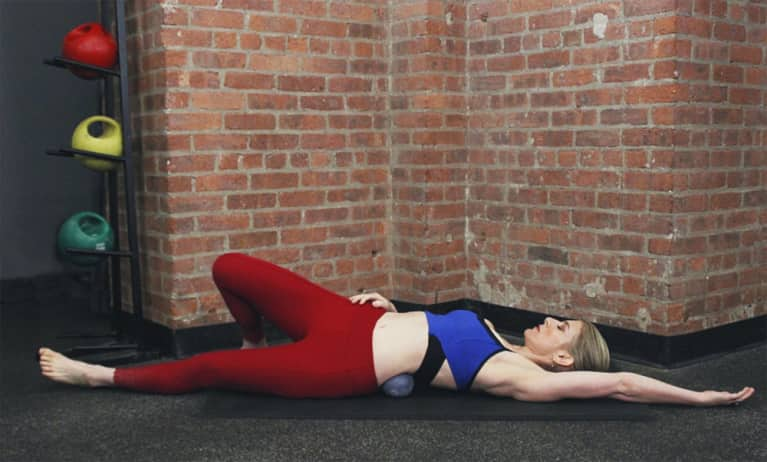 Nuzzle this grapefruit-sized pliable grippy ball into the side of your waist and take 10 to 20 breaths in stillness. Then slowly bend your waist into the ball and release that action. Repeat 5 to 10 times. Switch sides.
Why?: The quadratus lumborum (QL) is a linking muscle between your rib cage and pelvis. It attaches to four of your five low back bones. When you have low back pain, one or both of your QLs will go into spasm. This technique helps relieve that unwanted spasm.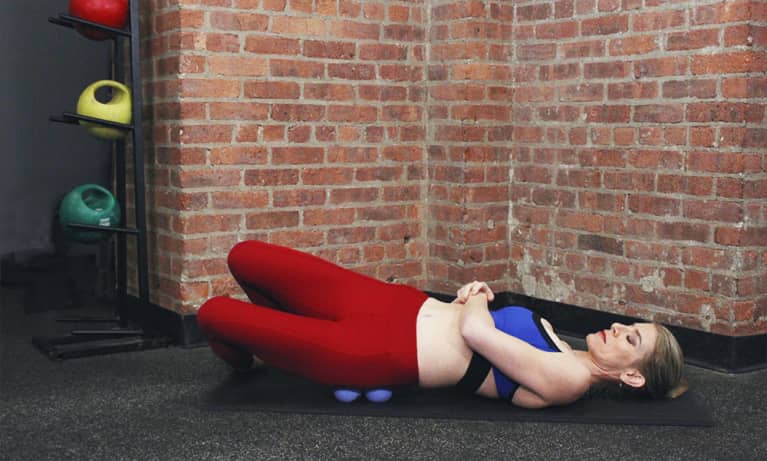 Place a pair of Yoga Tune Up® Balls on the outside of your bottom and roll them in slow motion toward your sacrum. Lift your bottom, reset the balls and begin that same slow motion stroke again. Repeat 10 times.
Why?: Your gluteal muscles are the support system for your pelvis, and your pelvis is the anchor for your entire spine. If your glutes are weak or imbalanced, they will not provide adequate support for all the movements of your spine (let alone your hips!). Rolling the balls slowly across your hips helps eradicate knots and adhesions in the gluteal muscle group. Freeing yourself of these knots helps more of the muscle fibers to do what they do best: contract and support your body!
4. Bonus Move: Perfect Side Plank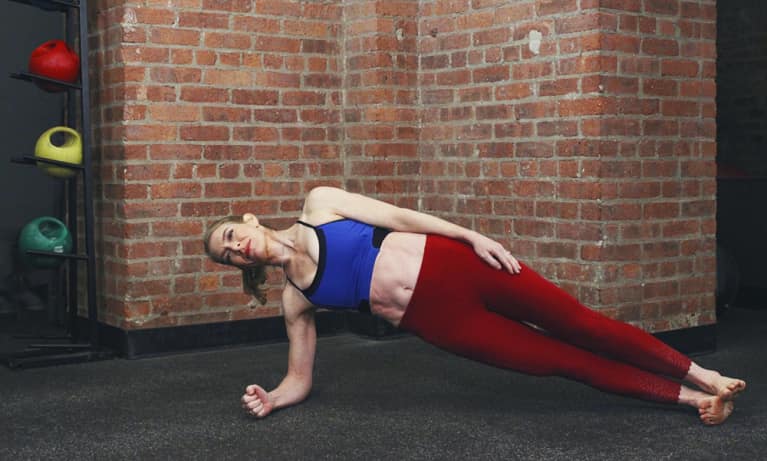 Place your elbow directly underneath your shoulder and press up into a side plank. Look down your body and make sure that your pelvis is neither behind nor in front of your ribs but stacked directly underneath as if you were standing in perfect poise. Activate lateral shoulder muscles by trying to drag the floor toward your hip (without moving your shoulder). Activate the lateral gluteals by pressing your foot firmly into the floor, by using your outer hip muscles.
Why?: This pose helps all lateral stabilizers of the body to become strong and connected and improves the 360 degrees of core support needed to keep your back in good alignment.