Meet The Woman Who's Turning Julia Child's Home Into A Cooking & Yoga Retreat
mbg Contributor
By Leah Vanderveldt
mbg Contributor
Leah Vanderveldt is an author living in Brooklyn, New York. She received her bachelor's in communications and media from Fordham University, and is certified in culinary nutrition from the Natural Gourmet Institute. She is the author of two cookbooks: The New Nourishing and The New Porridge.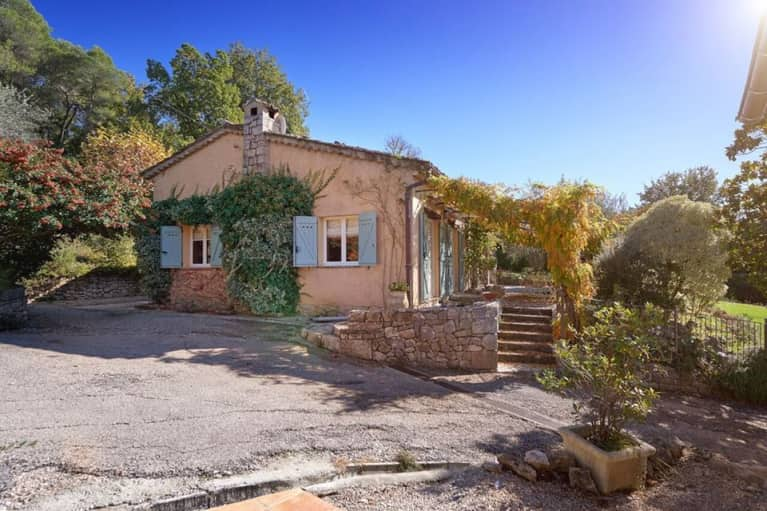 Makenna Johnston is a former business professor who runs a coaching and consulting practice for small-business owners and creatives. She recently made headlineswhen she bought Julia and Paul Child's home in the South of France.
Makenna sat down to talk to mindbodygreen about why she felt so compelled to buy this famous property (called La Pitchoune or La Peetch), what cooking retreats will look like there, and how yoga will be an important part of the experience.
On buying Julia Child's home
"I'm a Smith [College] alum, just like Julia. The listing was posted in an alumni forum on Facebook connected to a New York Times article called 'The House that Julia Built.' It had beautiful pictures, way more beautiful than the pictures on the listing and it was really well-written," says Makenna.
"I quickly became obsessed with the house. I thought, Wouldn't it be great to do a yoga retreat in the garden? Wouldn't it be great to walk the garden, cook in her kitchen, and drink a glass of rosé? That planted the seed."
"I've been an avid cook since my teen years. I was an exchange student in France for a summer. My exchange mother was a great cook. When you think of French home-cooking, she was the Norman Rockwell, the epitome of that — the way she cooked and served.
"She taught me how to cook that way and gave me my first French cookbook. I still have it.
"I've found that cooking has always been my meditation. I'm a very active human being and not a good 'sit down and commune with the Universe' kind of meditator. I'm a walking meditator. Before I found 'real' meditation, cooking was my meditation.
Cooking is my connection to slowing down. It's a way to share and connect with people.
"When I went to college we were required to be on the meal plan, but in my junior year, I decided not to eat at the dining hall anymore. I signed up for the local community-supported agriculture (CSA) share and started cooking all of my meals in our tiny little house kitchen. My grades went up and my stress level went down because it was my happy space.
"So cooking has always been my connection to slowing down. It's also a way to share and connect with people.
"I think you can see cooking as your mindfulness practice. It's a way to nourish your body, use resources from the earth, and feed other people. That's about as close to infinite amounts of compassion as you can get by just doing something."
On why she'll be incorporating yoga into cooking retreats
"Including yoga came up as a way to do something other than sitting in a kitchen all day and cooking standing up, leaning over, and whipping with your arm. Yoga is a great complement that.
"Some people are worried that the cooking school will turn into a sanctuary for the type of food that they stereotypically think 'yoga types' eat.
"People see a disconnect [between yoga and French food] because of the amount of butter. But most people know that butter is not the enemy. Fat is not the enemy.
"It's all about how we choose to make and consume our food and being aware of where the ingredients come from.
"If you look at French culture when French cooking was the only type of cooking, nobody was overweight. I see a lot of comments about how it would take a lot of yoga to work off those three sticks of butter in coq au vin. I just think, Is that really the goal? Do we need to 'work off' that butter?
"I look at it more like an opportunity to be in a beautiful space and do things that nourish your mind, body, and soul.
"Being able to bring both cooking and yoga into one place is a nice opportunity for people who enjoy doing multiple things. The yoga isn't a requirement, but the opportunity is there for people who want to do it. I try to do it daily, so why not offer other people the chance to do it daily, too?"
"The cooking school opens in April of 2017. But the house is available to rent starting this summer (2016). We're hosting a number of yoga and business retreats in May, June, July, and September.
"Cooking school, excursions into the local area, and yoga classes — those are all launching in April 2017, but we're taking reservations now."