Eat Like A Yogi For Lasting Happiness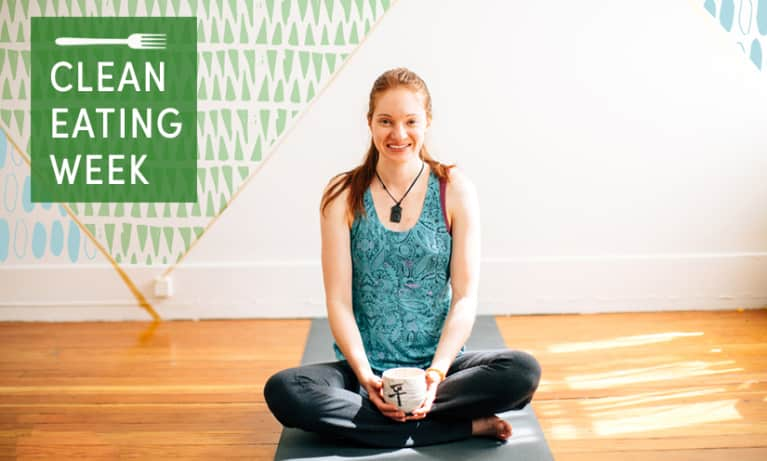 To celebrate Clean Eating Week here at mindbodygreen we're sharing the many ways that wellness experts fuel and care for their bodies with food. For more great ideas, check out our MBG nutrition courses here.
The essence of yoga is the connection between body and mind. What and how we eat can have a huge impact on both, so there are lots of philosophies, practices, and personal preferences when it comes to what foods are most supportive of a strong yoga practice.
I spoke to my friend and yoga/meditation instructor Jenny Hannah about the best way to approach diet and yoga, and her recommendations for helping each of us find the best diet for our personal situations and practices.
Many yogis follow the philosophy of sattva, which translates into pure, clean, compassionate, harmonious living and eating. For many, this means following a vegetarian or vegan diet, as the consumption of animal flesh is seen to bring about negative vibrations of anger, lust, and fear, and a clogging of the inner channels.
From the Ayurvedic point of view, food is used to balance the doshas, or elements of the physical body. There are specific recommendations for different body types to help balance the doshas, which some yogis follow very strictly.
Trust your internal wisdom.
Jenny's approach is a bit more gentle. Like meditation, yoga helps us slow down and explore the connection between mind and body. It enhances our awareness and our senses and can help us connect to nature and the planet.
Once we start to explore these connections, we may naturally find ourselves gravitating toward a type of diet that gives us nourishment, energy, lightness, and flexibility.
Sometimes implementing some simple rules can help us step onto the path of finding the right diet for ourselves. Below are some common recommendations.
1. Eat lots of plant-based foods.
Especially lots of veggies. Large quantities of meat can be hard to digest and can create blockages in the areas we are trying to open up in yoga.
Like brown rice, quinoa, and oats.
3. Eat low-acid, soothing fruits.
Like bananas, peaches, mangos, or berries.
With drinks like water and tea; limit caffeine and alcohol.
A little goes a long way.
Like cardamom, ginger, garam masala, black pepper, cloves, nutmeg, cinnamon, sage, fennel, anise, caraway, mint, basil, cumin, turmeric, parsley, and cilantro.
7. Eat nuts and nut butters.
Especially simple sugars and processed foods like soda, candy, and sports drinks.
9. Moderate your portion sizes.
As with most diets, moderation is the key!
Some yoga practitioners say not to eat an hour before class. But again, Jenny recommends tuning in to your own body and its needs.
The key is to find the balance between nourishing yourself and becoming full. If you eat too much before a class, the heat and energy will go to your digestive tract instead of your practice, and it can become uncomfortable to twist, invert, or engage the bandhas (muscle contractions).
Some spices like cinnamon, cardamom, and black pepper are good for sparking just enough internal fire, which can help fuel your practice.
Jenny typically starts her day with breakfasts like the below, then can usually practice 20 minutes after these meals with great energy! They help her to feel nourished and satisfied but not full.
Oats with berries, coconut milk, cinnamon, cardamom, honey + low-acid fruits
Quinoa with balsamic vinegar, avocado, honey + an egg
Yogurt, berries, shredded coconut, chia seeds + honey
And if you practice in the afternoon and are famished before class, try snacking on nuts or nut butters and low-acidic and soothing fruits like bananas, peaches, mangos, or berries, at least 20 minutes before class.
Whether you practice yoga for fitness, enlightenment, or anything in between, your mental and physical approach to food can have a meaningful impact on your practice.
Give yourself the time and space to find what works for you, be gentle, and be generous. Trust your internal wisdom, the one that lies beneath the cravings and speedy snack-grabs, to guide you in providing yourself with true nourishment.