My Ode To Yoga Pants: 4 Reasons They're The Best
mbg Contributor
By Emma Mildon
mbg Contributor
Emma Mildon is a millennial activist, co-host of 11:11 podcast, and best-selling author of Evolution of Goddess and The Soul Searcher's Handbook.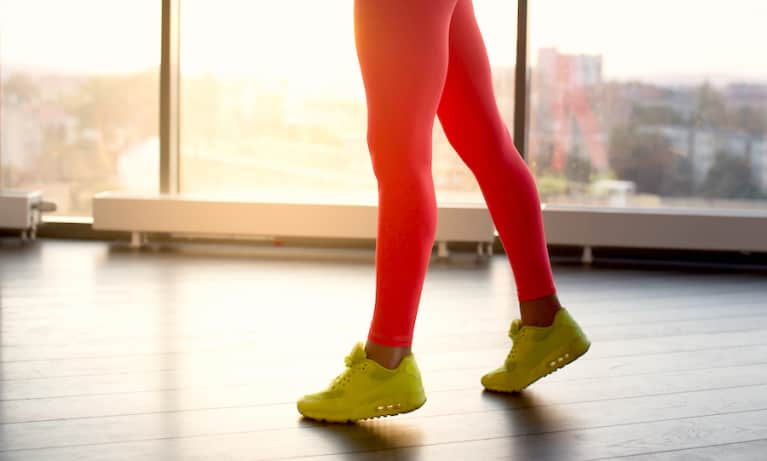 Track pants are so '80s. Cargo pants, so '90s. We all know that athleisure, and yoga pants in particular, are the future. Activewear sales in the U.S. are up 21 percent from 2014, and yoga pant sales more than tripled last year. The masses have spoken, and I have to agree with them — yoga pants make me feel better than just about any other type of clothing.
So get ready to break up with your jeans, burn your jeggings, and cut up those flannel PJ pants in the back of your drawers. Here are four reasons why yoga pants are the best:
There's finally a fashion trend that allows you to sit crossed-legged without cutting off your circulation.
1. The accessibility factor
Deal with it, people: athleisure is having a moment. Sporting activewear outside the gym may be considered a faux pas to the fashionistas of the world, but to everyone else it's fair game.
Like all major fashion movements through history, yoga pants have graced the catwalk, taken on different fabrics and designs, and spread to just about every major clothing store around the world. Thanks to heavy-hitters like Lululemon and Athleta as well as custom boho-chic designers like Courage My Love, yoga pants offerings have gone from variations on black and gray to a smorgasbord of colors, designs, and styles. These days, you can find couture animal-print pants for $900 as well as chic, affordable pairs for $20.
If you want to feel lean and mean, slip into a pair of high-waisted yoga pants. No one really understands how or why it happens, but they make any trace of bloating completely vanish. Some say it's magic. Others think it has to be some sort of yoga witchery. Either way, it results in a serious self-confidence boost.
So forget the old-school belief that activewear only belongs in the gym. If something makes you feel comfortable and confident, then the opinions of others don't mean a thing. For me, putting on yoga pants almost feels like whipping out my Superman cape. Confidence? Tick! Bloating? Gone. A party trick you might call magic, I call awesome.
Despite being relatively demure and understated, yoga pants help people exercise, move, and nurture themselves better than just about any other fashion fad that came before them. In a phenomenon called "enclothed cognition," research shows that yes, wearing activewear really can make you more active. Basically, clothing holds symbolic meaning, and yoga pants symbolize gym time.
Forget those toe-numbing high heels, the jeans that you need half an hour to squeeze into, or that too-little little black dress. There's finally a fashion trend that allows you to sit crossed-legged without cutting off your circulation. So go out and treat yourself to a pair of yoga pants — no matter how many you already have stuffed into your gym bag. And don't be afraid to call on their confidence-boosting powers wherever and whenever you please.
But know that it is possible to take it too far. Just like swimwear worn out of context can be perceived as loony, there are some places where activewear is out of bounds — though the list is pretty short. These days, it just includes weddings, funerals, and first dates.
Related reads: