Meet The Woman Who's Helping Millions Tap Into Their Creativity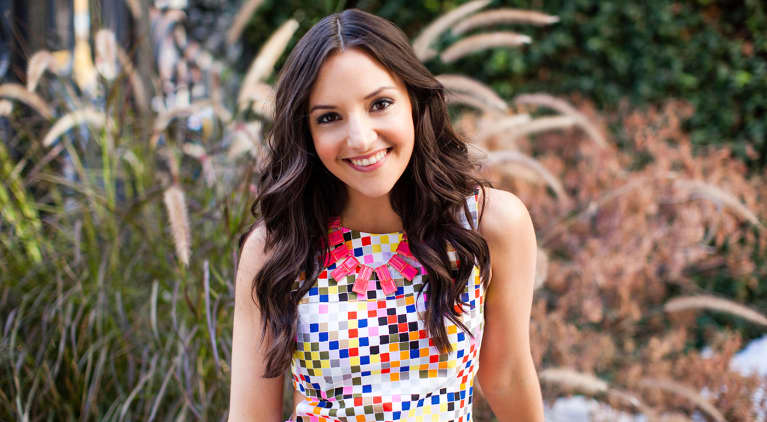 At mindbodygreen, we get to meet the female entrepreneurs who are passionate about making the world a healthier place. In this new series, we're profiling #WellnessWonderWomen who inspire us with vision and dedication — and hopefully inspire you, too.
Brit Morin, founder of the online platform Brit + Co, is on a mission to inspire you to tap into your inner creativity. Dubbed "the next Martha Stewart" by USA Today, she's ushering in a Creativity 2.0 movement that combines technology with old-fashioned craft.
Want to learn how to crochet, crush it on Instagram, or create your own succulent garden? Brit has a class for you. Her five-year-old media and commerce company based in Silicon Valley (yup, the one that's known more for hackathons than knitting circles) offers a variety of creative content, classes, and kits.
I spoke with the entrepreneur who's "addicted to tech" about how she uses wellness apps, tracks down inspiration, and encourages people to put creative time on the calendar.
Do you have any tips on how people can tap into their creativity?
Make time for creativity! Just like exercise, it's important to schedule some time throughout the week to explore your creative side. Find some inspiration online and set aside some downtime to tackle a project. The feeling of accomplishment afterward is undeniably awesome.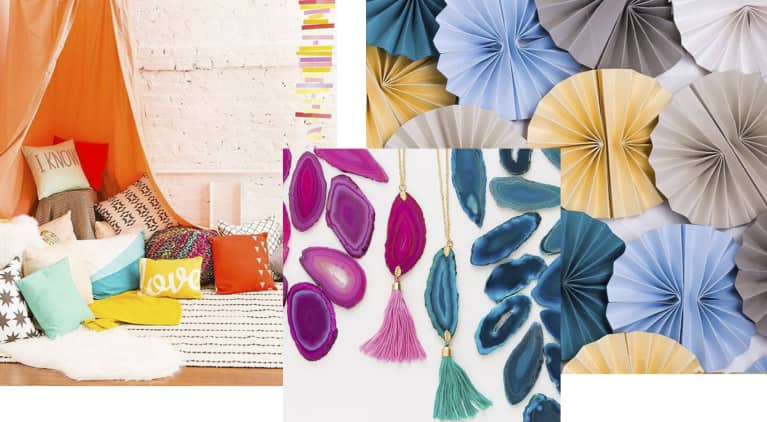 Also, help train the creative side of your brain with a few quick exercises throughout the day. Doodle at your desk — yes, doodle! Doodling can actually help stimulate your creative senses. I even leave a set of Legos at my desk when I need a mental break or some inspiration.
What do we all stand to gain from a little crafting? And how can we get started?
The benefits of creativity are endless: emotionally, cognitively, and even professionally. The act of making has actually been compared to meditation and yoga. Working on a project can be the perfect stress reliever. We were born to create and we can't forget that! Creative confidence is all about just diving right in. Find what makes you happy creatively and start exploring.
Who or what inspires you and keeps your creativity flowing?
Literally everything and everyone inspires me every day. Actually, sometimes I think I'm over-inspired, if that's possible. I see things constantly — from store windows to natural landscapes — that inspire me to want to create something new. And sometimes I'll get some of my best ideas by clearing my head on a run near my home. I love the idea that there's no end to creative inspiration and hope I'll continue to be enchanted by all the little details of the world throughout the rest of my life.
Your Instagram says you're "addicted to tech" — do you think this addiction helps you lead a "well" life?
There are so many great apps and gadgets out there that can actually help you live a healthier and more balanced life. I embrace tech 100 percent, but I understand that there also needs to be a balance between your analog and digital life.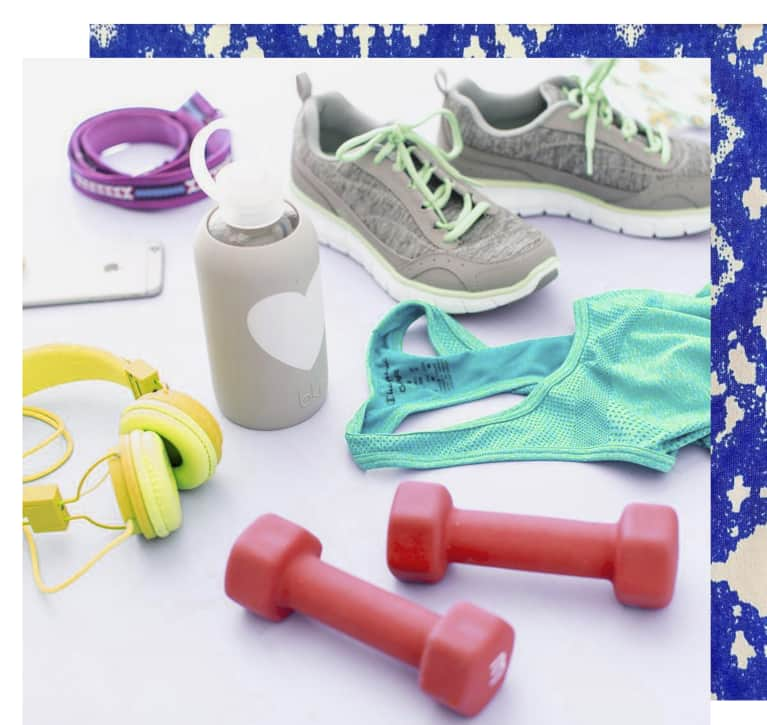 There are amazing apps that can actually help you reach a fitness goal. I use Moves to make sure I'm walking and running enough. And these days I've been using Glow Nurture, where I can get daily insights on how to have a healthier pregnancy and where I can keep a health log to personalize those insights. I'm also tracking all of my pregnancy weight gain in a special app called Pregnancy Pounds — it keeps me from giving into all the junk food cravings.
We live in a world where information is just a click away, but there is a time and place. Sometimes you just have to unplug, shutdown, switch over to analog, and remember to use your hands to make something. Tech is there to help guide us, but at the end of the day we are instinctively creators, and we can't forget that.
Before you started Brit + Co, you were close to starting a health company. What are you passionate about in the health and wellness space?
What am I NOT passionate about is the better question! A child of the '80s and '90s, I grew up on a diet of fast, processed, frozen food. I can't believe how much I've learned about nutrition since then and want to help others become just as educated.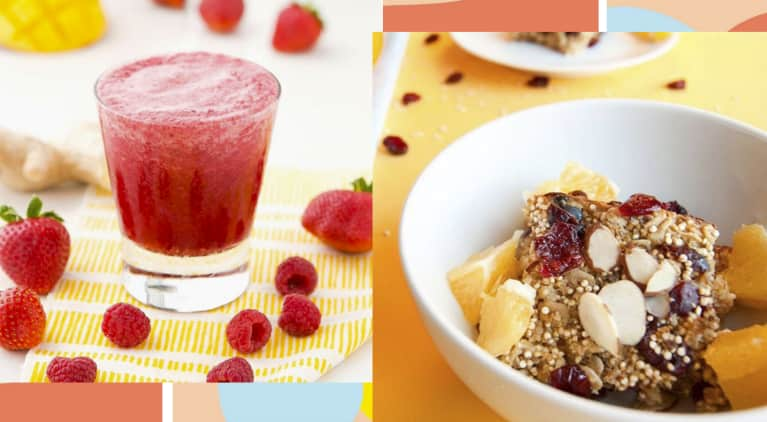 On the flip side, I'm a huge exercise buff — I don't always love getting out of bed to go for a run, but I do love the endorphins I get afterward, which keeps me going. I'm always trying new fitness classes: I'm a tried-and-true SoulCycle fanatic and I'm really into Barry's Bootcamp now that they are in SF. But beyond gyms, I get most excited to exercise outdoors — we live in the hills of Marin (just outside of San Francisco), so I'm constantly on trails during the summer and somewhere skiing down a mountain in the winter.
In general, it boggles my mind that we spend so much time setting goals and tracking data while we're at the office but don't do the same thing for our health. I'm excited about all the ways society can transform to become more health-conscious.
Did you make any changes to your lifestyle when you became a mom?
On the lifestyle front, I definitely changed my schedule. Given that I have to wake up between 6 and 7 a.m. every day of the week with the little guy, I try to be sure I'm in bed and asleep by 11 p.m. or midnight. No more crazy nights out unless we have an a.m. sitter!
I also became much more conscious of the health choices I was making while breastfeeding. And now that my son eats solid foods, I'm very aware of how much sugar I'm letting him consume. I can't believe so many baby foods have so much sugar in them — it makes me angry! In response, I've become one of those moms who purees vegetables and fruits instead of using store-bought baby food. It's actually not as hard as it seems if you make a big batch at once and freeze it.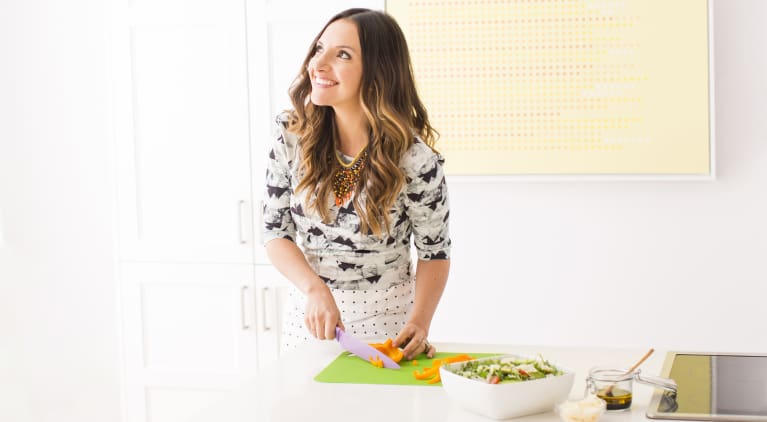 Between running a company, having a personal brand, being CEO of your house, and a mom to Ansel, how do you cultivate time for yourself?
It's all about prioritizing. My good friend Randi Zuckerberg says there are five things that truly matter in life: sleep, family, friends, work, and fitness. When you're a mom and a CEO, you can choose three to focus on at any one time. Sometimes I'll sacrifice a morning run to make sure I get enough sleep. Or I'll often pass on some social events with friends in order to hang out with my husband. It's always changing, but there are definitely trade-offs. In the end, though, I'm pretty happy with my life right now and feel truly blessed to be able to have so many wonderful people and opportunities around me. And if I have to sacrifice a couple of hours of sleep a night to enjoy it all, that's an okay trade-off to me.
Oh, and pro-tip: My favorite way to enjoy time to myself is to get a massage — it's great thinking time and literal relaxation all at once. Zeel is a new app that sends extremely talented massage professionals TO YOU at the push of a button — like Uber for massage. It's become my go-to guilty pleasure!
Best advice you ever received?
If you never try, you'll never win. And even if you fail, at least you showed up in the arena to try and probably learned something along the way.
It follows one of my favorite quotes by Teddy Roosevelt: "The credit belongs to those who are actually in the arena, who strive valiantly; who know the great enthusiasms, the great devotions, and spend themselves in a worthy cause; who at best know the triumph of high achievement; and who, at worst, if they fail, fail while daring greatly, so that their place shall never be with those cold and timid souls who know neither victory nor defeat."
Worst Advice?
Another notable woman in Silicon Valley once told me to hold off on having kids until later in my career. I clearly didn't follow the advice and am so glad I did not. Having a child is the most extraordinary thing I've ever done, and I'm so glad I am getting to experience what it's like to be a young mom with lots of energy to run a business and a family all at once. There's no love like the one you have for your kid. It makes all bad days at work seem meaningless.
What do you love about being an entrepreneur?
I feel very fortunate and lucky to have turned something I'm personally passionate about (creativity) into a successful business that reaches tens of millions of people every month. Not only do I get to live out my personal love of creativity in all the work I do, but I get to help others realize their own creative selves at the same time. There's truly no other job I'd rather be doing.
Anything that you would change?
Could I have just two more hours in the day, please?
What does mindbodygreen mean to you?
It's a word that reflects an overall lifestyle decision to put your healthiest self first in life.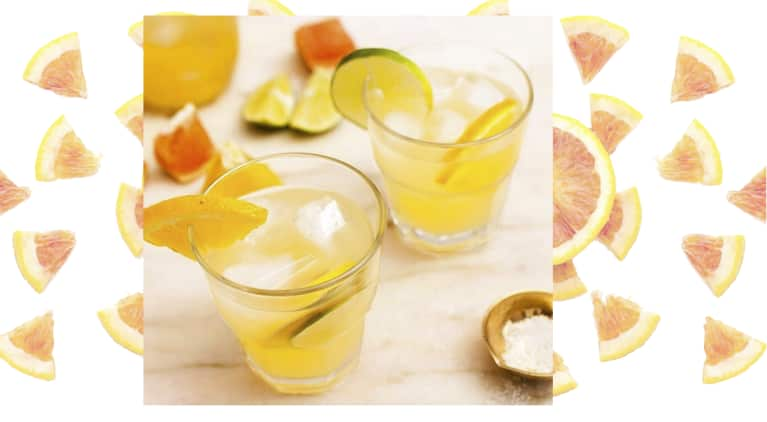 Brit says this sunny drink is her go-to to power through even the busiest days.
2 cups cold water or coconut water
½ cup freshly squeezed orange juice (or any sweet citrus fruit like mandarins, clementines, or pink grapefruit)
½ cup freshly squeezed lemon and/or lime juice
½ teaspoon sea salt
2 tablespoons maple syrup or honey
Ice and leftover citrus wedges to serve
1. Juice all of your citrus fruit until you have a full cup of juice. A 50/50 balance of sweet and sour juices works well here, but feel free to adjust to your own taste and according to which fruits are available at the grocery store.
2. Add the juice to your blender followed by the salt, maple syrup or honey, and cold water or coconut water. Blend for 20 to 30 seconds to mix everything together well. The blender is ideal to quickly dissolve the salt and sweetener into the mix, but you could also pour the ingredients into a large mason jar with a tightly closed lid and give it a vigorous shake for a minute or so to get similar results.
3. Pour into a glass over some ice and garnish with a citrus wedge, and you're ready to drink up!