Do Valentine's Day Right With These Chocolate Raspberry Truffles
Contributing Food Editor
By Liz Moody
Contributing Food Editor
Liz Moody is a food editor, recipe developer and green smoothie enthusiast. She received her creative writing and psychology degree from The University of California, Berkeley. Moody is the author of two cookbooks: Healthier Together and Glow Pops and the host of the Healthier Together podcast.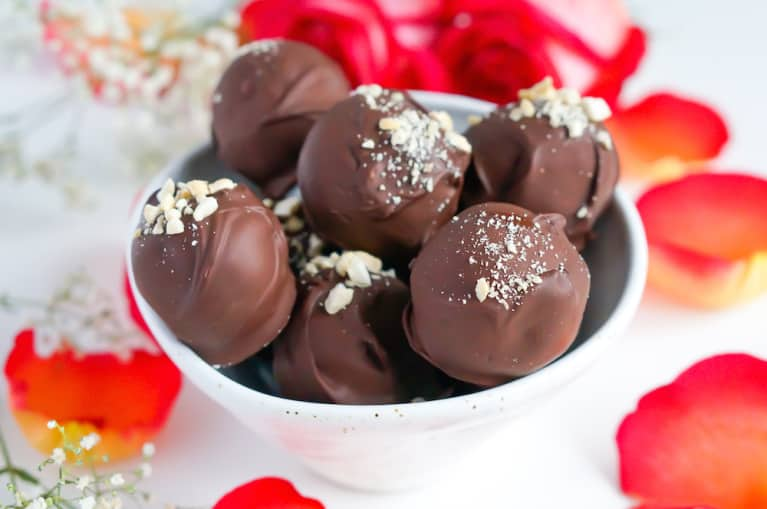 I've always loved Valentine's Day — it's an excuse to tell the people you love that you love them while munching on chocolate and surrounding yourself with roses.
I love to make treats for all of my loved ones instead of giving them the sugar and artificial-flavor-filled chocolates that come in boxes.
These Chocolate Raspberry Truffles are a perfect, love-inducing dessert, designed to nourish your loved ones while also providing that special treat filling.
A chocolaty outside cedes to a beautiful, bright pink raspberry center, and while they look super-impressive, they take hardly any time and no special equipment to make.
Chocolate Raspberry Truffles
Ingredients
Makes 12 truffles
11 dates, pitted, soaked in boiling water for 10 minutes and drained well (Medjool are ideal, but any dates will work)
½ cup raw cashews
½ cup raw pecans
½ teaspoon vanilla extract
⅛ teaspoon sea salt
1 cup 70 percent dark chocolate (either chips or a bar, cut into chunks)
1 teaspoon coconut oil
12 fresh raspberries, washed and dried very well
Preparation
1. In a food processor, combine dates, cashews, pecans, vanilla, and salt; process until all ingredients form a sticky ball, about 2 to 3 minutes.
2. Roll date mixture into a ball in your hands, then press it flat into a disc; place one raspberry in the center and fold date mixture around it so the raspberry is completely covered. Roll gently into a ball shape again. Repeat until all date mixture is used, then place balls in freezer for at least 20 minutes, or up to overnight.
3. Meanwhile, use a double boiler or a microwave to melt the chocolate, stirring frequently (if you're using a microwave, do 20-second intervals). Stir coconut oil into chocolate.
4. Use a spoon to dip each frozen truffle ball into the chocolate, rolling it around to coat it evenly on all sides before removing it from chocolate and placing it on a piece of parchment paper to harden.
5. If desired, sprinkle crushed nuts, sea salt, or cacao nibs on top before chocolate hardens. Store at room temperature or in refrigerator for up to 24 hours, or in freezer for up to 2 weeks (just remove 10 minutes before serving).
For more healthy treats like these to shower your loved ones with (healthy Snickers Pie, what?) come hang out on sproutedroutes.com!
If you make these, I'd love to see them! Tag me @sproutedroutes on social media, so I can like and share your pics!