Is Babassu Oil The Next Coconut Oil?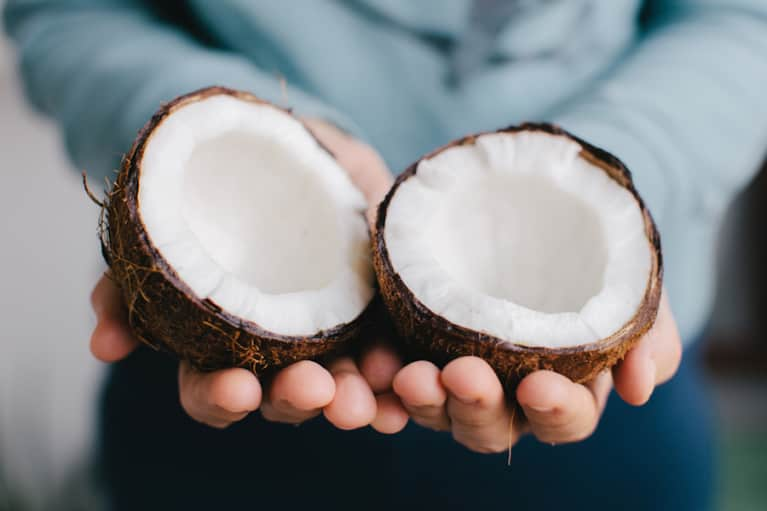 Move over coconuts, there's a new oil in town.
Babassu oil is the latest ingredient to pop up in natural skin care formulations, and green beauty formulators are gaga! The reason for the rave reviews? It's incredibly moisturizing but, unlike coconut oil, doesn't leave your skin feeling slick and greasy. It's virtually noncomedegenic (it won't clog pores), lightweight, absorbs easily and doesn't carry that lingering, heavy coconut scent that might not always appeal.
So what's the deal with babassu oil? Read on!
The Babassu palm tree grows wild in tropical areas of Brazil. The tree produces hard-shelled nuts that display in bunches of as many as 600. The nuts are collected and broken open by local Brazilian women known as "babassu breakers." The nuts contain kernels comprised mostly of oil.
Much like coconut oil, babassu starts out as a solid and melts down when heated or just by the warmth of your skin, and today, it's increasingly being used as a substitute for coconut oil in cooking and in the soap and cosmetic industries.
Babassu oil is packed with vitamin E, antioxidants, and fatty acids with a high concentration of lauric acid, which has antimicrobial, antifungal and anti-inflammatory properties. In addition to lauric acid, it's also composed of other fatty acids: meristic, oleic, stearic, and palmitin.
Due to the healing properties, babassu is used for medicinal purposes. According to The National Center for Biotechnology Information (NCBI), the mesocarp derived from the babassu tree is used among communities of babassu nut breakers for the treatment of different diseases such as rheumatism, ulcers, and inflammatory conditions and for treating wounds.
Glad you asked! Here are seven ways babassu oil is great for your skin:
It fights acne: Because of its natural antifungal and antibacterial properties, babassu targets acne and promotes the healing of acne-related scarring.
It soothes itchy skin: Babassu brings relief to dry and itchy skin irritations like eczema and psoriasis.
It fights dandruff: The oil can soothe your scalp by alleviating dandruff and bringing relief to a dry, itchy head.
It's moisturizing: The oil is a rock star when it comes to softening cuticles and cracked heels.
It makes a great conditioner: Add the oil to the dry ends of your hair for a leave-in treatment.
It's anti-inflammatory: Babassu can reduce inflammation and redness from bug bites, mild burns, rashes, and rosacea.
It's naturally cooling: which means it's great for relieving sunburned skin.
While Babassu is quickly becoming a chosen ingredient in many natural skin care products, it can also be purchased by itself and used directly on skin and hair. If you make your own beauty products, babassu can replace coconut oil in the preparation of soaps, creams, and conditioners.