How I Meditate: Yoga Girl Rachel Brathen Shares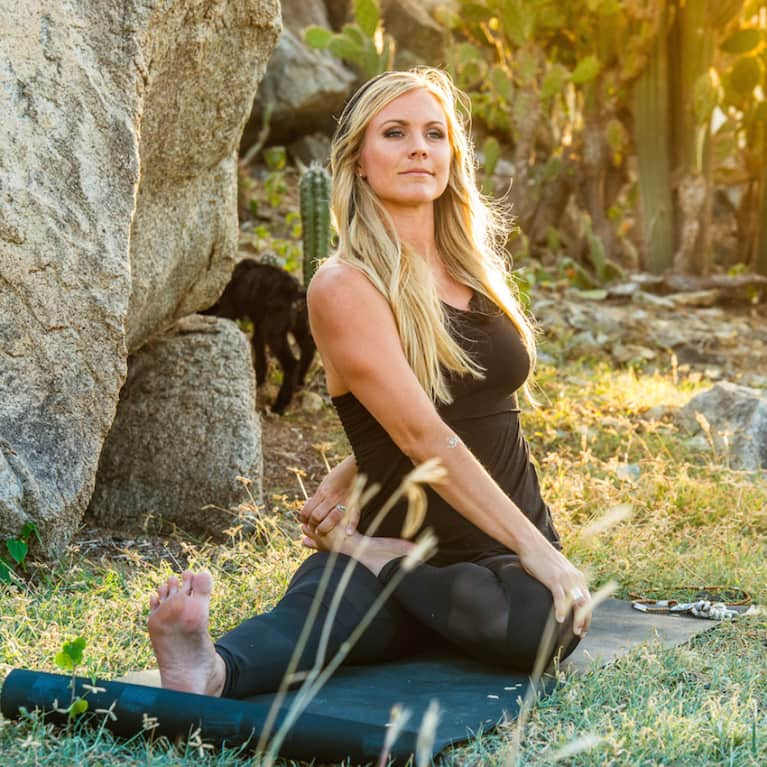 Rachel Brathen is an Instagram celebrity, and her fans (1.8 million, to be exact) know her better as Yoga Girl. What makes Rachel so different from other Insta-yogis is her ability to be positive — no matter what she's dealing with. She finds the "Zen" in everyday life, thanks to her regular meditation practice. Here's a glimpse into her practice.
I'm spoiled, I live in Aruba. I meditate on a huge rock at the end of our backyard that is surrounded by cacti. All I can see when I'm sitting on it is the dessert and sky.
Typically, first thing in the morning before I start my yoga practice. I usually bring a cup of tea or water with lemon out to the rock.
What type of meditation do you practice?
Breath-oriented meditation. I've tried every kind, but this type of mindful meditation works best for me. I love being able to drop into the moment and using my breath as an anchor.
When I'm practicing in the house I use props. I'll use a towel, yoga block, or mat to bring my hips a bit higher than my knees.
It allows me to create space in the madness of the day. It's been life-changing — it helps me de-stress and react to situations more mindfully. I get agitated if I start to lose my practice!
I actually started my meditation practice before I started doing yoga. I didn't start by sitting quietly. I started with Osho meditation, which is a form of dynamic meditation that uses the whole body, since sitting in one spot for a period of time can seem daunting.
I also recommend using a meditation app. I like Peace Alarm that will ring a bell about halfway through the meditation and at the end.
Start with five minutes a day!
Related reads: