The Ancient Herb That Helps With Digestion + Weight Loss: A Doctor Explains
Neurologist
By Kulreet Chaudhary, M.D.
Neurologist
Kulreet Chaudhary, M.D., is a neurologist and the head of the Sri Narayani Holistic Centre in Tamil Nadu, India. Dr. Chaudhary has participated in over twenty clinical research studies in the areas of multiple sclerosis, Alzheimer's disease, Parkinson's disease, ALS, and diabetic peripheral neuropathy. She is the author of The Prime and Sound Medicine: How to Use the Ancient Science of Sound to Heal the Body and Mind. She holds her M.D. from Loma Linda University School Of Medicine.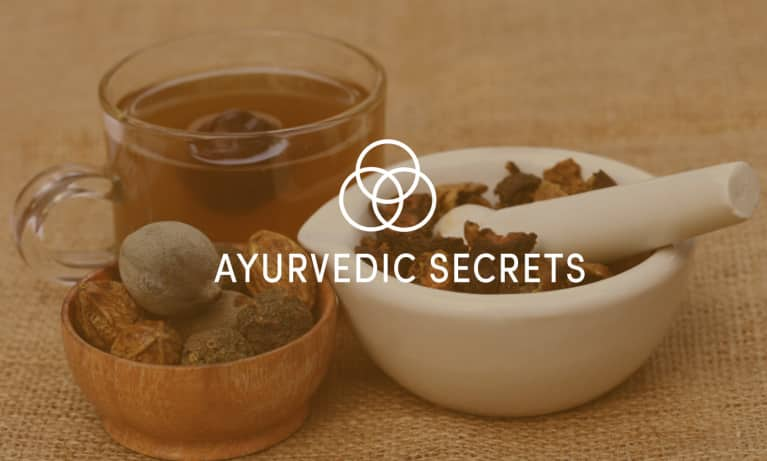 As a pioneer in the field of integrative medicine, Dr. Kulreet Chaudhary combines the best of Western medicine with time-tested Ayurvedic practices. This week, we're thrilled to share some of Dr. Chaudhary's favorite ancient techniques to reach optimal health. If you're inspired to learn more, check out her new course: How to Use Ancient Ayurvedic Wisdom to Heal Your Gut & Achieve Long-Lasting Weight Loss.
As we grow older, it can be extremely challenging to lose fat through diet and exercise alone.
To really fight that stubborn fat, Ayurveda uses time-tested techniques that target the exercise-resistant fat by igniting your digestive fire. This is the biggest difference between Ayurvedic weight loss and more conventional Western methods: Ayurveda focuses on why your fat cells are getting bigger and gives you solutions that work long term. These techniques have proved successful for thousands of years and can be performed on a daily basis.
If you implement daily habits and seasonal detox programs to remove toxins, you can help avoid weight gain.
"Ama" is a special concept in Ayurvedic medicine that's key to losing weight. In Ayurveda, ama means "toxins." These toxins result from the accumulation of impurities in our bodies as a result of improper diet, chronic stress, and pollutants from the environment.
Some of these toxins are water soluble, making them easier to remove from the body with diet and exercise. But other toxins are fat soluble, meaning that they become stuck deep inside fat cells. The fat cells expand as they accumulate these toxins, which leads to weight gain, especially in those hard-to-remove pockets of fat around the stomach, hips, and thighs.
Ayurvedic techniques are targeted specifically at removing ama from your body, which then shrinks your fat cells.
The older you get, the more common it becomes to have ama in your body — but it doesn't have to be this way. If you implement daily habits and seasonal detox programs that help remove these toxins, you can help avoid weight gain.
So I'm sharing one of my favorite Ayurvedic fat-fighting secrets: triphala. Triphala is an ancient Ayurvedic herb. It's composed of three dried Indian superfruits that work synergistically together: amalaki, haritaki, and bibhitaki:
Amalaki works as a natural antioxidant and removes excess inflammation from the body. It also helps to increase lean body mass and maintain healthy blood sugar levels.
Haritaki supports the body's natural cleansing process by gently removing toxins that accumulate in the colon.
Bibhitaki is particularly effective in reducing the accumulation of fat and fluids in the body.
Each one of these herbal preparations has tremendous value on its own. However, when they're combined in the form of triphala, they work as an even more powerful tool to detoxify the body and help you achieve your ideal weight.
You can find triphala in a powder form or tablet form. Triphala powder has a strong taste, so it may be easier to use the tablets at first.
I take triphala every evening one hour before bed as part of my long-term weight-management system. I invite you to give it a try, too.